We recently celebrated Meiko day on May 5th, and today we have a review of the album Dark Chocolate and Maraschino Cherry from the oversea circle Myriad, which was released by the Overseas Meiko Compilation Project.
The Overseas Meiko Compilation Project was funded by a successful Kickstarter campaign and all sales of the album went to Musicians Without Borders, a charity organization dedicated to creating sustainable music programs across the globe.
The album's cover art is drawn by stupjam. Isn't it cute?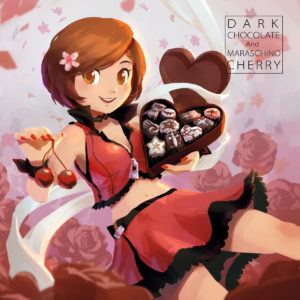 Album Tracklist
Before we get into a detailed review of each song, here is the tracklist for the album along with respective artists:
Mastering of the tracks was done by GuitarHeroPianoZero.
Album Review
In this review, I will describe my impressions of each track from the Dark Chocolate and Maraschino Cherry album, particularly focusing on the themes addressed, the musical developments, and how Meiko's vocals are used.
Hourglass
The album begins with this whimsical number, which tells a story of love and longing and seems to have elements of both jazz and folk. I think Meiko's soulful voice suits this one well.
Blink
In the next track, we have what appears to be another love song but the tone becomes a little more serious and seductive, emphasising the maturity in Meiko's voice.
Love me, Hate me, but you can't ignore me
This song begins with bass and claps which exude attitude, and we hear Meiko speak as well as sing, which showing off her sassy side. The theme of this song, as the title suggests, seems to be of self-confidence and determination.
Imposter Syndrome
Things get a little darker in this track. It starts with a beat that grows in intensity and otherworldly sound effects which give off a trance-like vibe. The song summons imagery of space and appears to tell a story of insecurity and envy which evolves into hope and strength.
The Starfishers
One of the few Japanese tracks on this album, this track is a soothing and relaxing with a sort exotic folk feel to it, accentuated by the use of plucked strings, a harmonica, and even a whistling accompaniment. Meiko sounds so sweet and sincere in this song, and I think it's one of my favourites on the album.
Dynamite
Again the tone changes for this next song, featuring a range of synths for a retro and somehow foreboding sound while the vocals play to the strengths of Meiko's mature voice.
Undoubtable Feelings
The next song switches up the genres again and hits us with a heavy metal track about love and betrayal, where we hear Meiko scream with emotion with the backing of intense guitar and drums. I think this tune was the one that surprised me most on the album, as I don't think I have ever heard Meiko used for this type of song before. I was amazed at how diverse her voice can be.
Why Are You Romeo?
In this track, striking piano and strings evoke emotion as Meiko sings a tragic love story about injustice and an unavoidable fate. In sad songs like this, I personally feel that Meiko's voice successfully sounds emotional, as if she might cry.
Twilight's Fading
"Twilight's Fading" feels as if it were not of this world. The music echoes and travels as if the listener is floating in a dreamscape. Meiko's voice almost feels like it's flying far away and calling for you to follow her to a distant land. I personally found this song really relaxing.
Remainer
The album concludes with another Japanese track, which has a gentle and whimsical feel to it. Various instruments are used – from piano and strings to brass and drums. This song feels full of life and wonder. I was reminded of soundtracks from Studio Ghibli films like My Neighbour Totoro and Arietty while listening to it! It certainly left me smiling.
In conclusion, I feel that this album demonstrates the versatility of Meiko's voice across various genres and is a thoroughly enjoyable album for any Vocaloid fan. I would certainly recommend it!
Where to buy
If you would like to purchase the album for yourself, you can buy it digitally from Bandcamp or Booth via the links below.
The digital download includes all tracks listed above, as well as the illustrations and lyrics from the CD booklet.
And remember that proceeds will be donated to the Musicians Without Borders charity, so it's for a good cause!
If you would like more information on the project itself, check out their official website here on Tumblr.
Source