Have you ever visited the island of Hokkaido, and took pictures of its beauty and grandeur that you would like to see reach a wider audience? Crypton Future Media and the Hokkaido Prefectural Office are making that possible through the Hokkaido Mirai Note project!
About Hokkaido Mirai Note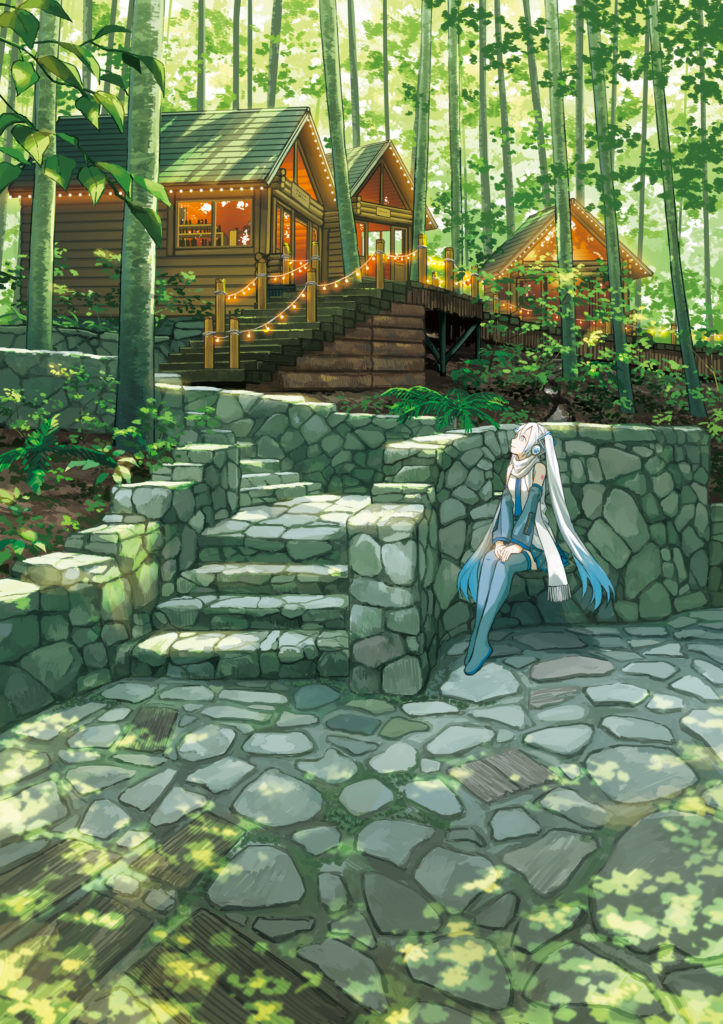 Whether it's about the natural scenery, food, festivals, or arts and crafts, there are a lot of beautiful sights to see and take in when visiting Hokkaido. The Hokkaido Mirai Note project aims to catalogue photos that people take during their time in Hokkaido, with the aim of promoting the island and all of its unique splendors.
By following the Instagram account @hokkaido_mirai_note and hashtagging your photos of Hokkaido with #hmnote, you too can contribute to the project and share your photos with the world!
Promotional art for the project was provided by 飴村 (Amemura), and they feature none other than Snow Miku, who has become an iconic figure of Hokkaido since her creation in 2010. The main visual shows her standing outside the real-life Cape Earth in Muroran City, while the sub visual shows her at the Ningle Terrace in Furano City.
【お知らせ】クリプトン・フューチャー・メディア株式会社様、北海道県庁様より北海道ミライノートのメイン、サブビジュアルを担当しました。北海道の素敵な写真が沢山載っていますので、ぜひ参加・ご覧頂けたらと思います。よろしくお願いします!https://t.co/fy7czJGSJ2

— 飴村 (@amemura) October 14, 2017
"I provided the main and sub-visuals for the Hokkaido Mirai Note project hosted by Crypton Future Media and the Hokkaido Prefectural Office. It's filled with lots of beautiful photographs of Hokkaido, so be sure to give it a look, or even participate. Looking forward to seeing everyone's contributions!"
雪ミクがガイド役を務める一般参加型ウェブ施策「北海道ミライノート」がスタートしています❄️インスタグラムから《あなたのお気に入りの北海道》を投稿すると、北海道の新しい魅力として公式サイトで紹介されるかも✨詳しくはこちらへ!→ https://t.co/6Jx9i71fP3 pic.twitter.com/XBXUwnOnov

— 雪ミク 公式(初音ミク) (@cfm_snowmiku) October 23, 2017
"With Snow Miku serving as your guide, the general-admission web project 'Hokkaido Mirai Note' now commences❄️ Take and upload photos that encompass what you like about Hokkaido to Instagram, and it may appear on the official site, spreading the charm and appeal of Hokkaido to all visitors✨ See here for details! → https://mirai-note.jp/en/"
《投稿募集中!》美しい建造物や知られざるものづくりなど、自然や食だけではない新たな北海道の魅力を発信する「北海道ミライノート」が公開!インスタグラムを使ってぜひ素敵な画像を投稿してください✨ガイド役は北海道ミライ大使の雪ミクです! https://t.co/n7eas04bvb pic.twitter.com/FQMUdeWCCm

— ミライスト通信 (@cfm_miraist) October 14, 2017
"Now accepting uploads! Spreading the charm and appeal of Hokkaido's bountiful nature and food, and also its architecture and little-known arts and crafts, the 'Hokkaido Mirai Note' project now commences! Sign up for Instagram and upload your splendid photos for all to see✨ Serving as your guide will be the future ambassador of Hokkaido, Snow Miku!"
How to Post
Anyone can add their own photos of Hokkaido to contribute to the project. Click here for guidelines on how to get your photos shared on the official Hokkaido Mirai Note Instagram page.
Information Source
Hokkaido Mirai Note Official Site
Hokkaido Mirai Note Official Instagram
Hatsune Miku Official Blog