Back in April of this year, Yuezheng Ling's official Weibo uploaded a new song called 未来的我("The Future Me") as celebration of the character's birthday, teasing that there would be an upcoming official Ling album featuring this song. This week, Luo Tianyi's official WeChat account finally brings us some good news about the album! Vsinger will be attending the iComic 10 Convention, which will be taking place at the ChengDu International Intangible Cultural Heritage Park on November 25th and 26th. Vsinger will be there selling their official goods and accepting the pre-orders of the album entitled 绫 ("LING"), as well as Luo Tianyi's V4 voicebank. Being one of the most popular VOCALOIDs from Vsinger, Yuezheng Ling's first official album will definitely get a lot of fans excited!
未来的我 official PV
Pre-order Products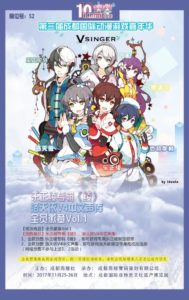 Products that will be up for pre-order on the convention include Yuezheng Ling's official album "LING" and Luo Tianyi's VOCALOID 4 voicebank. Pre-ordering these products at the convention will net you some exclusive gifts: each pre-order of the "LING" album will come with an "Exclusive Yuezheng Ling Badge"; and each pre-order of Luo Tianyi's VOCALOID 4 voicebank will come with a lottery ticket for the chance to win an exclusive Luo Tianyi pillow case.
Although there is currently no mention of online pre-ordering for the album, we can safely assume that "LING" will soon added to Vsinger's official Taobao store, just like all of their previous merchandise.
Note: Online pre-ordering will not include the above-mentioned gifts.
Other Merchandise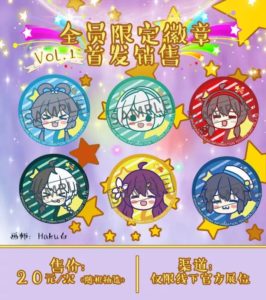 The Vsinger Vol. 1 Exclusive Badge will be sold at the convention, too. Fans will receive a character badge randomly with each ¥20 RMB (about $3 USD) purchase, and can also receive a discount by purchasing six badges (chosen at random) at once for ¥100 RMB (about $15 USD). These badges are also exclusive to attendees of the convention.
Links