The third LUMi duet contest came to its conclusion on January 31st and the winner has been decided! Congratulations to momomo (@eifk2236) on being selected as the winner of the contest!
As we covered in our previous article, the song for the third LUMi duet contest was 弦 (Tsuru) by koyori (DenpolP). momomo's entry features strong and mature sounding vocals which seem to suit the song genre well.
But don't take our word for it! You can check out the winning entry for yourself here on nana music!
第3回LUMiコラボ、結果発表!

優秀賞はmomomo(@eifk2236)さんに決定いたしました♪

koyori(電ポルP)さんの楽曲の世界観にぴたりと合った力強い歌声。
強く、しかし繊細に歌いこまれており、惹きつけられます。https://t.co/LzcVrN0n2i

今回も多くの皆様のご参加を賜り、誠に有難うございました♪ pic.twitter.com/dqBR8KF609

— LUMi Official⛩ボカロ講座[11]更新しました? (@ava_lumi) January 31, 2018
Announcing the results of the 3rd LUMi collaboration!
The grand prize winner is momomo (@eifk2236) ♪
Their strong and powerful voice fits perfectly with the world created by this koyori (DenpolP) song.
We were captivated by how strong yet delicately sung it is. https://nana-music.com/sounds/0363fba0/

Thank you so much to the many people who participated this time around ♪
LUMiちゃんとのコラボサウンド、優秀賞頂けました!!

LUMiうたのコンテストで迷い子ロマンチストを歌わせてもらったということもあり、電ポルPさんの楽曲にはすごく思い入れがあったので、今回参加できて本当に良かったです☺️☺️#LUMiコラボ https://t.co/Vf6KHUZRvj

— momomo (@eifk2236) January 31, 2018
My duet with LUMi-chan won first place!!
I competed before in a LUMi song contest singing 'Mayoigo Romanticist.' I found myself really moved by DonpolP's song, and am really glad that I took part in this contest as well ☺️☺️ #LUMiコラボ
The contest results are not the only exciting update that we have for LUMi fans today! Kaoru Yoshizawa from AVA and the LUMi official Twitter also announced that three songs featuring LUMi are now available through online stores and streaming sites, such as iTunes, Amazon, Spotify and the Google Play store.
The songs are Yoake no Uta (夜明けの詩) by BUNTA (ぶんた), Mayoigo Romanticist (迷い子ロマンチスト) by koyori, and Dreamy 22 o'clock which is also by BUNTA (ぶんた).
If you are interested in buying or streaming the songs from any of the websites mentioned above, you can find the links for each of the songs below.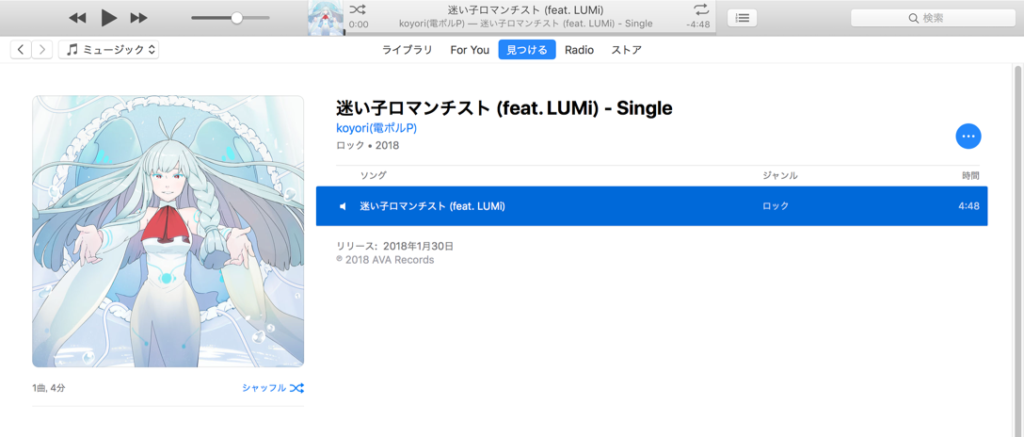 iTunes
Amazon
Spotify
Play Store
More Information
For more information on LUMi, be sure to check out the official LUMi and AVA websites, and follow LUMi on Facebook and on Twitter.