This is NAT of VNNJP reporting on the Hatsune Miku x Osamu Tezuka Exhibit ~ Worlds Connected by Isao Tomita event, which has been taking place at the Osamu Tezuka Manga Museum in Takarazuka City since July 1st. I had the honor of attending the exhibit on its opening day, and I am here today to present my full report.
With a Hatsune Miku Mini Theater, tons of goods on sale, and of course the Osamu Tezuka and Hatsune Miku crossover art exhibit, there's a lot to cover at the event, so let's get straight to it.
Exhibit Entrance
Upon stepping into the exhibit room, I was treated to a series of panels explaining how this collaboration came to be. One of the songs that Miku performed at Symphony IHATOV was none other than the opening theme song to Osamu Tezuka's classic anime series, Princess Knight, a song that Isao Tomita himself wrote. It was that performance that served as the inspiration for this entire exhibit.
Hatsune Miku x Osamu Tezuka Crossover Illustration Exhibit
From there, I went to the main attraction of the event: the Hatsune Miku x Osamu Tezuka crossover illustration exhibit.
This exhibit features the works of no less than 11 different artists who drew both crossover and original illustrations for some of Osamu Tezuka's most iconic properties. Written below each of the displays was even commentary from their respective artist.
Hatsune Miku Mini Theater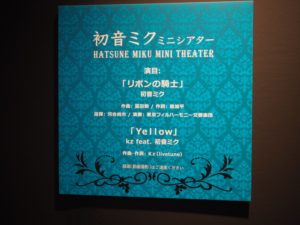 Next, I attended the Hatsune Miku Mini Theater, where there was a 3D computer-generated Miku singing the Princess Knight theme song, as well as "Yellow." I'm guessing that the song recordings were taken from previous concerts, such as the above-mentioned Symphony IHATOV where Miku first sang the Princess Knight theme song.
As for the projection equipment used, it resembled something of a miniature version of what was used at Isao Tomita's Dr. Coppelius, almost like a Pepper's ghost concert. With rather lackluster equipment and pretty blurry imaging for Miku, this mini theater didn't leave a very strong impression on me, to be frank.
Introduction to Miku
At an introduction corner for Miku, there were panels detailing who Miku is for those in attendance who don't know her.  Software packages and rough character sketches for the Crypton Future Media VOCALOIDs were also on display, as was a life-size figure of Miku.
Goods for Sale
At the gift shop were all sorts of goods based on the crossover illustrations up for sale, alongside the regular museum merch. You can check out our previous article for more details.
Special Event Menus
Many restaurants around the museum even had special menus as part of the Hatsune Miku x Osamu Tezuka Osamu Exhibit commemoration. They were offering up all sorts of scrumptious dishes based on Miku and the rest of the Crypton Future Media VOCALOIDs. Ordering these dishes would even net you some can badges featuring the crossover illustrations from the museum. I myself got to enjoy chowing down on quite a few of them.
Closing Thoughts on the Hatsune Miku x Osamu Tezuka Exhibit
This concludes the report of my trip to the Tezuka Osamu Manga Museum on July 1st.
My favorite parts were getting to see the exhibit for all the crossover illustrations, as well as dining on the special event menu items. The fusion of Hatsune Miku and Tezuka Osamu's works had a surprising amount of chemistry to it. Every single one of the illustrations on display at the museum was an amazing work of art, and I for one thoroughly enjoyed my time there.
The bullet train ride to Takarazuka from my hometown of Yokohama was a 3-hour sojourn (one way), but it was absolutely worth the time. Look forward to my next report!