Way back in the beginning of August 2015, ST Media revealed a silhouette of the upcoming Korean VOCALOID UNI. Fans loved UNI so much that it took less than two hours to reach the goal of revealing her official design! You can find more information on this here.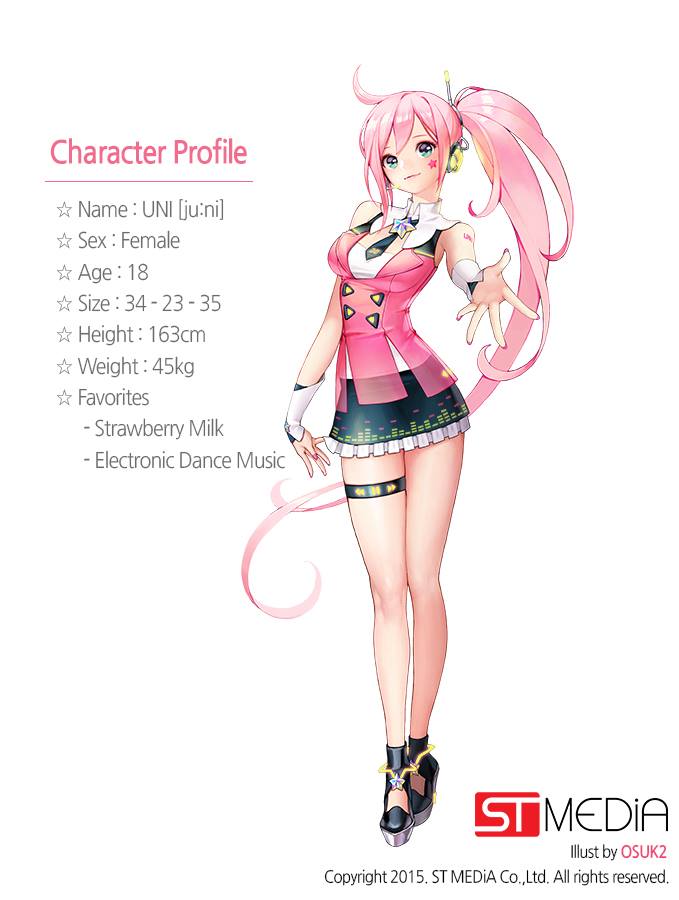 Fan were very eager to hear more about her and to hear her voice.
As promised when we partnered with ST Media, we will be bringing you all UNI news first-hand. The time has finally come for some more UNI news! Below is a special message from ST Media to all VOCALOID and UNI fans:
Hello ~

We are ST Media and we apologize to have kept you waiting so long for more information on UNI. For that, we thank you very much for your expectations of UNI.

We are doing our best to develop UNI's voice bank, so please trust us and be patient for a few more months! We have some more information for all of you!

We will tell you about UNI's voice banks and you can hear her voice sample! (Her voice is the "Soft version" of her voice bank. It is currently in development.)

———————————————————————————————————–

[FAQ]

1) When will UNI be released?

The release schedule has been delayed because we want to upgrade the database quality. We are discussing with YAMAHA to release it in September of this year.

2) What kinds of voices will UNI's voice bank have? And what languages?

We are currently developing UNI's voice bank for the V4 engine. She will have more than two tones. We want to make it so you can use the "Cross Synthesis" function with the V4 editor. This fall, we will release UNI's Korean voice bank. Later, we plan to release UNI's English library during the spring of 2017.

3) Who is the voice provider for UNI?

Actually, UNI's voice provider was changed for a few reasons since this was a very critical experience for us. We came across many issues with the voice provider and realized it could be risky for our character to reveal the voice provider, so we will continue discussing it. Rest assured that the voice provider is a pro and she is doing her best for UNI with us.

———————————————————————————————————–

We are very sorry that we couldn't reveal anything about UNI until now. But from now on, we are going to tell you many things about UNI and others. Please be patient, and show some love for UNI and VOCALOID.

Thanks again.

You can also follow their official page here (Korean). Stay tuned for more upcoming news about UNI!
UPDATE:
UPDATE from ST MEDiA concerning UNI!
"The original library will be released on February 14th, 2017, and Soft/Power will be released in the summer of 2017.
We will start to develop UNI's English library once the append library has been released."