As we mentioned previously, VOCAMERICA is leaving the states! VOCAMERICA in Europe is starting at Aki no Matsuri in Switzerland and hopefully moving to other countries with the first concert's success. However, they need your help to make the concert as amazing as it can be!
About the Crowdfunding
This StartNext campaign is to help pay for the costs of bringing VOCAMERICA all the way to Europe. VocalNexus, one of our partners, is assisting in the European debut but needs the help of fans just like EmpathP did! At the moment, the main goal is to cover the cost of the projector. However, there are also goals to hold concerts in larger venues and a stretch goal of €6,400 will give fans a YouTube live stream of the concert. If you can't make it to a VOCAMERICA concert, get all of your friends to donate and have a mini concert in your home!
As of the time of this article being written, the campaign is at €2,015 of its first €3,300 goal.
Rewards Updates
There are a few updates to the StartNext Rewards! In addition to an update on the previously announced StartNext exclusive album, there's also good news for fans looking to get the VOCAMERICA key chains, including many of the Kickstarter exclusive ones.
Art & Track List Revealed for Previously Announced Rewards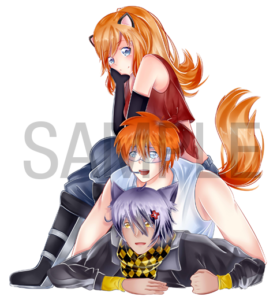 The €50+ tiers all receive an exclusive album only available via the StartNext campaign. Art for the exclusive VOCAMERICA album has been revealed alongside the track list! Please note songs will be English covers featuring VOCAMERICA performers.
New Reward: Get Your Key Chains!
Fans who missed out on the VOCAMERICA key chains have a chance to get them! Certain tiers reward fans with different numbers of key chains. However, the key chains are random. Some Kickstarter exclusive color variations are available as well!
€15 EUR – One Key Chain
€50 EUR – 3 Key Chains
€100 EUR – 5 Key Chains
€250 EUR – 10 Key Chains
€500 EUR – 14 Key Chains
How to Donate
You can donate to the StartNext campaign here. The campaign ends in 14 days, so be sure to donate soon!