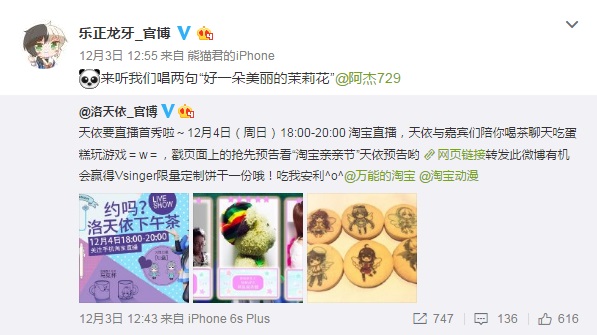 Yesterday, Luo Tianyi's Weibo announced an upcoming live stream event on Taobao for December 4th. Meanwhile, Longya was hinting his first demo will be featured in the stream. Nonetheless, it was the well-known "Mo Li Hua."
The invited guests on the show were 人形兔, 阿良良木健, 小白 (Vsinger's official artist), and the voice provider of Longya, "AJie". 人形兔 happily announced that the first male Chinese voice bank was finally completed when the audience asked about Longya.
Before playing the demo, the host allowed AJie to sing a short verse of "Mo Li Hua" as a comparison.
As a professional voice actor, AJia admitted that recording a VOCALOID voice bank was nothing like what he usually does for voicing a movie or TV drama; it was a whole new area for him.
After the stream, Vsinger announced that there will be more demo songs showcasing the voice bank's potential. A press conference will be held on December 8th, so hopefully, there will be more information on Longya.
Luo Tianyi Merchandise Open for Pre-order!
Aside from Longya, the stream was also holding a giveaway of the latest Luo Tianyi merchandise series, including: a Luo Tianyi pen, Luo Tianyi mug, Luo Tianyi "Heart Connection" USB cable, and a Luo Tianyi flash drive. If you are interested in purchasing all of the mentioned merchandise, you might consider purchasing the Limited Vsinger Gift Pack for the price of ¥228 CNY ($33 USD). The gift pack is limited to 100 units.
Fans can pre-order the merchandise on Shanghai HeNian's official Taobao. Click here.