December 2017 was a big, big month for all of AHS. From multiple anniversary celebrations to collaboration announcements, major developments in ongoing projects, and even the debut of a new voice synth, the shear amount of news to cover would make any VOCALOID news agency throw their hands up in surrender. However, this VOCALOID news agency has taken it upon themselves to deliver on all the AHS news from the previous month, so without further ado, let's see how the software company closed off the year 2017, starting with all the big news from VOCALOMAKETS!
On December 17th, 2017, VOCALOMAKETS held a special livestream on their Fresh! channel in preparation for Yuzuki Yukari's 6th anniversary and Kizuna Akari's debut on December 22nd, 2017. The show was hosted by Yukari's voice provider, Chihiro Ishiguro, and the newest member of VOCALOMAKETS, Ginji Ibushi, who spoke in length with many distinguished guests about the VOCALOID and VOICEROID pair. Furthermore, during breaks in the livestream, viewers were treated to dozens of Yukari and Akari fan art and music that fans contributed on the Niconico community thanks to the tag "VM生使用可" as previously reported.
You can watch the entire show by clicking here. Below is a summary of some of the main points covered in this over 3-hour long livestream!
10:00 – 2017 Milestones
A look back at Yukari's milestones from 2017, and all that she has accomplished in the past year:
13:00 – VOICEROID
VOICEROID conversation with president and CEO of AHS, Tomohide Ogata, and Keisuke Kurita of AITalk, the voice synth engine that VOICEROID is based off of. They expressed how impressed they are with the sheer number of VOICEROID videos that users have uploaded online since the first pieces of software were released, some even trying to make the VOICEROIDs sing! Ogata and Kurita both added that they will continue to develop the engine all through the next year as well, and that we can expect more announcements on updates.
16:00 – Yuzuki Yukari Merch

A look at various Yukari goods that were released in 2017, and a talk with less Kitayama of MARS16, creator of countless Yukari apparel and accessories. less Kitayama explains that with every piece of Yukari merchandise that they create, they always try to capture the "cool factor" of Yukari's imagery in them, and promises many more releases throughout 2018.
21:00 – J.I.O Create
Talk with Mr. Makutsu of J.I.O Create, creators of the Racing Yukari itasha, motorbike, bicycle, race car, and much more for the Yuzuki Yukari Racing Project. Support for the project has easily been one of their biggest jobs throughout 2017, creating the Racing Yukari decals for no less than six different vehicles, and even for the VOCALOID Keyboard! Mr. Makutsu also promised that J.I.O Create will continue their work with Racing Yukari well into 2018.
34:00 – Okhotsk Yukari
Talk with Akasakof about Yukari's inauguration as the Okhotsk Ambassador of Tourism, and the subsequent opening of her website. He also revealed that there is a campus tour and information app being developed by students at the Kitami Institute of Technology in which Okhotsk Yukari serves as the guide. They hope that this will eventually become an app that can be used to give tours all around the Okhotsk region. Finally, Akasakof promises that we will see all sorts of exciting new plans for Okhotsk Yukari throughout 2018 as well.
43:30 – VOCALOID Seminar
Talk with ChomP about the entry-level VOCALOID seminar that he led as part of VOCALOMAKETS's collaboration with Sound Studio NOAH. Using Yuzuki Yukari Jun, he taught a class of 30 people – all of whom had no previous experience with VOCALOID – how to use the VOCALOID4 Editor to write and input melodies. There was also an intermediate-level seminar in which KagomeP focused on teaching students how to easily tune a VOCALOID to sound more human. Though there are no concrete plans in place yet, ChomP expressed how much he enjoyed the opportunity to teach beginners about VOCALOID, and would welcome the chance to do it again in 2018.
52:40 – YUKANADE
Video highlights from "YUKANADE," where the creators of Yukari's most popular songs (as opposed to Yukari herself) gathered together to perform their own greatest hits live while the song PVs played on giant LED screens behind them. There were a total of five bands put together by and made up of members like 劇おこP (GekiokoP), よの (Yono), 喜兵衛 (Kihee), ねじ式 (Nejishiki),くらげP (KurageP), and of course Chihiro Ishiguro herself, who all performed to the delight of fans who filled the Ebisu CreAto venue well beyond its 220-person safety capacity!
1:00:20 – YUKATARI

Highlights from "YUKATARI," where well-known users of Yukari's VOICEROID software were interviewed about their works. For instance, Moyashishamo was told by Chihiro Ishiguro about how she was drawn to his Let's Play series featuring Yuzuki Yukari and Tsurumaki Maki thanks to its anime series-like "next episode" previews. We also learned a bit about each series, such as how Mr.kk did not originally mean for "Yukarinochi" to have a story, but after trying it for the first episode, the idea stuck throughout the Minecraft video series. The evening even included a "Tuning Battle" where challengers would use the then just-released VOICEROID2 Yuzuki Yukari to recite given lines, such as:
ゆかりです。EX購入の翌日に2が発売されたとです。。。(実話)("I'm Yukari. The day right after I bought EX, 2 was released… (true story)")
仕事と言い張って、オホーツクに行きたい。("I insist on getting a job, and I want it to be in Okhotsk.")
マスター、今日はとっても楽しいですね。一緒に踊りましょう!ゆっかりゆっかり!うふふ! ("Master, I'm having so much fun today. Let's dance together! Yukkari, yukkari! Ufufu!")
Furthermore, they would need to make her voice fit a variety of randomly chosen styles like "kunoichi," "warrior princess," "high school girl," "deredere," and even "33-year-old unmarried office lady." Suffice to say, much hilarity ensued!
1:28:30 – Kizuna Akari
Finally, we arrive at the segment about Kizuna Akari! Bumpy Usurhi made his appearance in the livestream at this point to explain that it was around Yukari's 5th anniversary in 2016 that they started making plans for a new character, one that, like Yukari, would be both a VOCALOID and a VOICEROID. They originally planned for a simultaneous release for both software, but as a group of VOCALOID producers, VOCALOMAKETS decided to focus on developing her VOCALOID voice bank a little more.
In December 2016, they held voice recording auditions for more than 10 hopefuls, all of whom AHS had created prototype VOCALOID voices banks out of. But after testing each of those prototype banks, they would eventually settle on only one as the finalized voice bank for Akari, making sure that she does not sound too similar to Yukari. As for her ExVoice samples, VOCALOMAKETS worked together with influential members of the Let's Play community like Moyashishamo and Kounosu to create more than 1,000 voice samples that they feel would work well with their Let's Play videos.
Some 200 of these voice samples can be heard in the video below.
That's not all. Akari's first VOCALOID4 demo songs – "Sprites!☆" by KagomeP, "リナリア (Linaria)" by Akasakof, and an Akari cover of "あなたと二人で (Anata to Futari de)" by Bumpy Urushi – can now be sampled online as well!
We were also treated to a special message from Yukari and Akari's official designer, Juu Ayakura:
"Happy 6th Anniversary, Yuzuki Yukari. Saying that you're 6 years old makes me think of you as an elementary school student still, and gets me reminiscing on all the time that we spent together. It makes me so happy to see this many people celebrating your birthday this year as well. And to make this joyous day even better, Kizuna Akari will soon be joining us. Since she has yet to be born, her future is still full of uncertainty, but the thought of being able to celebrate both of your birthdays together next year warms my heart. Congratulations once again on your big day today, and I look forward to spending another wondrous year with you. Thank you so much." – Juu Ayakura
2:03:00 – Kizuna Akari Tuning Battle
Afterwards, ChomP, Keisuke Kurita, and the winner of the first Tuning Battle, Kounosu, all sat down for another Tuning Battle with Akari's VOICEROID bank! Each one was challenged to use Akari to recite lines submitted by fans on Twitter and tune her voice to fit a randomly chosen style:
Round 1:
Line: ふーん?あなたが私のマスター?まぁ悪くないですね。("Hmm? So you're my master? Well, I guess you're not too bad.")
Styles: "old lady from the local yakiniku restaurant," "female doctor," and "tsundra"
Round 2:
Line: あれ...?ない...!!ない!!冷蔵庫に入れてあったプリンがない!!("Huh…? It's gone…! It's GONE! The pudding I left in the fridge is gone!")
Styles: "kitten," "water-induced genderswap," and "33-year-old unmarried office lady"
2:34:30 – Phantasy Star Online 2 Collaboration

Finally, VOCALOMAKETS announced the plans that they have in store for Yukari and Akari in 2018. First up were details on the special collaboration with Phantasy Star Online 2! The collaboration was first announced on November 21st, 2017 and teased some Yukari-theme costumes and accessories that would become available in the game.
More details came to light on December 16th, 2017. They reveal that Yukari's parka, dress, hairpiece, knee socks, and more will become available for players to dress their characters up in (even male characters) after paying for the "Emotional Electro Voice" scratch pack. Players can also acquire Yukari posters and life-size cutouts to decorate their in-game rooms with, as well as a Yukari mat that will talk when you step on it. Speaking of which, when equipped with Yukari accessories, your character can enter battle with Yukari's voice, hearing her ExVoice grunts and yells as your character fights. Finally, players will be able to access and play a music disk loaded with the songs "サヨナラチェーンソー (Sayonara Chainsaw)" and "チュルリラ・チュルリラ・ダッダッダ! (Chururira Chururira Daddadda!)" to listen on the in-game jukebox. These special collaboration items are all trade-able, so players can freely trade or sell them to any other players whom they have friended in the game world.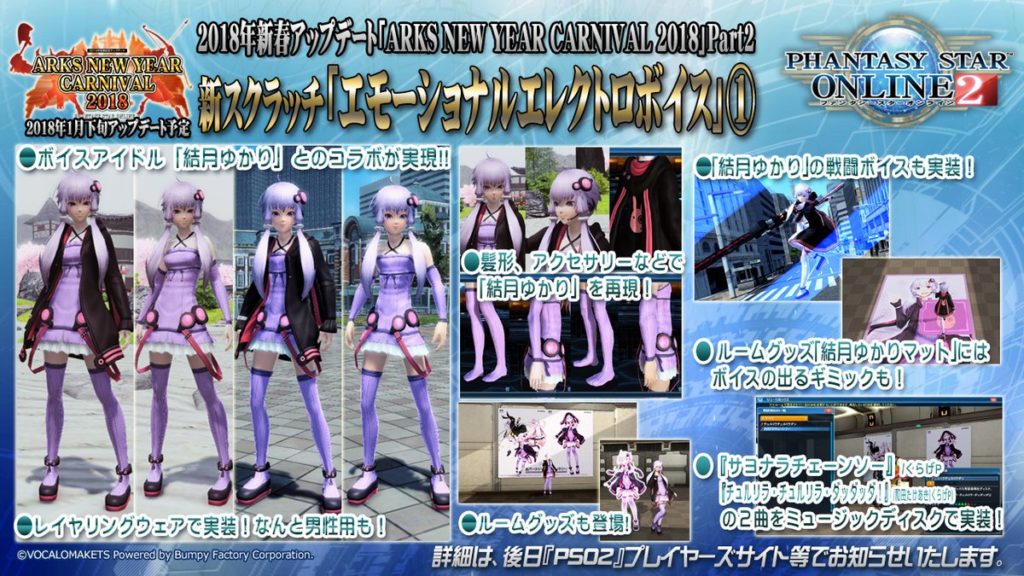 The collaboration is scheduled to go live in Phantasy Star Online 2 servers on January 24, 2018, which also happens to be Chihiro Ishiguro's birthday!
New Yukari and Akari Merch
Next, it has been confirmed that there will be another "KANADE" concert for both Yukari and Akari sometime in 2018! Details are still scarce (even the official title has yet to be determined), but Akasakof promised that it will take place in a much larger venue this time, and will feature performances from creators of popular Yukari and Akari songs. VOCALOMAKETS plans to attend and start selling tickets at the "Kono Koe Todoke, Tsuki made mo" doujin event scheduled to take place on May 5th, 2018.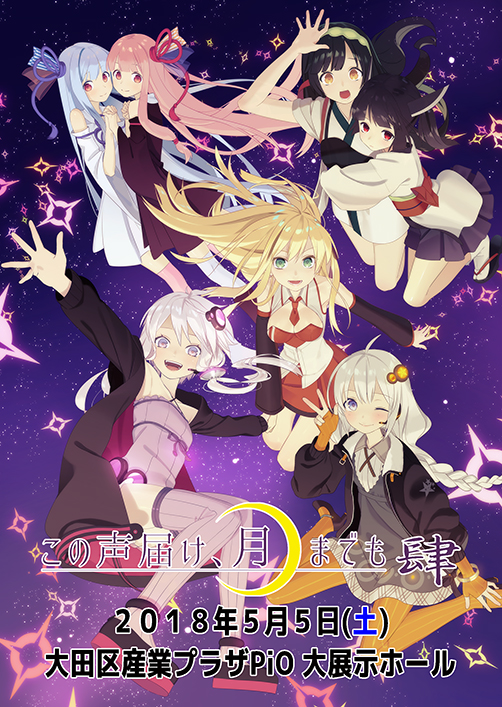 Akasakof also expressed the desire to hold another "KATARAI" talk festival for the pair as well, but no plans have been laid out for that yet.
AHS also plans on attending the Yukari-centered fan event "Usagi no Utage" on February 25th, 2018 where they will be debuting and selling new goods, such as the Yukari bunny-eared towel, Yukari trunk belt, and Akari acrylic keychain.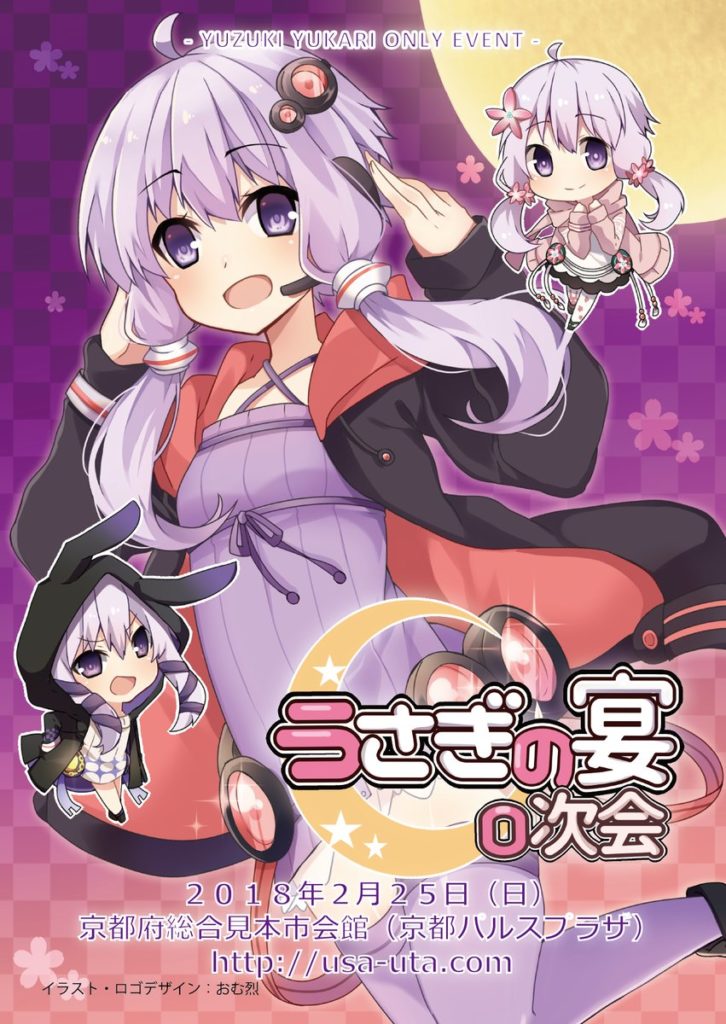 Conclusion
The Yuzuki Yukari and Kizuna Akari Birthday livestream concluded with Ginji Ibushi's official inauguration as the newest member of VOCALOMAKETS, followed by some beautiful birthday cake decorated with the birthday girls. Below are some birthday tweets from VOCALOMAKETS, AHS, and even others whom you may recognize!
You can find even more birthday tweets from fans by searching the hashtags:
#結月ゆかり誕生祭2017
#紲星あかり誕生祭2017
ゆかりさんあかりさん誕生祭、ありがとうございました! #結月ゆかり #紲星あかり pic.twitter.com/0XBB0M9ByQ

— AHSのおがた (@tomo_ahs) December 17, 2017
Thank you so much for celebrating Yukari and Akari's birthday!#結月ゆかり #紲星あかり
結月ゆかり・紲星あかり誕生祭記念・公式生放送ありがとうございました!!!! pic.twitter.com/74ewfdSH2b

— Bumpyうるし (@bumpyurushi) December 17, 2017
Thank you so much for watching the Yuzuki Yukari and Kizuna Akari birthday livestream!!!!
今回の誕生祭は
この素敵なメンバーの皆様とお届けできました?

…ん?動物が増えてるゾ!?(笑)

ゆかりあかりケーキは
Bumpyうるしさんが綺麗に分けてくれました?(*´◒`*)
今年も大変おいしゅうございました✨✨‼️

ありがとうございました!#結月ゆかり誕生祭2017 #紲星あかり誕生祭2017 pic.twitter.com/vW6MX7q658

— 石黒千尋? (@chihiro_ishi) December 17, 2017
This year's birthday celebration was spent with this wonderful group of people?

…hmm? There are even more animals this time!? (lol)

Bumpy Urushi-san was the one who so neatly cut the Yukari-Akari cake for us ?(*´◒`*)
This year's cake was soooo yummy, too✨✨‼️

Thank you so much!
おはようございます!本日は「VOICEROID2 紲星あかり」の発売日!ということで、紲星あかりさん、そして結月ゆかりさんのお誕生日です!おめでとうございます!ヾ(*´∀`*)ノ#結月ゆかり誕生祭2017 #紲星あかり誕生祭2017 pic.twitter.com/zCi5qiW2cc

— AHS公式@VOICEROID2 紲星あかり☆ (@ahsoft) December 22, 2017
Good morining! Today is VOICEROID2 Kizuna Akari's release day! That means it's both Kizuna Akari and Yuzuki Yukari's birthday! HAPPY BIRTHDAY!! ヾ(*´∀`*)ノ
#結月ゆかり誕生祭2017 #紲星あかり誕生祭2017
є(๑´ᴗ`)э??✨ゆかりさんあかりさんお誕生日おめでとうございます???є(´ᴗ`♪)э https://t.co/mHXGje2ndN

— 音街ウナ公式?12/22新商品追加? (@otomachiuna) December 22, 2017
є(๑´ᴗ`)э??✨Yukari-san, Akari-san, Happy Birthday!???є(´ᴗ`♪)э
-Otomachi Una
お誕生日&発売日おめでとうございます♪♪♪
紲星あかりちゃん、髪型がLUMiに似ていると時々仰っていただくのですがどうでしょう?似ていますか?(*´∀`*)
いつか横に並んでみたい❤️ https://t.co/7pY6Xc4doS

— LUMi公式@第2回LUMiコラボ開催中♪ 1/16まで (@ava_lumi) December 22, 2017
"Congratulations on your birthday and your release♪♪♪ People have been saying that Kizuna Akari-chan's hair looks a lot like my own. Do you think so? Do we look alike? (*´∀`*) One of these days, I'd like to stand side-by-side with her❤️"
-LUMi
ピアプロ運営です。本日はゆかりさんのお誕生日!という事で「結月ゆかり」作品をご紹介!緒硝ろっかさんのゆかりさん!鮮やか&爽やか!ゆかりさんの明るい笑顔がGood☆な作品!【https://t.co/yn2FcQdwjv】 #piapro #結月ゆかり pic.twitter.com/BcuwMSkIbj

— [email protected]ありがとう10周年! (@piapro) December 22, 2017
"Piapro admins here. Today is Yukari-san's birthday, so we'd like to introduce a Yuzuki Yukari work by 緒硝ろっか (Oshou Rokka)! Their illustration is both lovely and refreshing, and perfectly captures Yukari-san's bright smile!
【http://piapro.jp/t/FgTh】 #piapro #結月ゆかり
From all of us at VNN, we congratulate VOCALOMAKETS for all of their accomplishments throughout 2017, and very much look forward to covering more of Yuzuki Yukari and Kizuna Akari in 2018!
Stay tuned for part 2 of our December 2017 news roundup for the rest of the AHS voice synths!
Information Source