It's been two years since AH-Software hosted their first European concert in Vienna. The following year, they returned to Europe and headed to Germany for the German anime convention Anime Messe Berlin 2016. So when AHS announced that they were returning for Anime Messe Berlin 2017, fans were excited!
This year's concert was well-received by fans and reinforced the appeal of VOCALOID concerts in Europe despite being mainly focused on Chihiro Ishiguro and EHAMIC. Fans from Germany and surrounding countries, and even all the way from Japan, traveled to Berlin to enjoy the concert once more. Our fairly new German division also took the opportunity to visit the convention and the concert for you!
設営なう #animemesse #そんらぶ pic.twitter.com/ESK3pyF1bp

— AHSのおがた (@tomo_ahs) June 24, 2017
Setting up now #animemesse #SongsLove
The concert took place in the main hall of KOSMOS in Berlin this year and was about two hours long. The concert hall provided enough space for over 1,000 people, but it still managed to get really crowded during the show. Participants received a free glow stick of a random color at the entrance, though the colors, unfortunately, weren't changeable.
AHS didn't release the set list before the concert, but instead announced it afterwards during their latest live stream. Everyone was excited to see which songs had been in the concert. However, given the concert name, it was clear that it would mainly be an encore of last year's set list.
Set List
Yumemidori

by azuma feat. Yuzuki Yukari
Pastel Imagination by Akai SuiseiP feat. Tohoku Zunko
Dokidoki♥Ha・ji・me・te by DAISUKE-P feat. Kaai Yuki V4

Kururi Kururu by ChomP feat. miki V4


Asayake no Kinsei

by pinkpong feat. Macne Nana V4 & Nana V4 English
caged girl by

BumpyUrushi

feat. Yuzuki Yukari & Chihiro Ishiguro

Omiyage, Onigiri

by EHAMIC feat. Chihiro Ishiguro
Berlin Calling by EHAMIC feat. Chihiro Ishiguro
Momiage Rock! by EHAMIC feat. Yuzuki Yukari & Chihiro Ishiguro

Nobara to Sakura ~Haru no Keshiki~

by EHAMIC feat. Chihiro Ishiguro

Bipolar Tranquilizer

by

OyakataP

feat. Yuzuki Yukari

Tsuki Tabi

by GYARI feat. Yuzuki Yukari

An Embarrassing Love Song to You

by

Akasakof

feat. Yuzuki Yukari & Chihiro Ishiguro
Boku no Tsuita Saigo no Uso by DokukonnyakuP feat. Yuzuki Yukari & Chihiro Ishiguro

Yumemidori (Song Love! ver)

by azuma feat. Yuzuki Yukari
Encore
20. Seiippai no Arigatou by SaKi & DAISUKE-P feat. Yuzuki Yukari
Insert Songs
This Sound by PLAMA feat. Yuzuki Yukari
Perverse by PLAMA feat. Yuzuki Yukari
Despite the concert being an encore, AHS still had some special surprises for their German fans! Along with a brand new track, "Momiage Rock!", which was revealed during the concert, Yukari also welcomed her fans in German. But even if many were surprised by her good German-speaking skills, she probably didn't use an actual German voice bank.
What sent the German VOCALOID fans into mass excitement was a special announcement that AHS saved until the very end of the concert. As with Yuzuki Yukari V3, they again want to sell their VOCALOIDs with a German-language interface in Germany! You can read more about it here.
Another highlight was Macne Nana, who made her big concert debut! Her bilingual song, "Asayake no Kinsei," amazed everyone as she suddenly began to sing in English!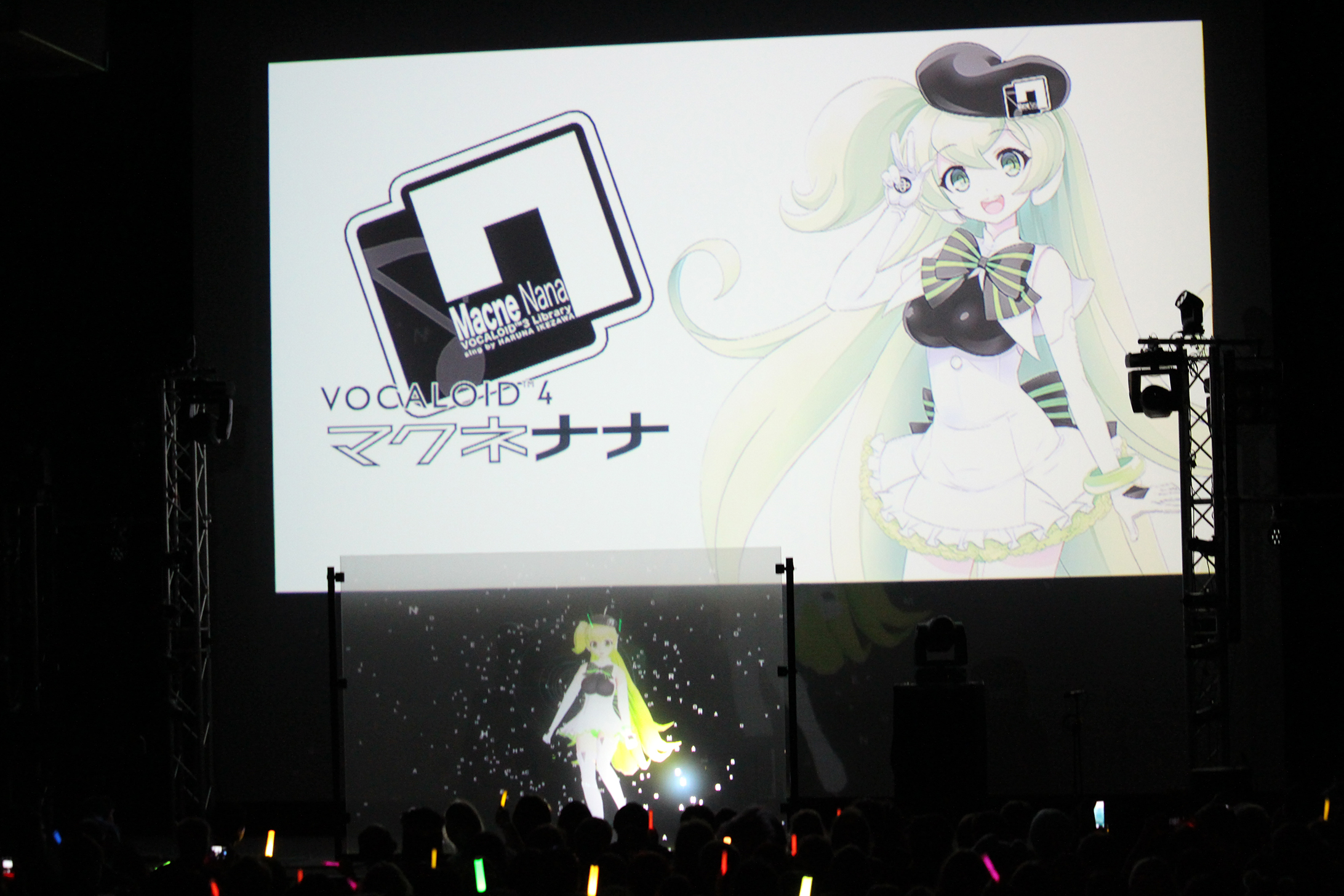 It was also the very first time any fan has ever set eyes on her official 3D concert model. Even VOCALOID producer, pinkpong, who produced the featured song, didn't hesitate to travel to Berlin to watch her very first live performance on stage in person.

We're looking forward to seeing more live performances with Nana in the future!
The other AHSloid's were also on stage of course! Both Nekomura Iroha and miki sang catchy songs, which reminded fans of typical J-Pop tracks. Together with their V4 outfits and those special effects in the background, they looked like real Japanese idols. Because of Miki's white dress, she looked mature and elegant in comparison to Iroha, who appeared rather cheerful. Iroha's song even used both of her Appends, Natural and Soft, even though she only wore her Normal outfit.
It was expected that Tohoku Zunko would gain popularity thanks her anime "Zunda Horizon." However, her performance was even better received by the audience than expected, really pumping up the crowd. We were happy to see that even rather unknown VOCALOIDs get shown some appreciation in Songs Love!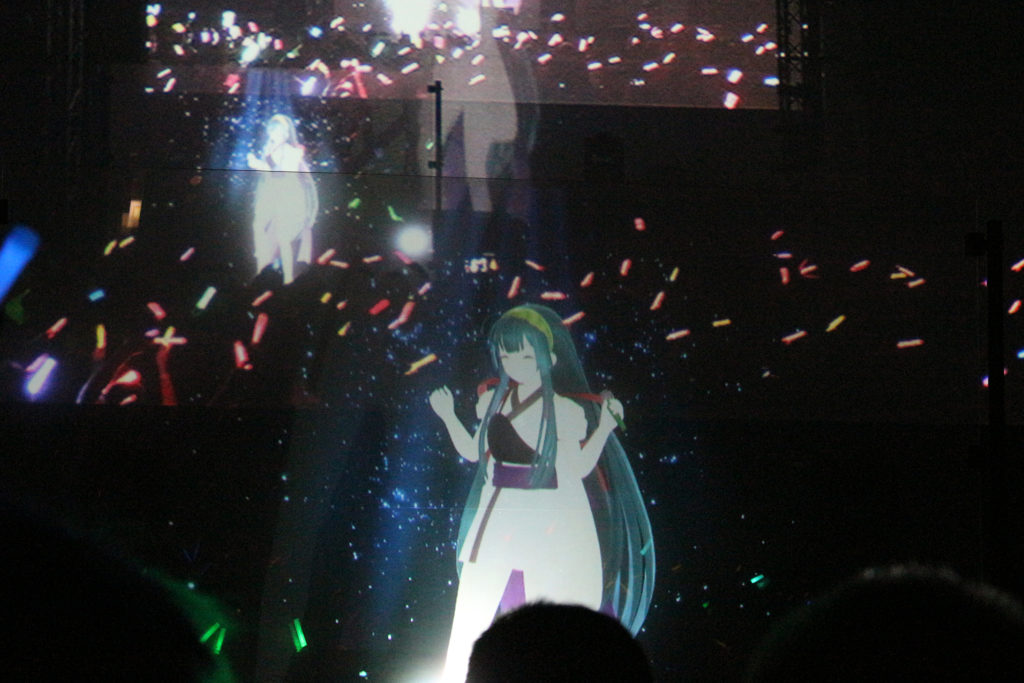 Kiyoteru's song followed Zunko's, which made a drastic change in genre that really excited the fans. They were hyped about his rock song and, because his Rock voice bank and outfit were showcased, the performance may have even kindled a new love for him.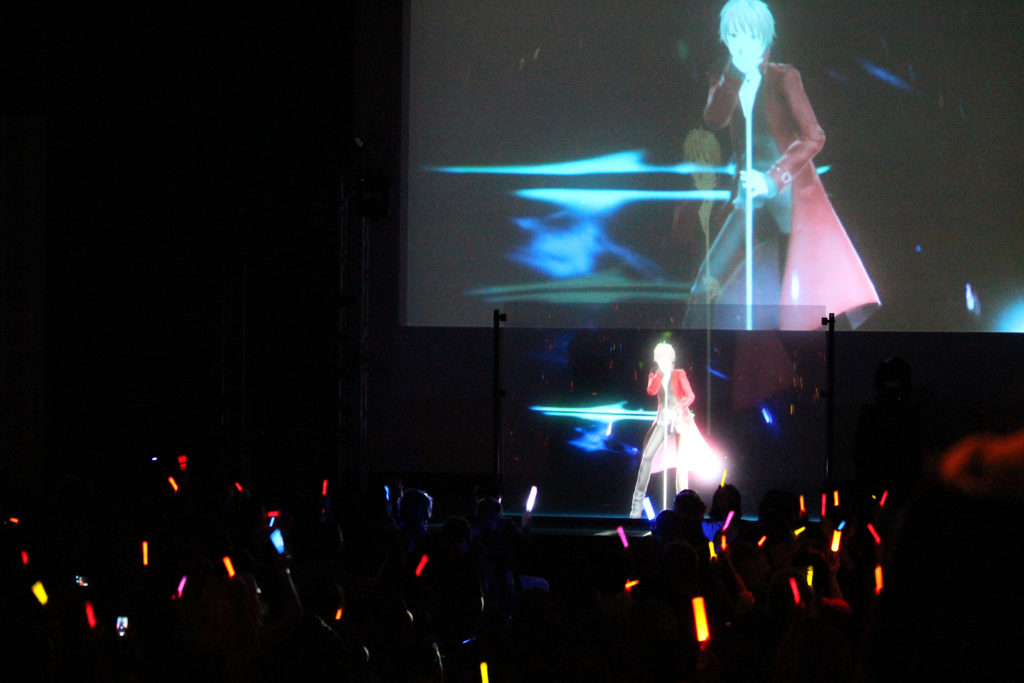 Kaai Yuki appeared after Kiyoteru with an adorable children's-song-like track and an awesome performance with a cute looking room. It fit perfectly to Yuki's theme. While she was dancing around in her room, fans surely fell in love with her!
The real star of the evening, however, was still Yuzuki Yukari whose songs clearly dominated the concert. We had every kind of genre featuring her; from soft and calm ballads to rock songs. Everyone was satisfied! It was also nice to see Chihiro Ishiguro present and singing duets together with her child, Yukari, thanks to the successful Kickstarter!
Chihiro's solos were also a real zinger. The crowd didn't hesitate to dance along to songs like "Omiyage, Onigiri" which made Chihiro and EHAMIC very happy. "Berlin Calling," an alternative version of the original "London Calling,"  was especially a killer for every Berliner!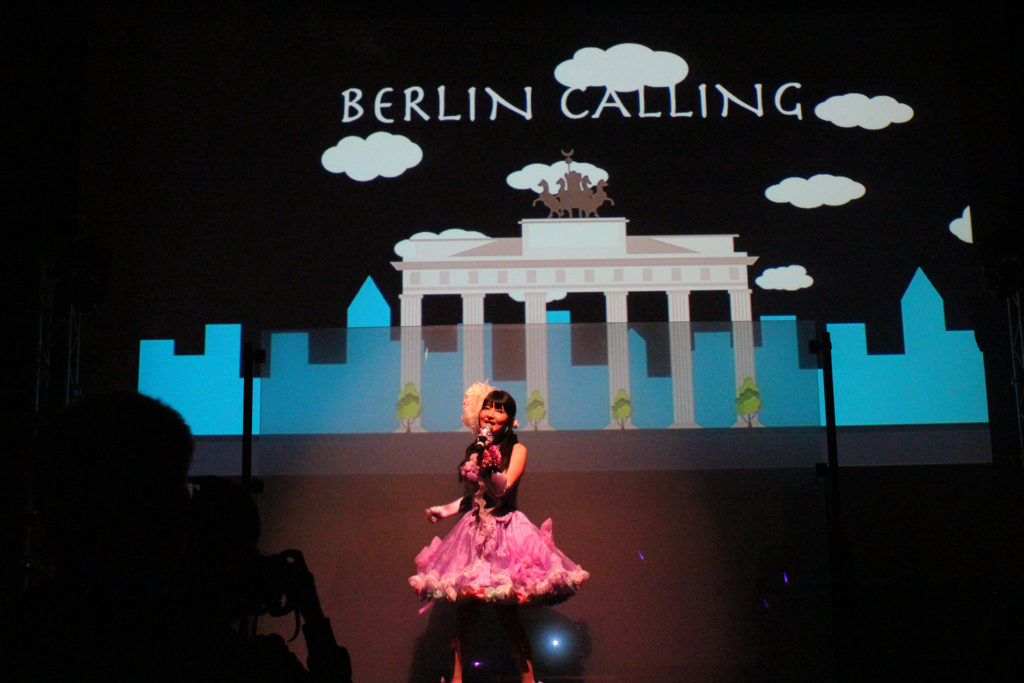 You could really see how many new fans Chihiro gained this evening, and how glad she was being able to participate in the concert in Berlin once again, this time with EHAMIC. All you have to do is look at her Twitter for proof!
??ドイツアニメメッセ??
な、なんと1000人近い皆さんが
見にきてくださいました?嬉しい✨みんなでカメラで記念撮影?

アニメメッセ2017 in ベルリン。
今年もまた来ることができて、
本当に良かった…ありがとう‼️
danke‼️ pic.twitter.com/6f1ikAcKGF

— 石黒千尋 (@chihiro_ishi) June 24, 2017
Germany's Anime Messe
There…There were nearly 1000 people who came to see our show. I'm so glad! Here's a commemorative photo taken with everyone!

Anime Messe Berlin 2017.
I'm so happy that we were given the chance to come again this year! Thank you!
Danke!!
Merchandise
For those who couldn't leave a con without grabbing some merchandise, Anime Messe Berlin provided some goodies! Attendees were able to get some AHS merch at AnimeRadio's Honorary Guests booth during Anime Messe. Alongside a Yuzuki Yukari mug and shirt with Yukari's three V4 designs, they even had some of the AHS voice banks in stock taken out from their own shop, AnimeFanShop.
The concert itself was definitely a once-in-a-lifetime experience for us all and we were happy to be part of it this year! It's not clear if AHS is going to Anime Messe Berlin again next year, but they would be happy if the con staff invites and helps them get to next year's con as well!
For those who couldn't make it to the concert, you can enjoy more of our pictures taken during the show on our Animexx page. For more information on Anime Messe 2018 and VOCALOID, stay tuned to VNN!
Links