Year after year, the independently-produced live VOCALOID concert at the "Niconico Cho Party" event always manages to surprise and captivate its audience, commanding much attention as it goes above and beyond all business scope. And now, a blog series entitled "Behind the Scenes of the VOCALOID Live Concert" on Niconico has begun revealing what the production process looks like.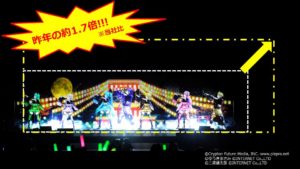 The identity of the person writing this blog has not been revealed, but its content implies that it's someone on the inside of the production process. For instance, the first post concerning the beginning phases of the Cho Party VOCALOID concert asks, "Just how much impact should the VOCALOIDS' stage entrance scene carry?", as it shares some very detailed information from the production side. One such tidbit is how the screen on which the VOCALOIDS appear at Cho Party 2016 is about 1.7 times larger than last year's, a fact that only someone involved with production would know.
Here is a full translation of the blog post:
This year's VOCALOID Live 2016 concert project began with a simple question: "Just how much impact should the VOCALOIDS' stage entrance scene carry?"
For VOCALOID Live 2015, the aim was to make it feel like the VOCALOIDS have crossed over from the world behind our computer monitors into reality, and then would be returning back to their own world after the final act. So we made the stage entrance scene very "high impact," with the VOCALOIDS literally smashing through a computer monitor to get onstage, and kicked off the planning for this year's entrance scene by discussing how we can make it every bit as "high impact."
We started by listening to hundreds of songs, all the while thinking to ourselves "If we make this song the opening act, it'll surely have a lot of impact," and finally decided on the perfect candidate. From there, we underwent the monumental task of putting together an entire medley of songs, starting from ones that make you feel good, then followed by ones that make you feel betrayed, and including ones that are popular, ones that are nostalgic for fans, etc., all making for a suitable VOCALOID Live 2016 concert set list. Talk about a Herculean task!
[OFFICIAL] Niconico Cho Party 2015 VOCALOID Live Concert
I'll be eagerly watching the comments in this video upload for song predictions of this year's set list!
The next issue that we fussed over was how to feature arrangements and mashups, since this IS a Cho Party event filled with such music, after all.
So we then listened to another several hundred (if not several thousand) songs that we were allowed to use, all the while thinking to ourselves "If this reinterpret the song this way, and make such an arrangement, it'll sound great." In order to respect what made the original versions of each song so great, we had to remember that were making these song arrangements not just as concert planners, but as VOCALOID fans ourselves.
And that is how we organize the song performances for the live VOCALOID concert at Cho Party 2016. We next enter the stage production and choreography-planning phase, in which we create and tell the stories of Hatsune Miku and her friends once they are actually onstage.
Next time, I'll be writing about what goes into the motion capture process!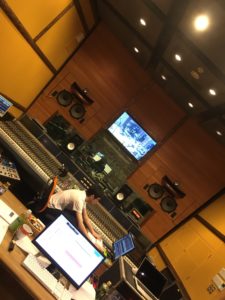 As an aside, I'd like to mention that this year, the stage on which Miku and her friends will be dancing has grown a little wider!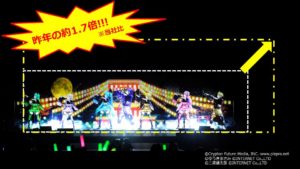 From the very first Cho Party up to 2015, the stage area has never once been altered, but this time, we were allowed to expand it ever so slightly. We feel that it allows the audience to take in the splendor of the performers' beauty all that much more.
We have two more months until the next Cho Party commences, and tickets for general admission are now on sale. But seating is extremely limited, so I recommend anyone still on the fence to secure your tickets right away!
Here's the Niconico Cho Party ticket page!
I sure look forward to seeing just how much this blog series reveals about the production process for the live VOCALOID concert! In addition, a quick look at the Twitter account for the Niconico Cho Party setup reveals the following post:
超パ2016のボカロLIVEラスト曲の演出に着手です。
会社での涙を避け、スタバに来たものの結局目から液体が出るので、アクビ連発で誤魔化してます。
来年で初音ミクが生まれて10年。
10年、その歳月の重みを感じながら創ります。 pic.twitter.com/iIvpJ5ev4j

— ちゃんあべ (@abe_chann) 2016年8月10日
"We just started work on the final song performance for the Cho Party 2016 VOCALOID live concert. To avoid letting my company see my tears, I've come here to Starbucks, but the tears shed anyway, so I'm trying to cover them up with a bunch of fake yawns. Next year will be Hatsune Miku's 10th anniversary. With the weight of that knowledge on my mind, I carry on with my work."
(Here are the words jotted down on the notes in the above photo)
【How the Production Process Should Look】
Together we rejoice, together we struggle, and together we spin the thread of life《music》
So let's bond together, over the next decade into the future!
Finally, as you can see in the embedded video link above, last year's "Niconico Cho Party 2015" VOCALOID concert can now be viewed on the official Niconico channel on YouTube, so that those wishing for an idea for how the end product may look can now find out.
Originally written by Kowhey of VNN Japan.