Those who follow me (Hoshi) on the VOCALOID fan app Vocaloid Amino saw that I grabbed a few special items from Barnes & Noble over the holiday. This U.S. based book store has been selling manga for as long as I can remember. However, they started delving into figures several years ago. And, just recently, they've taken things a step forward. While they've carried Hatsune Mix for quite some time, now they're carrying even more goods of the digital diva and her friends!
While you can find Funko POP figures of Luka, Rin, and Len; Miku at Barnes & Noble; as well as two Nendoroid Co-De figures (Raspberry Monster and Ha2ne Miku), I'm covering a rarer find. Amongst these figures, which are listed online, were two you CAN'T find online. And so far, everyone I know has only seen one set in the stores they visit.
What are these mysterious figures? Some really cute prize figures: Chibi Kyun-Chara Racing Miku 2015 and Super Sonico! These two prize figures were released in April of 2016, though they seem to be making their way west. Tokyo Otaku Mode carried them but have since sold out. However, Crunchyroll has them for pre-order!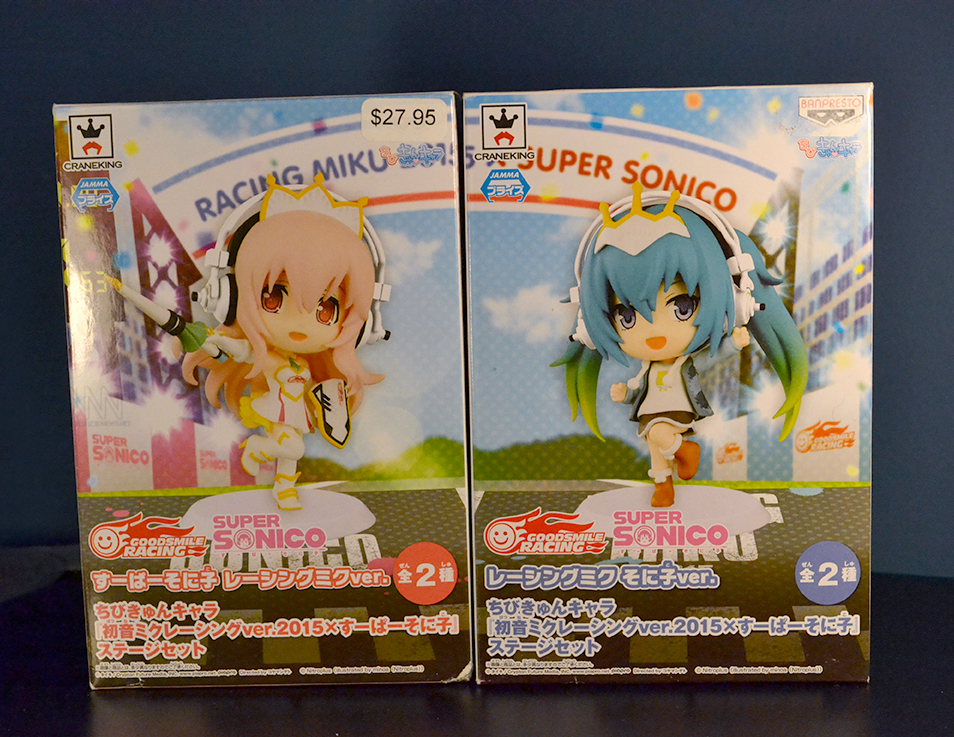 Price
As you can see from the price sticker, each figure was $27.95 USD. This is $0.05 USD cheaper than Crunchyroll. While it may seem a bit pricey for a prize figure, if you usually ship EMS, the prices are about the same as EMS costs a fortune.
In addition, buying these figures in actual stores in the West helps show demand. The more people buy, the more Barnes & Noble are likely to look into hosting more Miku and VOCALOID goods!
Overview
Overall, these figures definitely have their pros and cons which I'll be covering in a moment. However, let's start off with a general intro to them.
Unboxing
Both figures come with a few basic parts: the head, body, stand, piece that connects the figure to the stand, stage, stage background, and a sticker to place on the stage.
Everything is separated into different sections. The figures themselves are rather easy to put together, but I did find some difficulty with figuring out the stage. There are Japanese directions on the flaps of the box when you open it, but the pictures weren't very clear on what to do.
Once I figured it out, though, it wasn't too difficult. Hopefully this visual will help fans see what they need to do.
Finishing the Stage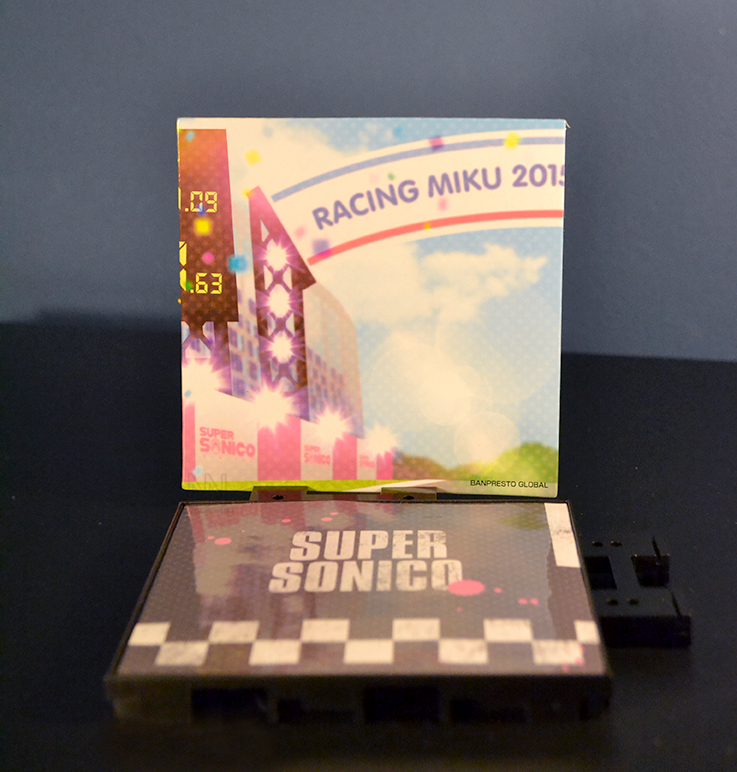 As I mentioned, the stages both come with backgrounds as well as stickers you can place on the stage floor. I chose to just keep the stickers on their backing. The stages have a bit of a lip so the stickers won't slide around and they still look good. I'm horrible with stickers, so that's the best option for me.
One thing that is difficult, though, is getting the thick cardboard background to go into the tiny slots of the plastic. The cardboard is going to end up dented; there's no avoiding it. I personally kind of wiggled mine in and then had to reposition it to try to make it even with the other stage background. One of my biggest cons for these figures would definitely be the stage background. It was just annoying for me to get it perfect.
As a pro, the backgrounds are actually really well printed as are the stickers. They're really high quality and definitely surpassed my expectations.
Pros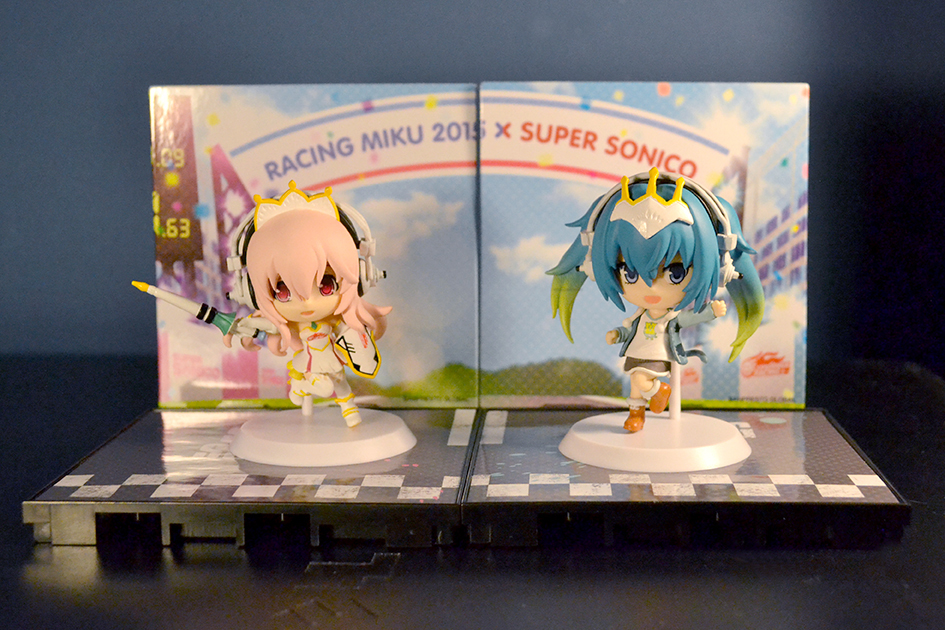 1) Uniqueness: These figures are definitely unique. While there are other Racing Miku x Super Sonico collaboration figures on the market, these are the only super-deformed chibi style ones I've found. These are also the only prize figures, which means that they're the only ones in the lower price range. (For more information about figure prices, check out our article on starting your figure collection here.)
2) Good Quality: While these prize figures aren't of super high quality (I'll detail their flaws in a moment), they also aren't super bad quality either. From afar, they do look really nice. And up close, they still look pretty good. While they don't blow anyone away like some prize figures, they also aren't horribly bad. The paint job is good, the molding is pretty high quality, and the faces aren't a complete turn off. So overall, they're not bad to have in your collection.
3) Size: While some people like it big and bold, these figures are small and easy to find a home for. You can place them on your desk, in a spare area of your shelf, or pretty much anywhere there's a little bit of room. You can even cut down on space more by not displaying them on their stages.
4) The Stages: While you could display the figures without the stages, I actually really like them. Once you get the things together, they look very nice. They fit in well with other Racing Miku themed figures, and are bright and cheerful. So they'll lighten up your figure shelf quite a bit!
Cons
1) Sonico's Face: While Miku doesn't look too bad, Sonico's face doesn't do her justice. She looks a bit dead inside. No matter what angle you look at her, she has a bit of a blank stare for some reason I can't quite place.
2) Price: While the price is actually decent, there are other figures that you can get for similar prices that look a bit better. For this con, it's really weighing how much you like the uniqueness and pros of the figures and deciding if it's worth it. I grabbed them blind without looking at any reviews, but honestly, I'm happy with my purchase. They're decent for their price range, are interesting, and they're still really cute.
3) Availability: However, getting them at the given price can be a bit difficult. As I mentioned earlier, so far every Barnes & Noble visited has either one of each figure or neither. And they don't seem to restock. So you're likely going to be grabbing them from either Crunchyroll or Mandarake, which means you'll be paying shipping.
Final Thoughts
Overall, I really like these figures. While I would rate them as one of my lesser "steals," they aren't something that I'd call a disappointment. They're really nice when you take everything into account and, as I mentioned, they're adorable. So even though Sonico looks a little bit out of it, I'd say they're worth it for collectors interested. And, as an added bonus, buying them at Barnes & Noble will show interest in Miku goods! However, if you're not in the United States, still feel free to grab them from wherever.
And if you are in the U.S., check out your local Barnes & Noble and let VNN know what VOCALOID goodies you find!