About Mirai Collection
DIVELA's 1st original album "Mirai Collection" has been announced! The album will be on sale at the Magical Mirai 2019 Creators Event in August and September. It will later release in stores on September 11th 2019. Mirai Collection will feature 11 tracks, with 3 being brand new songs. In addition, the 11th track is a remix of DIVELA's song METEOR by keisei. The album will cost 2,000 JPY plus tax.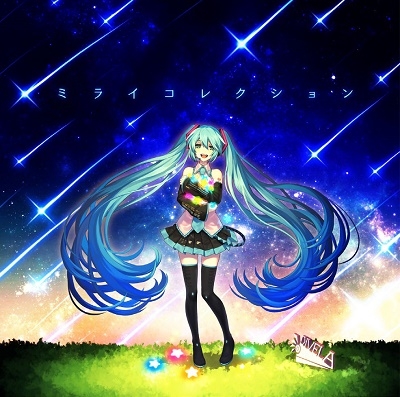 The beautiful album cover art is by Matsuda Toki. Previously they did the art for METEOR when it was uploaded to YouTube and nicovideo.
About DIVELA
DIVELA began releasing music in 2013, with the most of their works being remixes of famous Vocaloid songs. Remixes by DIVELA have appeared on albums such as "-LODESTAR-" and "Vocalostream". Additionally, DIVELA arranged the Cool Medley for the game Hatsune Miku: Project DIVA X which released in 2016. In 2018, DIVELA won the Magical Mirai 2018 Song Contest with their original song METEOR and, Since then, they have been more actively releasing original Vocaloid songs on nicovideo and YouTube.
Mirai Collection Crossfade
Tracklist
39℃
Haikei You o Abiru Chijou no Kimi e
Saikidou
Release dates
Mirai Collection will be sold at the Magical Mirai Creators Market on August 10th – 11th and August 30th – September 1st. On August 10th – 11th, DIVELA will be at table A-3 for the Osaka event, and on August 30th – September 1st, they will be at table B-1 for the Tokyo event.
For those who can not attend either event, the album is already available online for pre-order and will be released on September 11th!
You can find the album at the following retailers:
For those who live outside of Japan, Amazon Japan supports shipping of albums overseas without the need for a proxy shipping service.
DIVELA can be found on Twitter,  YouTube, nicovideo, and SoundCloud