If you follow us on our social media, you should already know that ETERNO RÉCIT's next event is an interactive one featuring Hatsune Miku and her friends. At the time, not much information was revealed except for the location and the date, but now, we have some nice updates we would like to share with you!
Spending Your Time with Miku!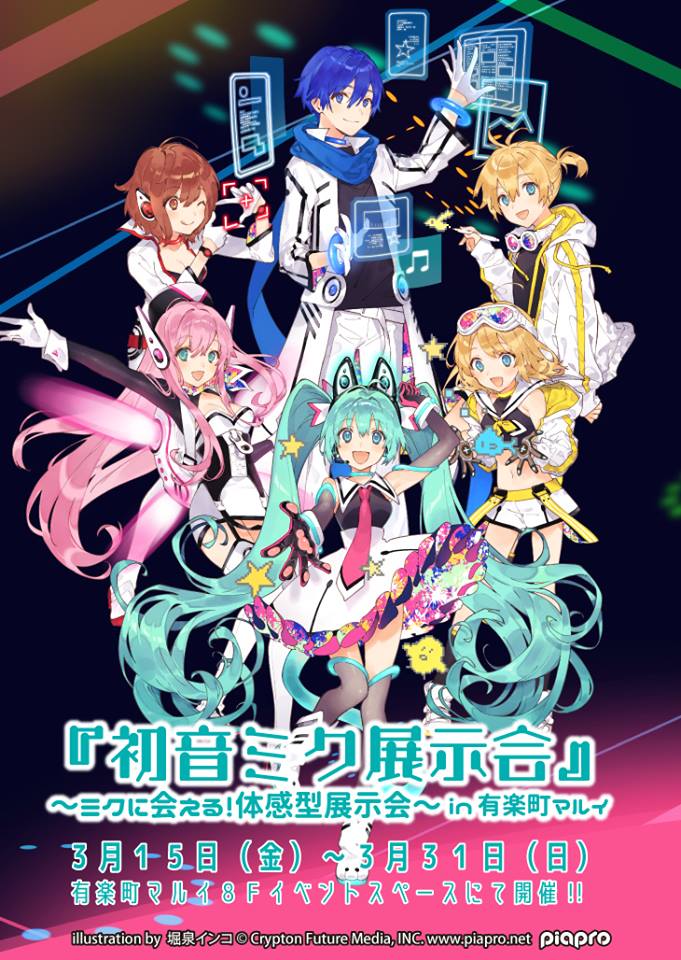 This collaboration will be held at "Yurakucho Marui" starting from March 15th and ending on the 31st. You will be guided in an interactive experience alongside your favorite Piapro characters, in particular the teal twintail diva Hatsune Miku! There will be a VR area where you will be able to take a photo with her and you will even be able to experience the feeling of being a VTuber yourself. Merchandise will also be available and you will hear Miku herself making announcements at the store during this collaboration!
There will a lot going on at Yurakucho Marui during the second half of March, so let me share with you the location's map! If you are visiting Japan at the time, you will absolutely love to attend this event!
Vtuber Experience and Hatsune Miku Photo set at the VR Area
Thanks to a special guest Virtual Cast and TSUKUMO (ProjectWhite Corporation), you will be able to temporarily feel like a Virtual Youtuber using a custom 3D model and entering the VR world! This meeting will last one hour each and will repeat for ten days in total starting from March, with the only exception being weekends when they will hold the Hatsune Miku VR photoset.
Dates and times
Dates: March 15th-17th, 21st-24th, 29th-31st
Times: 1〜2 PM, 3〜4 PM 5〜6 PM and 7〜8 PM
※ Remember, Miku's photo set is held during weekdays as well!
Main Artists Giveaway
You will also get the chance to receive a colored sketch of Hatsune Miku from the event's main artists Horiizumi Inko and Youno! During this period of the event, four lucky people will get the chance of of winning a colored sketch from one of the two artists (each of them will draw two sketches) featuring our favorite virtual diva! Who will be the lucky winners to have the honor? Who knows, but we wish the best of luck to every aspiring winner of this giveaway!
Merchandise
Once again, there is no collaboration event without some goods to take home! This is no exception, there is a big variety of items you can choose from! Let's take a look at them together!
Every character has their own version of the goods they offer, so there are many anything you might want to buy featuring your favorite character of the Piapro crew! Let's check out the price list together!
A1 Tapestry – 3,780 JPY
A4 Clear Files (Horiizumi Inco or Youno ver.) – 1,620 JPY
Die Cut Sticker sheets (Horiizumi Inco or Youno ver.) –  648 JPY
Trading Can Badge (18 variants available) – 540 JPY each
Acrylic Stands (6 variants) – 1,620 JPY each
Acrylic Keychains with Stands (6 variants, SD ver.) – 972 JPY each
Mugs (6 variants) – 1,620 JPY each
Original Blend Tea – 1,944 JP
Key Cases (6 variants) – 2,700 JPY
Book-type Smartphone Cases (6 variants) – 3,780 JPY each
QI Wireless Chargers (6 variants) – 5,400 JPY each
Card and Coin Cases (6 variants) – 2,700 JPY each
PVC Bracelets (6 variants) – 1,620 JPY each
Motel Key Holder (6 variants) – 648 JPY each
Large Tote Bag with zipper – 4,860 JPY
Long Sleeve (6 variants, sizes: S/M/L/XL) – 4,860 JPY each
Coach Jacket (Sizes: M/L/XL) – 10,800 JPY
Tablet Covers (Sizes: M/L Horiizumi Inco or Youno ver.) – 3,780 JPY
*All prices include taxes, there is a limit on how many units of an item you can buy due to the limited amount of products available.
Collaboration Suites and Accessories
Alongside the standard merchandise you can buy from the store, there are some more collaboration goods you can buy. Some of which are not revealed yet, others don't have a sample picture either but there are some extra cute accessories you might fall in love with!
Suites
At the moment we only know about the chocolate set (1,080 JPY) and the Gummi box (648 JPY) they will offer, but stay tuned with us and keep checking this article as we will update it when more information arises!
Accessories
Any fan that makes use of accessories such as bracelets and earrings will absolutely love these two products. Nothing beats wearing your passion for Hatsune Miku!
Hatsune Miku Bangle (size M (diameter: 55mm) or L (diameter: 62mm) – 19,440 JPY each
Hatsune Miku Earrings – 6,480 JPY each
Bonus Purchase and Lottery
Last but not least, we have the bonus purchases and lottery that will be held during the event!
Postcard and Epos Card Privileges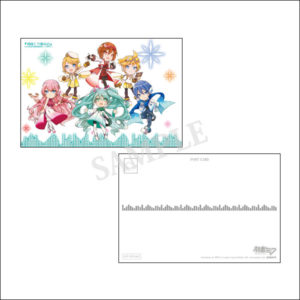 For everyone that purchases something at Yurachuko Marui's store during the collaboration period, they have prepared a cute postcard featuring Youno's SD illustration. All you have to do is show them the award ticket that you got in store with the receipt at Hatsune Miku's exhibition. After doing that, they will hand you the postcard as a gift!
* Beware that those are limited and they might not be able to give you one if they run out. Also, they will only give one postcard per person and external stores of Yurakucho Marui aren't included in this offer.
Lottery
If your shopping session was exhausting and you have spent more than 3,000 JPY with your Epos Card or Sumitomo Tsui Hatsune Miku credit cards (MasterCard or VISA), you are eligible for their special lottery as well! Prizes vary from clear files to limited items such as a gaming mouse or keyboard featuring Hatsune Miku!
A: Character Stand Panel (6 in total, one per character) – 6 Winners
B: A set of 6 postcards and a clear file set – 30 Winners
C: A random postcard out of the six variants
TSUKUMO Prize #1: "Neptune Elite RGB HATSUNE MIKU EDITION" gaming keyboard – 1 Winner
TSUKUMO Prize #2: "Iris RGB HATSUNE MIKU EDITION" gaming mouse –  1 Winner
*While you cannot choose the character for A and C prizes, B features a full set with all six of the postcards you would win with C's prize and a TSUKUMO clear file.
*Please use your own Epos card for this offer! You cannot use someone else's card to participate.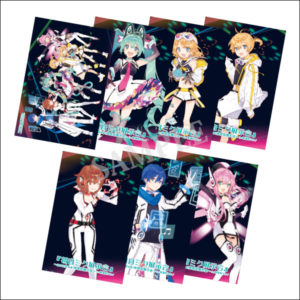 But there is more! If you decide to apply for an Epos Card at the event shop, they will also give you a set of six standard postcards plus a limited one.
Sources
While we wait for this awesome collaboration to begin, remember to stay tuned with us on VNN for all the news and updates about your favorite virtual singers!
Hatsune Miku official blog Press Release
Official Collaboration Page
ETERNO RÉCIT on Twitter