The new KAITO album Exit Tunes Presents Kaitonation is set to release on December 7th, 2016. The album contains 18 songs and a bonus track, of which four are brand new tracks while the 18th track is also a never-released bonus track featuring Naoto Fuuga.
Promotional Video
[nnd src=29703226]
The promotional video for the album features the new song "Kaitonation" by yuukiss with illustrations by 憂 (Yuu).
Track List
At the moment, the track list isn't finalized so the order of the songs is subject to change. There are also untitled songs with only their producers announced. However, this is what the website currently provides as the included tracks:
Kaitonation by yuukiss (Opening Theme / New Song)
Title To Be Determined / by yanagi (New Song)
Title To Be Determined / by Re:nG (New Song)
Kurenai no Hana/ by F.Koshiba /WandererP
Sweet's Beast / by Menday-P
Tsukeru yo / by SuketchP
BLOOD / by SCL Project(natsuP)
Gokuraku Nostalgic / by MazoP
Koi Suru Apuri / by hal
Rosary Pale / by ShinjouP
BONUS TRACK Title To Be Determined / by Naoto Fuuga
Pre-order Bonuses
Lots of stores have pre-order bonuses if you order from them. With all the options, there's quite the decision in KAITO fans' hands! Though, there's one bonus that everyone will get.
Phone Straps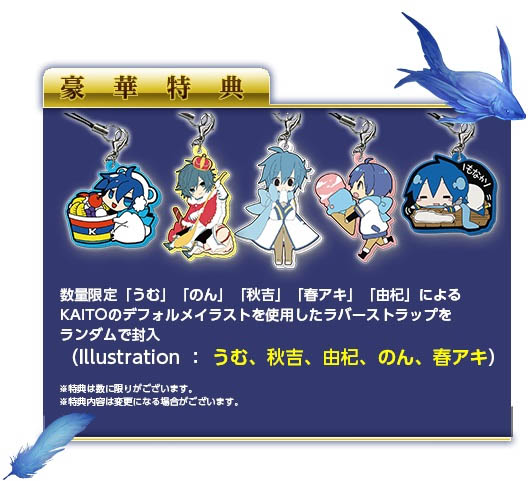 All orders of the CD come with one of five different rubber straps featuring illustrations by うむ (Um), 秋吉 (akiyoshi), のん (Non), Harumaki, and Yuuki.
The phone straps feature KAITO in a variety of different outfits and poses, each one unique and adorable. No matter which strap you get, you're sure to love it!
These phone straps are all rubber and appear to use a small chord to attach to your phone. If you don't have a phone or phone case that lets you use this type of hanging, don't worry! You can find headphone/earphone jack accessories in many stores. Simply switch out the accessory you bought for your KAITO strap!
In addition to the phone strap, there are other unique pre-order bonuses that come from different stores both online and offline.
---
Store Specific Bonuses/Where to Buy
Many stores only have special pre-order bonuses available while others only have the phone straps. As mentioned before, every pre-order comes with a strap, so that's not listed. Only the special items exclusive to the certain store are as listed below. Please note that all stores may not ship internationally.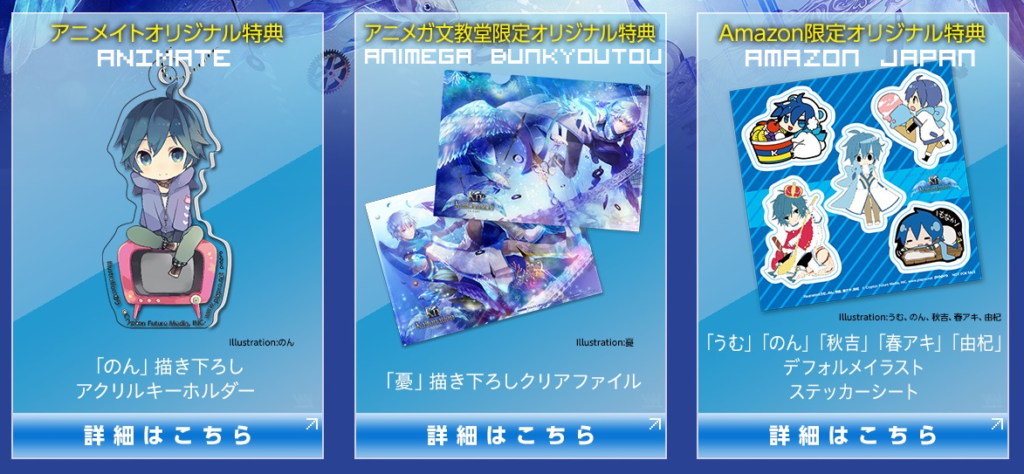 CDJapan
Price: ¥2500 JPY ($24.71 USD)
Animate
Price: ¥2700 JPY (about $27.00 USD)
Bonus: Acrylic keychain illustrated by Non
Animega Bunkyoutou
Price: ¥2700 JPY (about $27.00 USD)
Bonus: Clear file illustrated by Yuu
Amazon Japan
Price: ¥2700 JPY (about $27.00 USD)
Bonus: Sticker set featuring the phone strap illustrations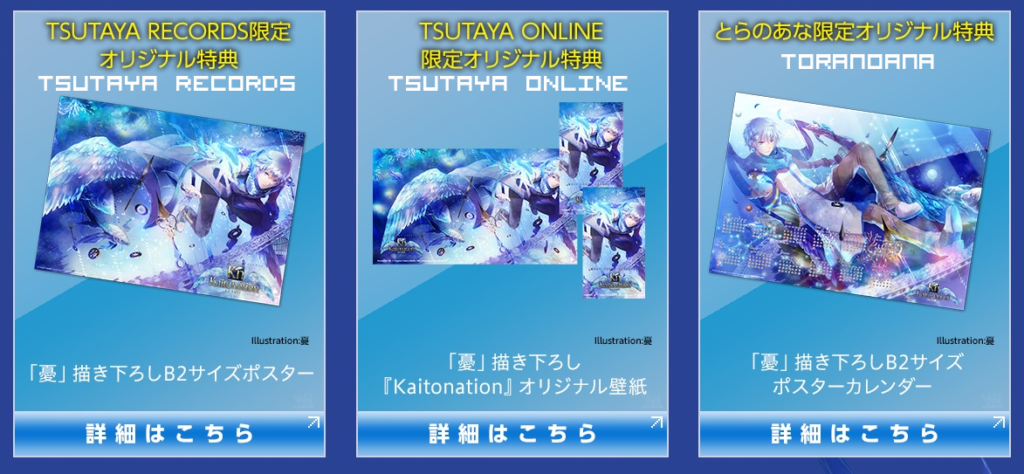 Tsutaya Records (in-store bonus)
Price: ¥2700 JPY (About $27.00 USD)
Bonus: B2-sized poster illustrated by Yuu
Tsutaya Online
Price: ¥2700 JPY (About $27.00 USD)
Bonus: Original digital wallpaper illustrated by Yuu
Toranoana
Price: ¥2700 JPY (About $27.00 USD)
Bonus: B2-sized calendar illustrated by Yuu
---
Special 10th Anniversary Edition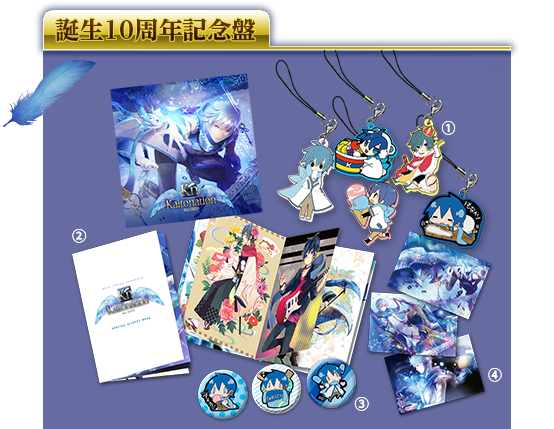 There's also a special 10th anniversary edition available! This special edition not only comes with one of the straps mentioned above but also tons of special, exclusive items. It's priced at ¥ 3980 JPY and is purchasable through Pony Canyon here. Unfortunately, it's only available in Japan, so international buyers will need to use a proxy.
This special edition comes with the following bonuses, numbered in the image shown.
One of five phone straps (random)
KAITO illustration book featuring the artists who illustrated the phone straps
Set of three 3.3 cm KAITO metal can badges illustrated by Haruyuki
Set of three postcards illustrated by Yuu
Yuu's Illustrations
If you like Yuu's illustrations, feel free to check them out on pixiv! All three of the illustrations are available in high quality for pixiv members to view under the submission titled "Kaitonation".