It's time for a new fabulous compilation from EXIT TUNES! With this album, we celebrate their 10th anniversary of vocaloid compilations to be released and it includes various vocalist, from our beloved twintail diva Hatsune Miku to the little vflower! I'm very glad to introduce to you the "EXIT TUNES PRESENTS Vocalostream feat. Hatsune Miku" album!
About the compilation
So much time has passed since EXIT TUNES's first compilation of this kind, and now, we are celebrating it with a whole new addition to the series! Let's take a look at the cross-fade video and tracklist below together!
Tracklist
Tracklist may be subject to changes
This compilation will be released on March 20th, if you pre-order this CD from Amazon JP, you will also get an additional disc with two exclusive remixes!
Disc 2 Tracklist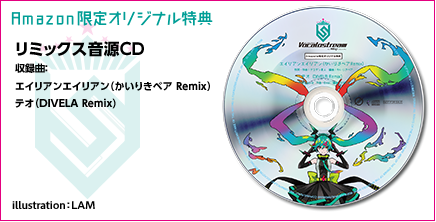 Alien Alien (Kairiki bear Remix)
Teo (DIVELA Remix)
Click here to Pre-Order the album from Amazon JP
Included in this compilation are legendary songs that guided us during our journey as fans in the past few years, it's surely a wonderful opportunity for us to enjoy them once again, together with some new exclusive compositions that will give a new fresh breeze to the listeners.
Purchase Bonuses
By buying the album on any store, you will also get a standard set of merchandise! Those goods are very limited and will only be available until stocks ends, so be sure to get your album quickly!
Buying the album, will get you an Acrylic Keychain, a Can Badge (both of the keychain and Can Badge are picked up randomly) and a IC Card Sticker. However, those are only available in a limited amount and won't be given to costumers once the stocks ends. Better be quick! As for the CD label and the sleeve case, those aren't limited, so no worries!
Potune Limited Edition
Potune Online Shop also offers a limited edition of the album, which includes all of the merchandise we showed you in the paragraph above, plus two extra exclusive goods you will absolutely love!
You can buy Potune's Limited Edition by clicking here! It is priced 4,254 JPY!
This store doesn't ship overseas, so you may need to ask a friend or use a proxy service to get it
Bonus Pre-Order
Offering a bonus for pre-order costumers has become a tradition to this compilation series, especially for retailers, and of course, this one makes no exception, so let's have a look on what they can offer us!
Animate Online Shop: A clear file and a custom acrylic keychain of your choice (illustrated by LAM)


Clear File

Custom Acrylic Keychain (11 variants)


You can choose between different characters: Hatsune Miku, Kagamine Rin, Kagamine Len, Megurine Luka, KAITO, MEIKO, GUMI, Kamui Gakupo, IA, MAYU and vflower
(Click on the name of the character you are interested to choose and it will bring you to its product page!)

Bunkyodo Hobby: A clear file (illustrated by Tama)

Clear file A4 format

Tower Records: A 100mm badge (illustrated by LAM)

100mm Badge

Tsutaya Records: An alternative jacket cover (illustrated by Tama)

Alternative Jacket Cover

Toranoana: A custom bromide print (illustrated by LAM)

Custom bromide prints (11 variants)
All of the bonus pre-orders are limited and bound to not have a huge stock of them, so if you are interested in them, it's best you order your album as fast as you can!
HMV & BOOKS Store
You can also buy the album from HMV by clicking here! This store doesn't offer any exclusive merchandise with it, however the shop is fully in English so it might be a bit more easier to buy from there!
Conclusions
If you are a fan of huge compilations including many vocalist on it, EXIT TUNES's series is just what you are looking for! This marvelous mix of music and genres is perfect for anyone's taste and mood! Feel free to tell us what you think about it in the comment section below!
Stay tuned with us on VNN for all the news and updates about your favorite Virtual Singers!