Yuzuki Yukari's production team, VOCALOMAKETS, is collaborating with Sound Studio NOAH to bring fans a rare opportunity to learn or sharpen their VOCALOID skills in a university setting!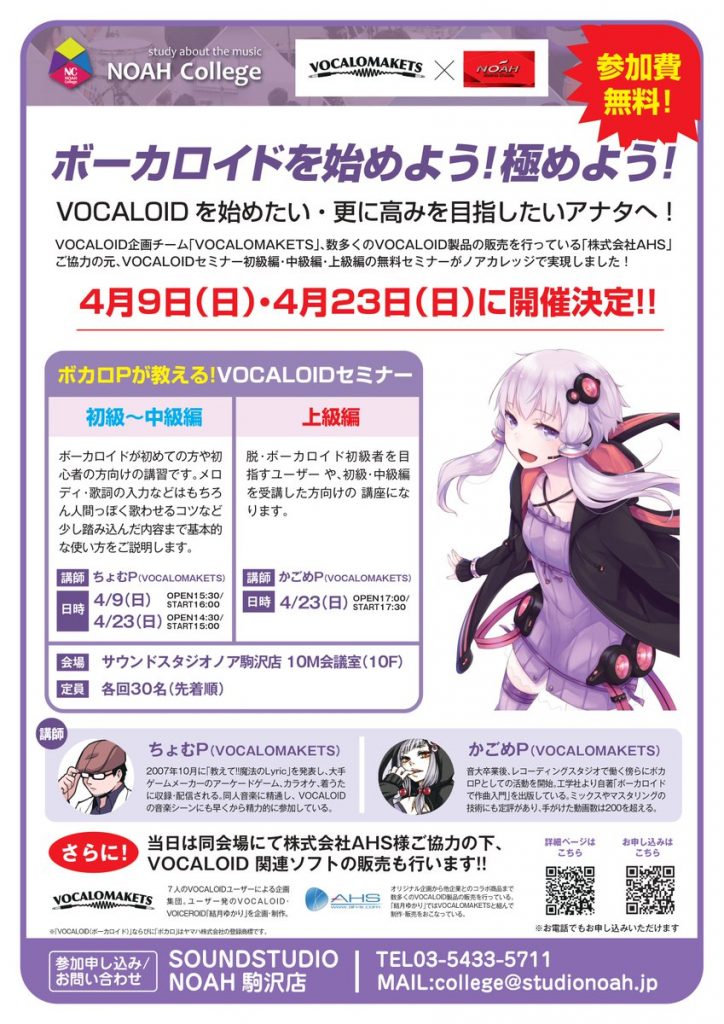 On April 9th and 23rd, they will be holding three seminars entitled "VocaloP-Led VOCALOID Seminars!" at their Komazawa studio in Tokyo! The seminars will be free to attend, but each can only seat up to 30 participants, so hopefuls need to apply soon.
Two of the sessions will be aimed at beginner and intermediate VOCALOID users, teaching the basics of VOCALOID usage, and will be taught by VOCALOMAKETS member, ChomP. The remaining session will be aimed at more experienced VOCALOID users, delving deeper into the area of tuning a VOCALOID voice, and will be taught by KagomeP, also of VOCALOMAKETS affiliation.
But rest assured that even though these seminars are the result of NOAH College's partnership with VOCALOMAKETS, the skills and techniques that they will teach students will be perfectly applicable to all VOCALOIDs, and not just Yukari! That being said, VOCALOMAKETS representatives will still be present on all seminar days to promote and sell various Yuzuki Yukari software.
The seminar days, times, and lesson content are as follows:
Beginner to Intermediate Seminars
Training for VOCALOID novices. We will be teaching the basics of how to use a VOCALOID, such as inputting melodies and lyrics, as well as touch upon how to make your VOCALOID sound more human.
Lecturer: ChomP (VOCALOMAKETS)
Dates & Time(s): Sunday, April 9th from 3:30 PM to 4:00 PM (JST)
Sunday, April 23rd from 2:30 PM to 3:00 PM (JST)
Location: Sound Studio NOAH, Komazwa, Conference Room 10M (on 10F)
Capacity: 30 people each seminar (seating is first-come, first-served)
Advanced Seminar
Training for experienced VOCALOID users and/or those who have taken the Beginner to Intermediate seminar.
Lecturer: KagomeP (VOCALOMAKETS)
Date & Time(s): Sunday, April 23rd from 5:00 PM to 5:30 PM (JST)
Location: Sound Studio NOAH, Komazwa, Conference Room 10M (on 10F)
Capacity: 30 people (seating is first-come, first-served)
Interested parties can apply here at NOAH College's website (Japanese): http://college.studionoah.jp/application/
About NOAH College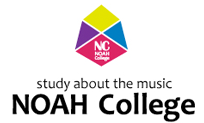 NOAH College is a university workshop program that is funded and managed by the acclaimed music training studio, Sound Studio NOAH, which is active throughout the Tokyo metropolitan area. NOAH College was founded on the premise of "Enjoying and understanding music more deeply," with each of their workshops focusing on one singular area of music, led by lecturers who are expert creators in their own field of music-making. Each lecturer's goal is to help their students understand the very heart of their chosen musical interest on the most fundamentally deep level. NOAH College's VOCALOID seminars follow this suit while delving into the world of voice synthesizers, marking a landmark development in a university-level institution's recognition of VOCALOID music as a genuine musical art that can be explored more deeply.
NOAH College's Official Site
NOAH College's Official Twitter