The Yuzuki Yukari Racing Project has certainly picked up a lot of steam since its inception, but if the recent posts on its Facebook and Twitter accounts are anything to go by, the team isn't planning on hitting the brakes on the project anytime soon!
Yuzuki Yukari Racing at Itasha Heaven 2017!

First up, it has been confirmed that the Yukari Racing Car (see below) will be making its debut at this year's Itasha Heaven event in Odaiba on Sunday, March 26th!
Itasha Heaven is an event where itasha exhibitors and teams can gather at and display their vehicles, participate in cosplay contests, sell their wares, and even register their teams as either "Itasha Heaven" or "Itasha Hell" to compete in an Itasha Heaven vs. Hell tug-of-war! The Yuzuki Yukari Racing post specifically mentions them being there to sell their Racing Yukari car decal stickers, but time will tell if they intend to participate in any other event. Below is a list of things that the event sponsors claim participants can do at Itasha Heaven. Which ones do you hope for Yukari?

Reunite with old friends
Meet face-to-face with people whom you otherwise have only talked to online
Make new friends
Show off your sweet set of wheels, and see a ton of others
Have the chance to be interviewed
Sell your wares at your very own booth
Watch some loud and rowdy stage events
Drink coffee while ogling at cosplayers
Get turned on by all the sexy-looking rides and think up ways to alter the look of your own
Find love (maybe)
More details can be found on Itasha Heaven's official site and official Twitter.
Yuzuki Yukari Racing at Niconico Cho Kaigi + Koetsuki Doujin Event!

Next up, the Racing Yukari team has also confirmed that they will be making an appearance at Niconico Cho Kaigi 2017! This annual mega event celebrates all things Niconico, from VOCALOID music, to utaite, cosplay, video games, and (of course) itasha as well. It will take place from April 29th to the 30th at the Makuhari Messe International Convention Complex.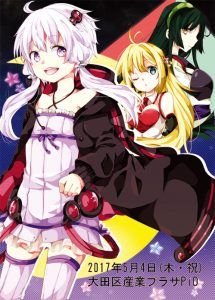 Furthermore, the special Yuzuki Yukari doujin fest "Kono Koe Todoke, Tsuki☽ Made Mo" (この声届け、月☽までも, roughly meaning "I will send my voice out to as far as the moon"; or "Koetsuki" for short) is set to take place on May 4th at the Ota Ward Industrial Plaza PiO, with the Racing Yukari team also in attendance. This massive dream-come-true event for any Yukari fan will have booths for dozens upon dozens of Yukari and VOICEROID-centered doujin circles, all brought together by their shared love and adoration of the moon-rabbit VOCALOID.
Take this writer's word for it when he says that the Yuzuki Yukari Racing Project's acceptance to both of these prestigious events is no small feat, and goes to show just how far the project has come! Would-be participants reading this should make sure to cheer them on!
Niconico Cho Kaigi Official Site
Koetsuki Official Site
Koetsuki Official Twitter
Yukari Racing Car?
Finally, the Racing Yukari team also tweeted a very interesting tweet, showing the newly-revealed "Yukari Racing Car."
ゆかりレーシングカーの施工に入りました! pic.twitter.com/qcCsnNUbhg

— 結月ゆかりレーシング (@yukari_racing) March 15, 2017
So it may not just be the itasha anymore, but an actual, legitimate race car for Yukari that the team is aiming for next! Details are scarce, save for the above tweet containing teaser photos of the race car, along with the message: "We have entered production of the Yukari Racing Car!" VNN will be sure to update you with more details on this mystery vehicle as they emerge!
To catch up on the Yuzuki Yukari Racing activities, check out VNN's previous articles!
The Yuzuki Yukari Racing Project Goes into High Gear!
Yuzuki Yukari Racing Project Updates: Crystal Plaque Reward Added!
Yuzuki Yukari Racing Project Initial Goods Unveiled!
Yuzuki Yukari at Comiket 91!
Yuzuki Yukari Racing Crowdfunding Concluded + New Video Report!
Winter Wonder Festival 2017 Figure Roundup!
Readyfor Stories: Behind the Wheel of the Yuzuki Yukari Racing Project
Yuzuki Yukari Racing Project Readyfor Crowdfunding Page
Yuzuki Yukari Racing Project Official Facebook
Yuzuki Yukari Racing Project Official Twitter
Takahiro Watanabe's Official Twitter
MazodoraP's Official Niconico Channel and Mylist