With less than half of the year left for 2019, it's now time for us to think of the future, and our next year calendar is part of it! Why don't we include Hatsune Miku in this quest by getting a custom SELEPO calendar featuring her?
A Custom Calendar with your Favorite Diva
Thanks to a collaboration with SELEPO, you can now get a fully customizable 2020 calendar!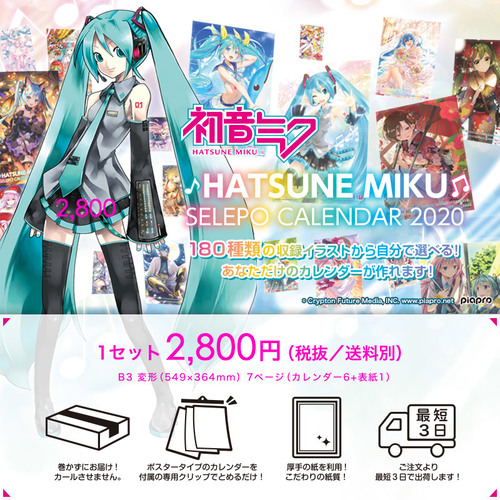 Thanks to this offer you will be able to purchase a full custom calendar featuring illustrations portraying Miku and her friends!
At cost of 2,800 JPY you will get a 7 pages (6+1 cover) B3 sized calendar with 7 illustrations at your choice. You can choice between 180 different artworks for its pages, giving your own 2020 calendar an unique set of drawings
Here below you can see some photos portraying three illustrations as samples! Please note that those are photos, not the illustrations!
Source for the photos above is the Hatsune Miku official blog
Those are just three of the artworks you can choose for your calendar! Awesome aren't they? More samples will be exhibited during Magical Mirai 2019 at Ensky's booth, take the opportunity to have a glimpse of how those artworks would look like when printed!
How to buy
Orders will open on August 9th and you can make your own calendar until the end of January 2020. Price, as mentioned above, is of 2,800 JPY (tax and shipping fees excluded)! Below you can find the guide on how to order yours!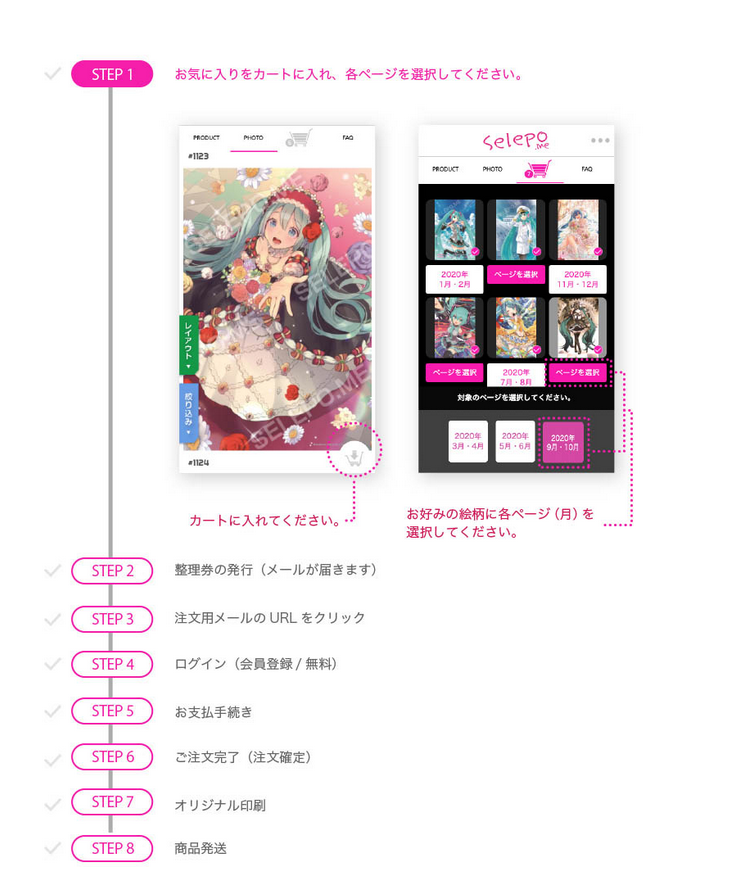 Select your favorite illustrations for the pages
You will receive an e-mail with an URL you will have to click
Login to the website (or register if you didn't yet)
Payment
Order confirmation
Printing process
Shipping
You can order it here by clicking the pink button!
SELEPO does't ship overseas, so you might need some help to get you calendar outside Japan!
Source
Thanks to your customized calendar you will start 2020 just fine, alongside our favorite diva! If you even decide to buy one don't hesitate showing us!
And remember to follow us on VNN for more news and updates!
Hatsune Miku is on Facebook (English and Japanese), Twitter (English and Japanese), Youtube and Weibo
Don't forget to also check out Magical Mirai 2019's official website and Twitter!
Check out SELEPO on their website!
Press Release