Not only will IA be performing at New York Comic Con live for the first time on the East Coast but also Good Smile Company's English Division is coming with some very nice VOCALOID figures. Among the list of items set to sell is the Nendoroid Hatsune Miku Harvest Moon Version not set to release until November! In addition, there's new merchandise in the lineup as well. Enterplay is releasing trading cards of Miku and the other Crypton VOCALOIDS.  You're sure to get your fix of VOCALOID at NY Comic Con.
IA Live Concert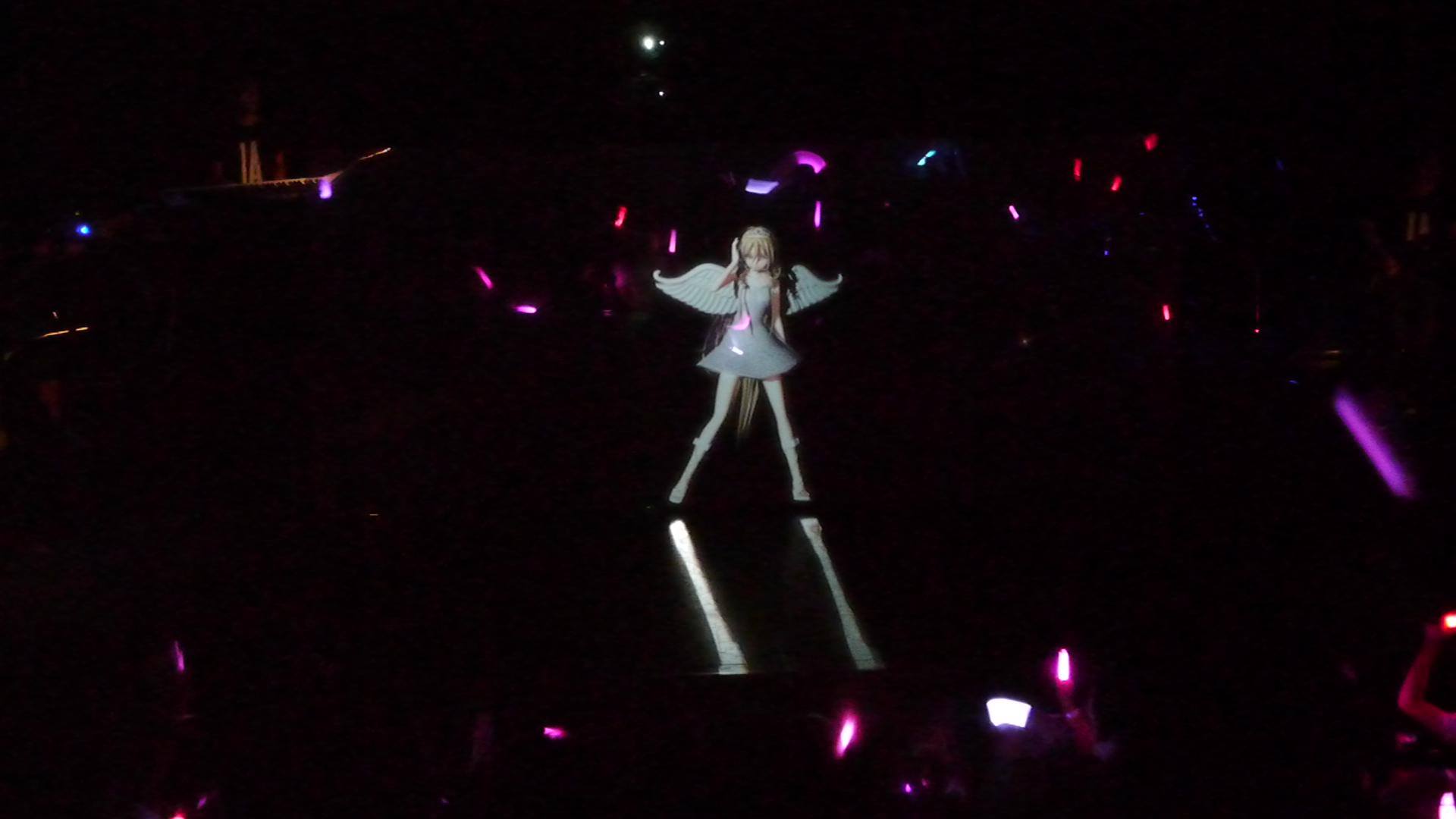 This 3D showcase titled "IA SPECIAL 3D LIVE SHOWCASE in NY-PARTY GO-GO" will likely be similar to the sold-out Nokia Theater event that took place at Anime Expo. According to what appears to be the press release, "this special 3D live showcase will be packed with IA's hit songs, KAGEROU PROJECT classics, and full of visual surprises. Special merchandises will be sold at the venue as well as NY Comic Con exhibition (At Booth#439, "1st Place Official Shop – HACHIMAKI – ) for the Comic Con attendees. VIP ticket will include special goods and priority entry."
As announced before, there will be a 3D live concert featuring IA on Sunday, October 11 at 7:00pm EST. The concert will be held at the Gramercy Theatre and tickets are currently still available for the General Admissions section.
The ticket website mentions that VIPs will get a show poster but no other merchandise information is provided.
For those who missed the live concert at the Nokia Theater, it was repeated in Japan as IA's first live appearance in her home country. IA's official YouTube released a song titled "Diamond Days" for her third anniversary and uploaded a video featuring it and footage from the live concert in Japan.
If you're going to the event, find fellow fans over at the Facebook event group dedicated to the concert.
Good Smile Company Booth
GSC will be at the same booth as last year, #422, and they're bringing a ton of past exclusives. Along with other non-VOCALOID figures comes several VOCALOID Nendoroids, figmas, and scaled figures.
Nendoroids
In addition to the Harvest Moon Version Nendoroid, which is set to release in November of this year, Senbonzakura Miku comes straight from Japan. She was unavailable for purchase through GSC's global shop and was a Japan exclusive until now. If you didn't buy her from a retailer in Japan, now's your chance to grab her.
An older Nendoroid of Miku is also making an appearance. GSC is bringing the last of their Hatsune Miku Yukata Version Natsutsubaki Nendoroids to NYCC. If you haven't picked this one up yet, now's the prime time to grab a brand new one for a good price.
figma
In the figma department, figma Racing Miku 2013: EV MIRAI version will be up for sale as well as the bike she rides. These two items are sold separately.
Scaled Figures
Finally, both the 1/7 Scaled Mikuzukin figure and the 1/8 Scaled Hatsune Miku: Tell Your World figure will be for sale as well.
For more information about the products being sold at the GSC booth, check out Mamitan's blog.
Hatsune Miku Trading Card and Dog Tag Packs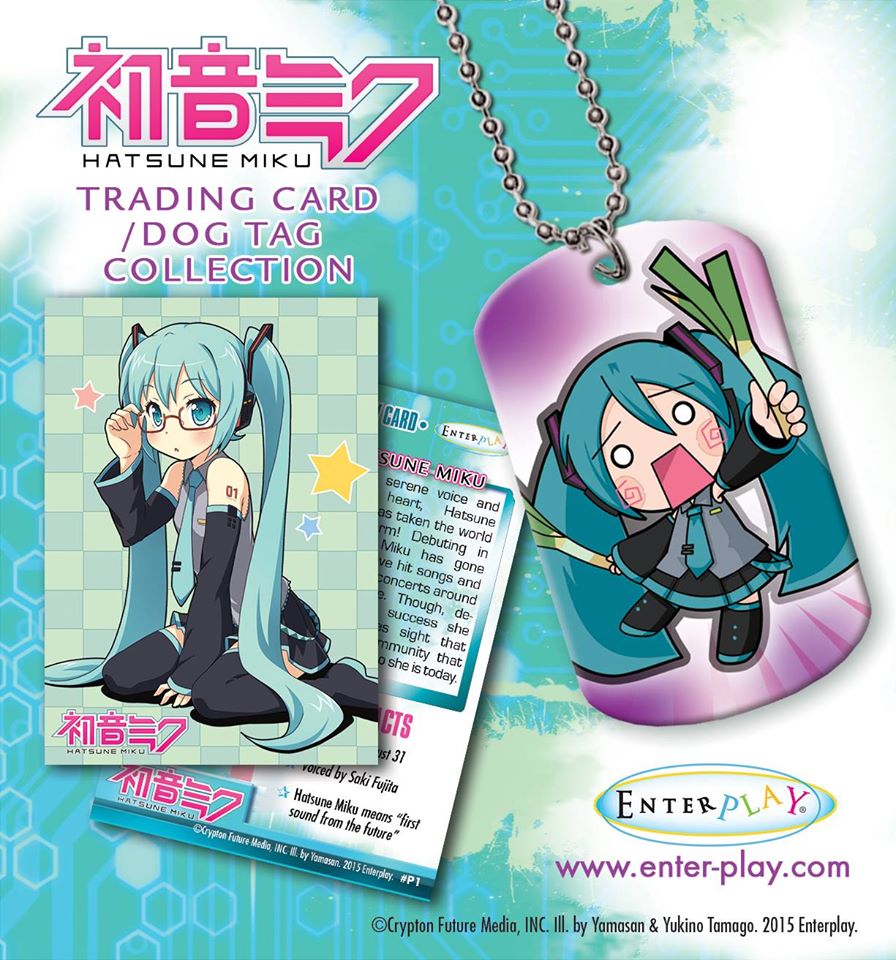 Just recently, Enterplay announced that they'll be releasing Hatsune Miku Trading Card/Dog Tag packs starting in 2016. Enterplay's booth (#1658) at New York Comic Con will be debuting the collection with a special Hatsune Miku "I Leek NY" dog tag plus a 3D Miku poster and card that you can get at the booth.
Enterplay is known for providing high quality trading card packs with very nice bonuses in them. People may know them for their My Little Pony trading card game or the Super Mario collectibles that they sell.
They appear to be similar to the "Super Mario Dog Tag and Trading Card Fun Packs" which retails on their online store for $2.99 USD each. So hopefully each pack will cost no more than $3-$4 USD. We'll release more information when it's revealed.
You can check out Enterplay's official announcement on their Facebook page. Be sure to follow them for the latest news on this new merchandise.