If you weren't lucky enough to be able to attend the Snow Miku event in Sapporo, but happen to be in Japan now,  you could consider celebrating Hatsune Miku's 10th Anniversary with some delicious cake at one of the Sweets Paradise shops! The collaboration event with Sweets Paradise started few days ago, and I (Gigi Miu) had the opportunity to visit such a shop twice on Saturday and Wednesday. Let me give some advice to those who would like to go there as well!
About the Shops
There were of course way more people attending during the weekend, and the queues were long enough to keep one waiting for a hour to get in. Going there on weekdays should help you avoid such long queues. That being said, there were many more Miku fans attending on the weekend, and I could see people bringing in tables for Dollfie Dream dolls and Miku plushies all over the place.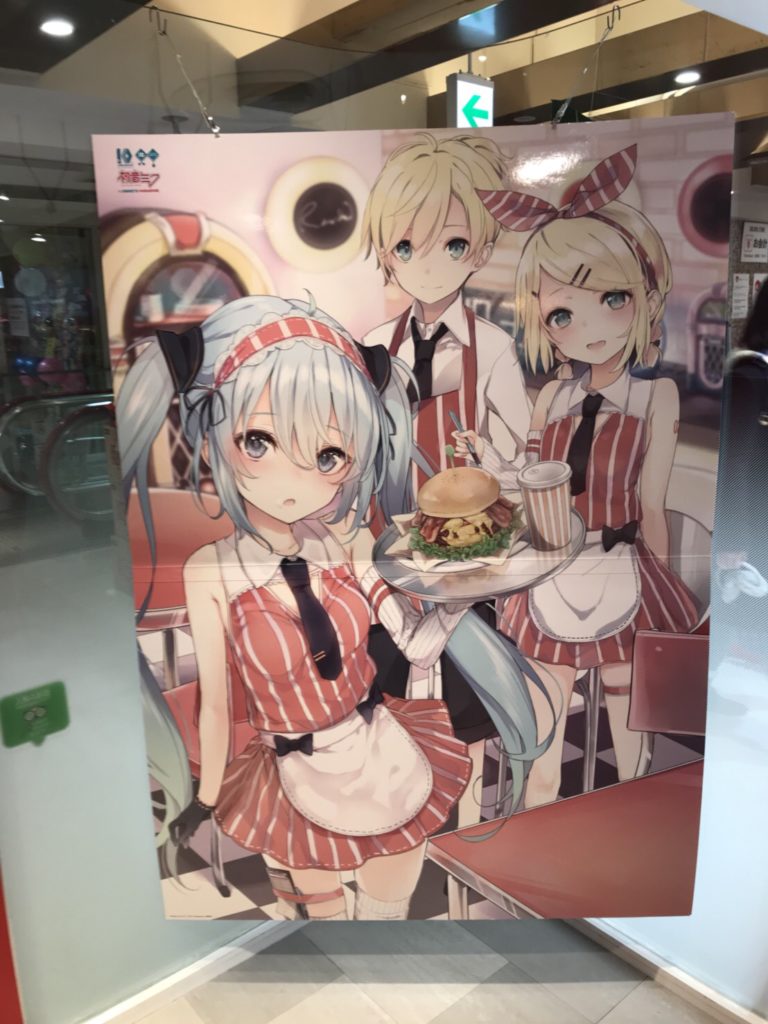 How It Works
The system is simple. There is a ticket vending machine at the entrance where you can get an "all you can eat" ticket. Be sure to pick the correct one with the special Miku Menu included, and you can chose to get one Miku cake and one Miku drink. In the pictures below, you can see the 10th anniversary cake, the Kagamine Rin drink, and the anniversary (rainbow) drink. However, if you have the chance, then I suggest that you go with the Hatsune Miku Chocolate Mint Drink! And there is of course the buffet table where you can keep eating sweets and cakes to your heart's content, forgetting the meaning of the word "diet!" The ticket lasts for 90 minutes before you have to leave, especially during the weekend when there are a lot of people waiting outside for their turn.
You can also buy lots of limited editions goods! These goods use illustrations from the artists R_りんご (R_Ringo) and kkc. You can check out the goods and the addresses for the Sweets Paradise shops closest to you on the Piapro blog page here, and on the official collaboration site here!
Locations:
And don't forget to take some cute pictures! The sweets are really colorful and you are guaranteed to take some really nice shots to post on Instagram or Facebook!
Speaking of pictures, this is one taken by me while I was there! That lucky guy sitting there next to Miku is the VOCALOID producer Ichitaro! And yes, it was taken with the Hatsune Miku Theta360 camera!
初音ミク×Sweets Paradise -Gigi Miu & the Vocaloid producer Ichitaro – Spherical Image – RICOH THETA
Conclusion
As a closing remark, I would like to say that I had an incredible time at the Sweets Paradise shop. Being able to eat some Miku-themed sweets doesn't happen often, and the place with its atmosphere was really nice, clean, and full of other fans! You can surely make new friends there!
Stay tuned to VNN as we share more firsthand reports straight from VOCALOID events for you to enjoy!