Yesterday we introduced to you Moeyu's latest Quadimension product addition, Stardust's nesoberi plushie, but it appears that HaiYi is receiving a special snuggling item for her fans: her Jellyfish mascot is becoming a cushion, ready to receive all of your love!
Directly From HaiYi's Ocean: An Adorable and Cuddly Jellyfish!
I've got to admit that: I'm a huge fan of HaiYi myself, and when I saw her cute little mascot becoming real as a cushion, I couldn't resists but talk about it!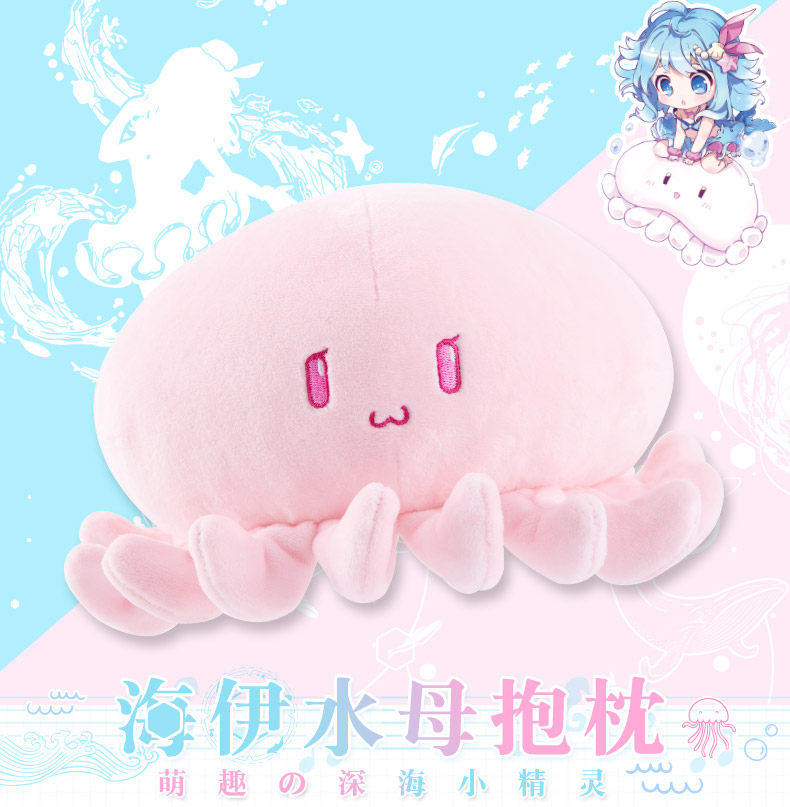 This cushion's size is 20x20x12cm and is made of a pink Super Soft Crystal Velvet Fabric, filled with PP cotton, same materials used for Stardust's nesoberi plushie!
Look at their face, I bet you really cannot resist the impulse of taking a rest with this little jellyfish! It is described as a pretty funny companion coming from the deep and calm ocean, just like HaiYi, and will make an awesome decoration for your room with its light pink color!
Fluffy, soft, surely a perfect option whenever you need some confort during a sad or tiring day. It is also recommended to use a hand washing when cleaning it up, as it appears to be quite delicate.
Of course, you should only wash the outside case to preserve its quality!
This products will be released before July 2nd, 2019. It is priced only 176 RMB, which is a deal for any HaiYi fan hanging around her merchandise!
You can pre-order it by clicking here! Be fast before it is not available anymore!
This store only ships to China so you may need an agent to purchase it!
Sources
Make sure to take care of this cute, little pet! HaiYi will surely be happy of that! I'll make sure to do it as well when I'll get mine!
Don't forget to stay tuned with us on VNN for more exciting news and updates!
Quadimension is on Youtube and Weibo
You can also find Stardust on Weibo, Twitter and Youtube
HaiYi, on the other hand, can be found on Weibo!
Moeyu's TMall store and Weibo account
Product Page