Yes guys, and girls especially, you are reading right: Luo Tianyi is collaborating again with Whisper to sell some very unique sanitary pads!
Lyrical Pads For You!
This is not the first time we see Tianyi collaborating for that kind of products! She previously lend her voice for a promotional song and even had her own exclusive product line.
Now, it seems they decided to make a step further by offering sanitary pads not only with a new set of illustrations made by Haku白, and an awesome main visual by TID, but also the lyrics of some very familiar songs on it!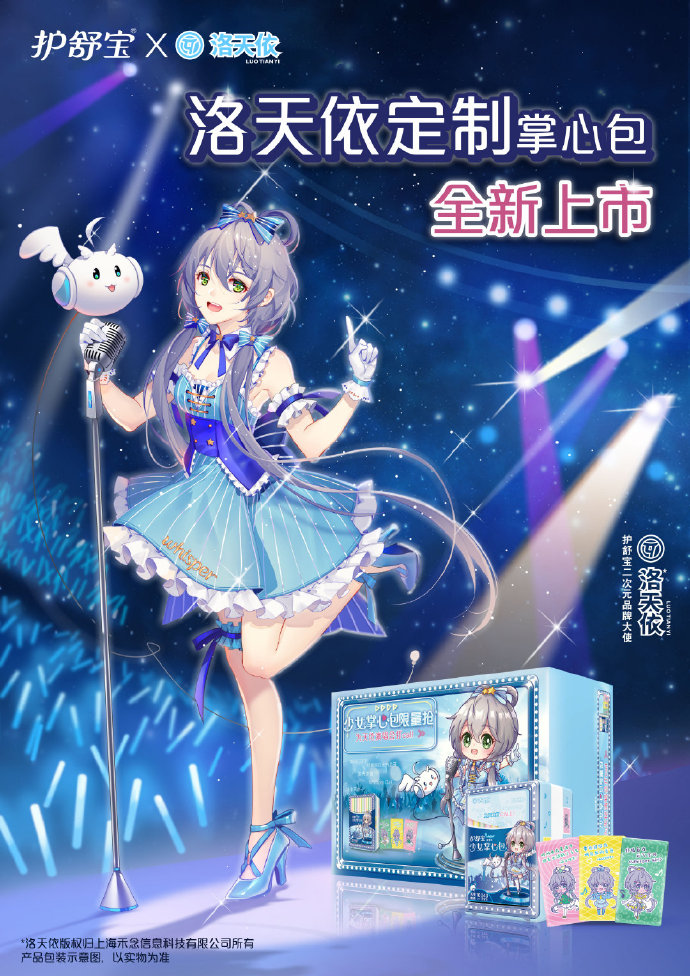 Those sanitary pads come in a special box, each containing 8 packs of 10 pads (240mm, for a total of 80 units), priced 199 RMB.
You can take them with you and enjoy their packaging featuring those adorable chibi artworks!
There is also a peculiarity that we should mention: each package features lyrics quotes from some of Tianyi songs on them!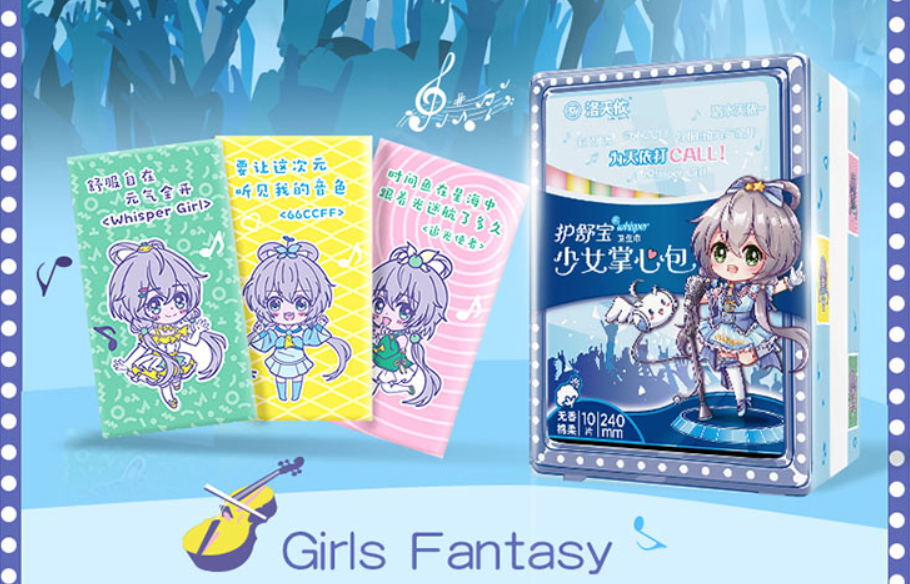 You may recognize them! "Whisper Girl" was their promotional song in the past collaboration, while 66CCFF (by Sugita Akira, lyrics by Haoyue) and Light Chaser (by Michael Lin, lyrics by Yi Jiayang), are probably some of this singing angel's most well known songs! Here is a rough translation of the lyrics:
"Comfortable and full of vitality" –Whisper Girl
"I want this dimension to hear the color of my voice" –66CCFF
"How long did the angel follow the light trek in the stars' ocean?" –Light Chaser
A big thanks to AiRen CANDYloid for 66CCFF and Light Chaser's translations!
Must admit that, using well known lyrics on the packaging makes the experience a bit more.. enjoyable! It surely is a nice idea to let fans temporary forget their little monthly inconvenience.
Pre-orders will open at 12PM (EDT) via JingDong's TMall product page, and you must be fast as only 2,500 units of this box will be produced!
Giveaway
Last but not least, they are also having a little giveaway via Tianyi's Weibo account!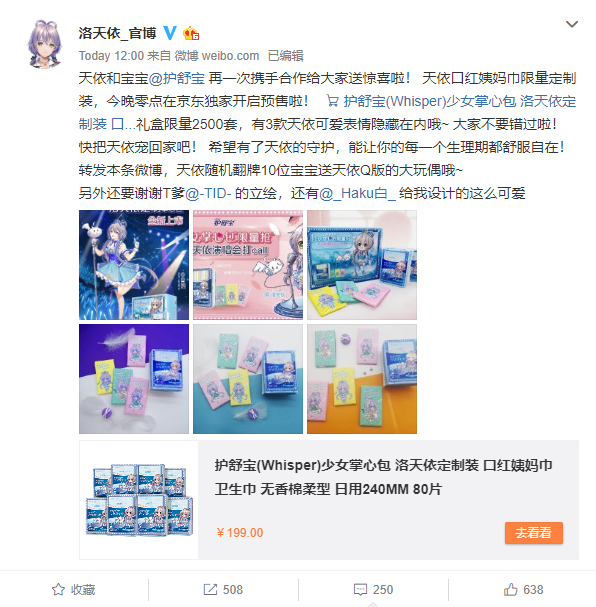 By sharing their post on Weibo, you will get the chance of winning a special chibi figure from them!
Winners will only be 10 and there are many reblogs already, but you might be one of the lucky fans there so maybe you should participate!
Sources
It is always quite interesting to see more variety of products based off of virtual singers and, even if we were somehow surprised ourselves for this collaboration, seeing Tianyi testing more grounds is something we truly look forward to!
Stay tuned with us on VNN for more news and updates about your favorite virtual singers!
Luo Tianyi is on Facebook, Twitter and Weibo
Vsinger also is on Facebook, Weibo and Youtube
Whisper not only has a Weibo account, but also an official website
JingDong's TMail Page
Announcement Post made by Tianyi on Weibo
Product Page