Hatsune Miku and her friends are now available as avatars in SHOWROOM!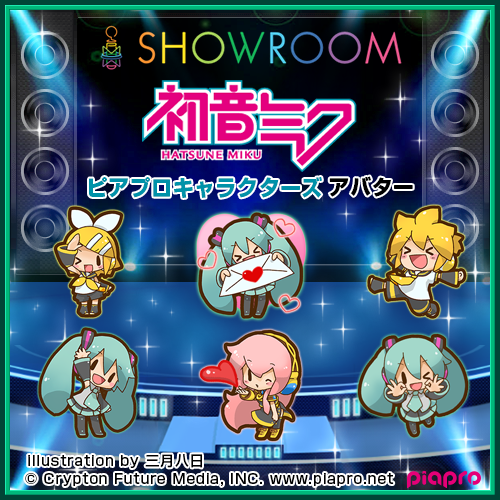 The 6 chibi-style avatars were drawn by illustrator 三月八日 (Sanpachi).
In addition to the 3 versions of Miku, there are avatars for Megurine Luka, Kagamine Rin, and Kagamine Len available as well.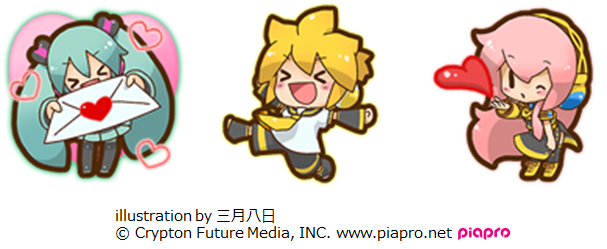 What is SHOWROOM?
SHOWROOM is an app that describes itself as a "virtual live distribution platform." Through SHOWROOM, anyone can watch as well as broadcast any live event that they wish at no charge in a variety of categorizes, such as musical performances, talk shows, sports events, voice actors & anime, and much more. The goal of the service is to "eliminate opportunity gaps around the world."
Once you register for free, you can write comments, send gifts, and stream live programs. With avatars like Hatsune Miku, you can express yourself and your sentiments using one of the VOCALOID characters rather than with words
SHOWROOM is available on the iTunes Store, Google Play, and for your PC.
Where to purchase the avatars
The Hatsune Miku Piapro Character avatars are available in the Avatar Shop for SHOWROOM.
The prices for each avatar are listed below. Please note that prices are given in SG ("Show Gold"), with 1 SG equal to approximately ¥1 JPY ($0.01 USD).
Hatsune Miku 1 三月八日 Ver.: 500 SG
Hatsune Miku 2 三月八日 Ver.: 300 SG
Hatsune Miku 3 三月八日 Ver.: 300 SG
Kagamine Rin 三月八日 Ver.: 300 SG
Kagamine Len 三月八日 Ver.: 300 SG
Megurine Luka 三月八日 Ver.: 300 SG
Information Source