Hot off the heels of the conclusion of last month's illustration and fan fiction contest for Xin Hua, HinMeng and ShanYi have both announced their own contests for the Taiwanese VOCALOID!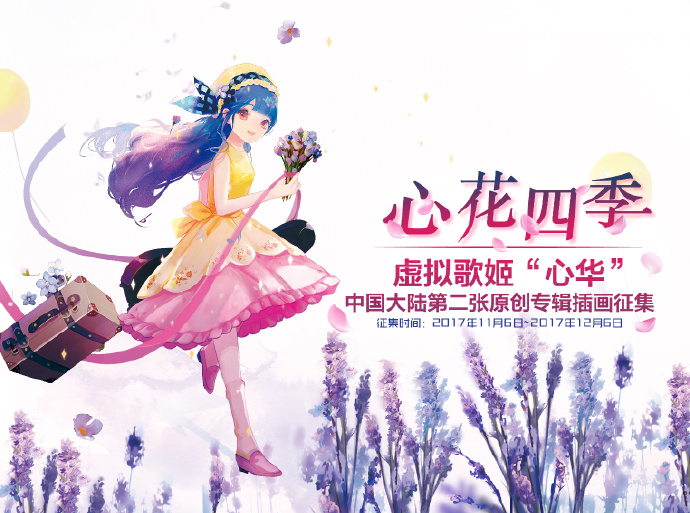 Contest Description
"Xin Hua has packed up her belongings, including her beloved guitar, brimming with bright hope and lofty dreams. And then, skipping to beat of the melody, she embarks on her own personal four-season journey."
HinMeng's contest is entitled "心花四季" (Xin Hua Through the Four Seasons, with 'hua' here literally meaning 'flower'), and is the second Xin Hua contest of its kind open to contestants in mainland China. As such, you must have an account with the 4399 community in order to enter.
Contest Timetable
Entry Period: November 6th ~ December 6th, 2017
Voting Period: December 7th ~ December 10th, 2017
Results Announcement: December 12th, 2017
How to Enter: Log on to 4399 and enter your artwork and other details here, making sure that the "心华插画征集" is selected as the group that your entry is going to.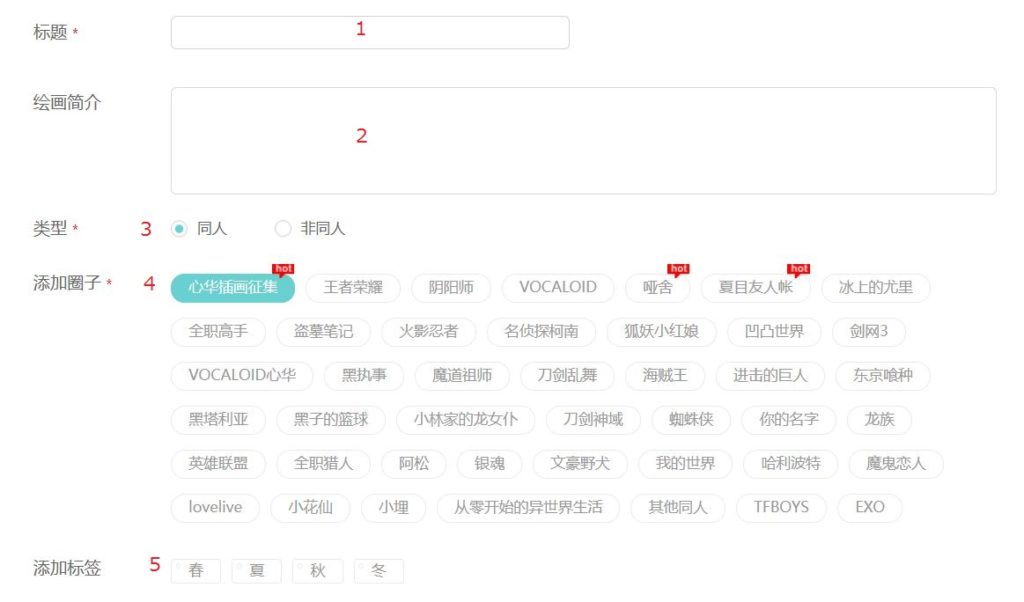 Title
Artwork Description
Category (doujin or non-doujin)
Circle (make sure "心华插画征集" is selected)
Tag ("spring," "summer," "autumn," and "winter")
Prizes
The Xin Hua Creative Club will be tallying up the votes and determining the contest winners.
1st Place (1): ¥5000 RMB (about $752 USD)
2nd Place (1): ¥3000 RMB (about $451 USD)
3rd Place (1): ¥2000 RMB (about $300 USD)
Honorable Mentions (3): ¥1000 RMB (about $150 USD)
Runner-Ups: (5): Voucher for ¥500 RMB (about $75 USD) worth of Xin Hua merchandise
Entry Rules
Pick one of the four seasons (spring, summer, autumn, or winter) as the main theme of your entry, and write a short story about it.
Only one entry per contestant.
Entry must be A3 size, and 3000 dpi. Entry can be horizontally or vertically oriented. Must be hand-drawn.
Must submit at least 2 illustrations so that a PV can be made with them.
For design purposes, the backdrop of the illustrations, and the character(s) featured in them must be submitted as separate, individual layers. You are encouraged to submit your illustration using as many layers as possible
Xin Hua's outfit can be of an original design, and is not just limited to her official designs, nor is it limited to certain styles.
Your work must be your own. If you are found guilty of plagiarism or copyright infringement, then your entry and eligibility in the contest will be canceled immediately.
Please save your original files and keep them handy. Should you be selected as a winner, you will be required to present those files to the judging committee. Failure to do so will be regarded as a forfeit.

Contest Description
"The virtual idol, Xin Hua, is here!
"ShanYi is joining forces with Xin Hua's official committee to bring you this special contest. Lend Xin Hua all your creative juices, and create your own splendid, individualized world by partaking in hers.
"Using the newly-released VOCALOID 4 Library Xin Hua, let us all utilize the pieces of the musical PUZZLE to assemble each of our own personal dreams!"
ShanYi's contest is entitled "奏响心旋律" (Play the Melody of the Heart), and serves as the first contest that requires its contestants to use Xin Hua's  VOCALOID 4 voice bank (while the contest doesn't specifically say that it must be her V4 Chinese voice bank, it is safe to assume that they mean for the contestants to use her Chinese bank).
Prizes

Special Edition of the Hua Cai Album
Butterfly Artbook
Yuecheng Baseball Cap
Xin Hua Limited-Quantity Card Holder
Xin Hua Umbrella
Postcard Set
Winning Categories
Best Original Work (5): special edition album, umbrella, postcard set, and Butterfly artbook.
Most Popular Work (1): special edition album, umbrella, postcard set, Butterfly artbook, and baseball cap.
Honorable Mentions (10): special edition album, umbrella, postcard set, and Butterfly artbook.
Entry Rules
Enter by tagging your song with "闪艺心华制作赛." It must be an original work with an ID number that follows 85795.
The main theme of your entry must be about a "star idol," and must fit the character's (Xin Hua's) personality. The story line must also be positive and proactive. If selected as a winning entry, your song will be recorded.
The main character of your song must be Xin Hua as she is officially recognized, and must also specifically be named as her. Any supporting characters, however, can be whomever you want.
You cannot use any unauthorized material from other artists. Any entry that is found to use unauthorized material must be altered.
Authors of winning entries will receive contest prizes, as well as a share of the profits earned by their winning entry. However, they cannot also receive contest consolation prizes.
Judging will be carried out by officials after the end of the contest. There will be 5 winners in the Best Original Work category, 1 winner in the Most Popular Work category, and 10 winners as Honorable Mentions
All entries can only be distributed on ShanYi, who alone will hold the copyrights to them.
Results will be announced on January 19th, 2018.
Winners must respond to QQ: 1730407736 within 15 business days after the results announcement. Failure to do so will be considered a forfeit.
ShanYi alone reserves the legal right to make and explain the contest rules. If you have any inquires, you are welcome to add and message the official QQ group: 463114280.
If you wish to form a group, then please add the official group: 516560892, but please refrain from leaving QQ messages on the comment section.
Due to the multiple and rapid succession of officially-recognized Xin Hua contests, it seems like this is a testament to the VOCALOID's rising popularity in the fandom. Stay tuned to VNN as more Xin Hua events are announced!
Information Source
HingMing's 心花四季 Xin Hua Through the Four Seasons Contest Page
ShanYi's 奏响心旋律 Play the Melody of the Heart Contest Page
Xin Hua's Official Weibo