Many might remember how Hatsune Miku recently announced an official TikTok account, and now the virtual diva is challenging her fans' creativity within the platform!
About the Contest
This competition is fairly simple: all you have to do is making some Hatsune Miku content an post it on Tikok! Any kind of content is welcomed, starting to illustrations to even short videos or songs!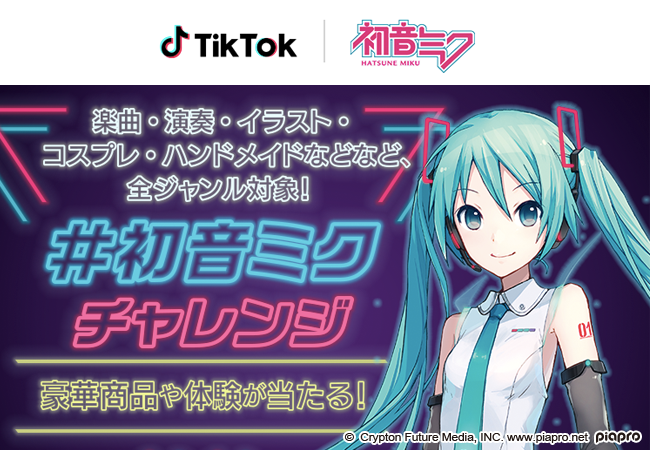 All of the people that join this creative challenge will be eligible for a lottery and have a chance to win some amazing goods as rewards!
How to Join
Are you interested into this activity? Then allow us to give you the steps to join!
Follow Hatsune Miku's official TikTok Account.
This step is mandatory!
Make a video and publish it on TikTok using the hashtag "#初音ミク".
Those that never published anything and son't know how to do so can easily use the simplified in-app functions.
If you have a Twitter account, please share your work with many other Hatsune Miku fans, adding the hashtag "#初音ミク" on your tweet!
Make sure you are using either your original music or the on provided by TikTok when submitting your work!
The deadline is September 1st, so be fast submitting your entries!
Source
Have fun by joining this challenge and show your deep love for Hasune Miku!
Remember to always follow VNN for more exciting news about your favorite Virtual Singers!
Hatsune Miku is on Facebook (English and Japanese), Twitter (English and Japanese), Youtube and Weibo
Follow Miku on TikTok!
Press Release