Fans following Crash Fever know that the Hatsune Miku x Crash Fever collaboration started last week. However, much to many fans' disappointment, the collaboration was just a repeat of last year's event, as none of the new content from the Japanese version of the collab could be found. However, we're now in week two of the collab and Crash Fever is bringing out the big guns! The Japanese collaboration content is finally coming to Global!
Previous Events
You can find information regarding all of the "Revival" content via our articles from last year. Please note that the quest rewards do not appear to be the same, and fans will not receive a Yukine for logging in, not even if they didn't receive one last year.
Last year's articles:
Reddit Post Covering the Event
New Events
As previously mentioned, the new events are all from the Japanese version of the collaboration that just ended not too long ago! We also have information in English on several of the new collaboration units.
These three units can all be pulled from the "Hatsune Miku Crossover Hatcher #1"
In addition, KAITO and MEIKO finally have their 6* forms! They can be pulled from many of the collaboration Hatchers.
Login Bonuses
On the first day that you log in, you'll receive a 6* Fruitful Future Hatsune Miku with nine bugs! If you log in for a total of 9 days during the event, you'll be able to collect three 30 bug copies and Bugma your Miku! 30 bug units are received on the 3rd, 6th, and 9th logins.
In addition, you'll also receive at least one Hatsune Miku Crossover Hatcher ticket each day. Days 1-8 reward fans with a single ticket, day 9 gives you two, and day 10 gives you another 3!
Hatsune Miku Crossover Hatcher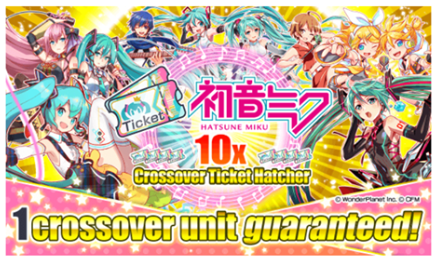 There are two different crossover Hatchers: One that requires a single ticket, and a 10x pull Hatcher that requires 10 tickets. Save your tickets for the 10x pull Hatcher as it guarantees one crossover unit!
New Quests
The first of two new quests run from now until February 28th at 00:59 Crash Fever time.

"Shrine Maiden Diva" is the typical Snow Miku quest. Complete the quest and receive Snow Miku 2018 as a reward. You can challenge the quest as much as you'd like and Bugma her if you want to!

"Standby Party!" is another standard quest with a twist. Instead of units dropping, Kagamine Rin and Len gift players with Music in the form of musical notes. These notes can then be exchanged in the "Miku Store" for units, Nurupons, and more!
Above, you can see the top items that the Miku Store has to offer, as well as the notes that drop during a quest clear. Remember to bring Bugma-ed units to the quest in order to collect even more music notes!

This quest runs from 2/21 01:00 until 2/28 0:59 Crash Fever time.
This quest has three levels of difficulty, each upping the challenge as well as the rewards.
4-Player clears automatically give players one "Historic Prayer Hatsune Miku" each.
In addition, Bugma units are once again valuable as there's a chance this special Miku will drop as a Clear Bug bonus as well.
Ultimate difficulty also has a 100% drop rate for "Historic Prayer Hatsune Miku!" Be sure to work on all your other quests now so that you'll be free when this quest begins!
Virtual Special Concert Raid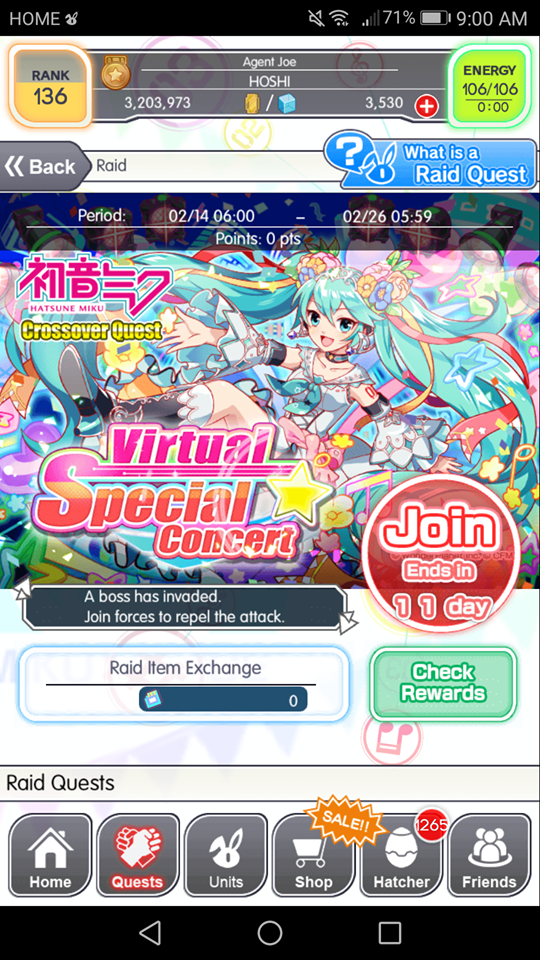 Global players were introduced to Raids just in time as this marks only the second raid in Crash Fever Global! Battle through the Raid by yourself or with others to collect chips and points. Chips are used in the Raid store while points accumulate and give fans special prizes as they gain them.
Point Based Prizes
Items Available Via Chips
Please note that these are not all of the purchasable items, simply the ones that are likely to be the most sought-after.
More Information
For more information, be sure to stay tuned to VNN. We'll be sure to reveal details as they come. You can also check out the links below for information on the previous event in the global version as well as other information on the 2018 Japanese collab.
Hatsune Miku x Crash Fever Collaboration Promotion Live Stream Roundup
More Info on Hatsune Miku x Crash Fever 2018 Collaboration Revealed!
Two New Units Revealed for Crash Fever x Hatsune Miku 2018 Collaboration!
Hatsune Miku Returning to Crash Fever in 2018!
Global Week One Coverage of the 2017 Event
Global Week Two Coverage of the 2017 Event
Reddit Post Covering the 2017 Global Event
Where to get Crash Fever
Crash Fever is available on Android and iOS. Be sure to check it out!