More details have finally be revealed about Hatsune Miku's Youme Cafe collaboration in Hong Kong! Let's check them out together!
An Amazing Collaboration and Merchandise Awaits!
Starting from July 18th until September 12th, you will be guests of Miku and the entire Piapro character cast in Hong Kong's Youme Cafe!
【Youme cafe荃灣店】初音ミクxYoume cafe商品情報公開!此次商品使用Youme cafe限定的等身及Q版兩個系列的新圖,分別來自R_りんご及上倉エク兩位畫師。兩個系列角色均穿上由FANTASISTA…

Posted by Youme cafe on Friday, June 21, 2019
You will be able to have your cafe time in amazing Japanese cafeteria with Miku and her friends keeping you company, in an amazing attire made by Fantasista Utamaro, and even with matching merchandise of course!
Merchandise Time!
Yes, you have read it right, there will be some merchandise during the whole collaboration period, all featuring R_Ringo and Eku Uekura's marvelous artworks!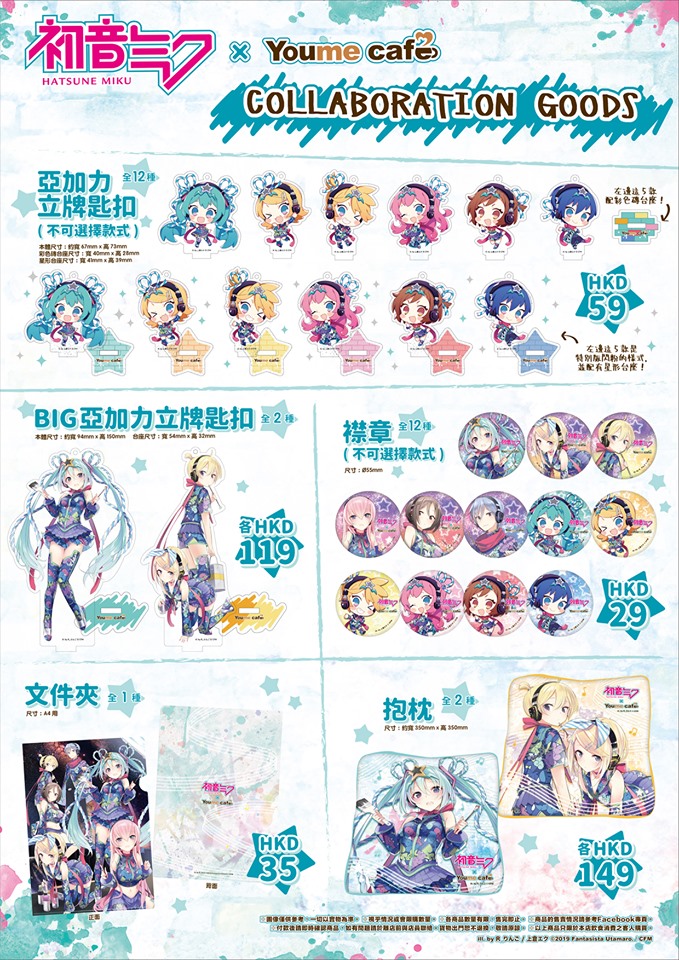 As you can see there are so many different goods you can choose from! And all of them are absolutely adorable! Here's a translated list and the items' respective prices:
Acrylic Keychain with stand (12 variants available, 6 with a different stand design) – 59 HKD Each (picked randomly)
Big Acrylic Keychain with stand (2 variants available) – 119 HKD Each
Can Badges (12 variants available) – 29 HKD Each (picked randomly)
A4 Clear File Folder – 35 HKD
Pillow (2 variants) – 149 HKD Each
I personally would love to grab something for my own collection! And you guys?
Menu
During this collaboration there will be a rich menu, filled with plates and drinks themed after Miku and her friends! Let's check them out!
Plates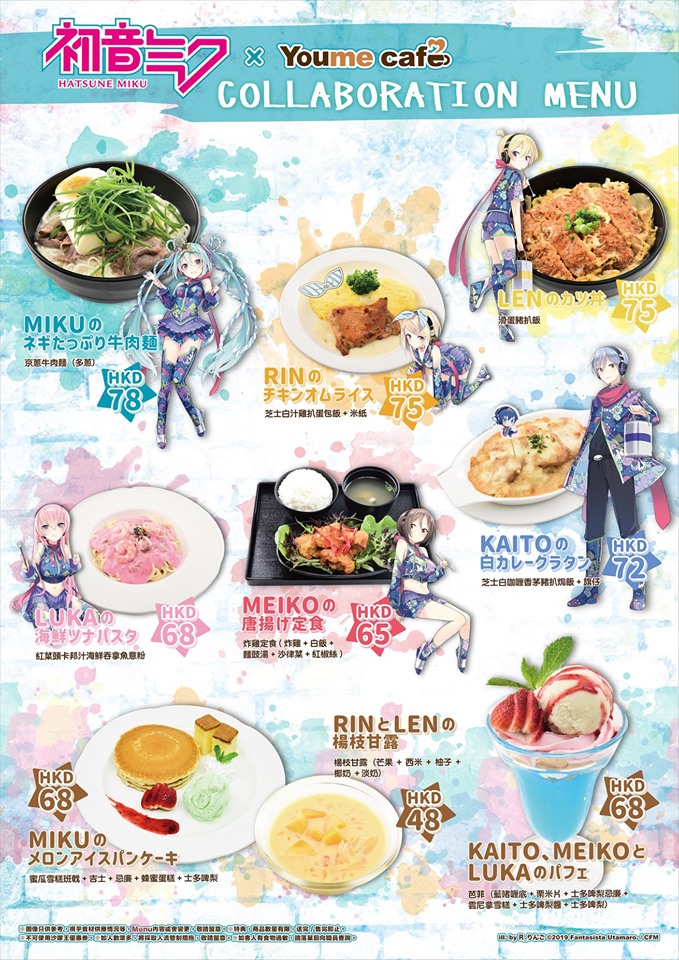 Nothing can possibly beat a meal filled with reference to Miku and her crew! Each plate looks delicious and is made to fit che character at its fines! Let's check the plates:
Miku's Negi Beef Noodle Soup – 78 HKD
Rin's Chicken Omlette with rice – 75 HKD
Len's Katsudon – 75 HKD
Luka's Seafood Tuna Pasta –  68 HKD
MEIKO's Karaage set meal –  65 HKD
KAITO's Curry Gratin –  72 HKD
MEIKO's Melon ice cream pancake – 68 HKD
Rin & Len's Mango Pomelo Sago – 48 HKD
KAITO, MEIKO and Luka's Parfait –  68 HKD
Don't they look delicious to you as well? We sure would try some of them!
Drinks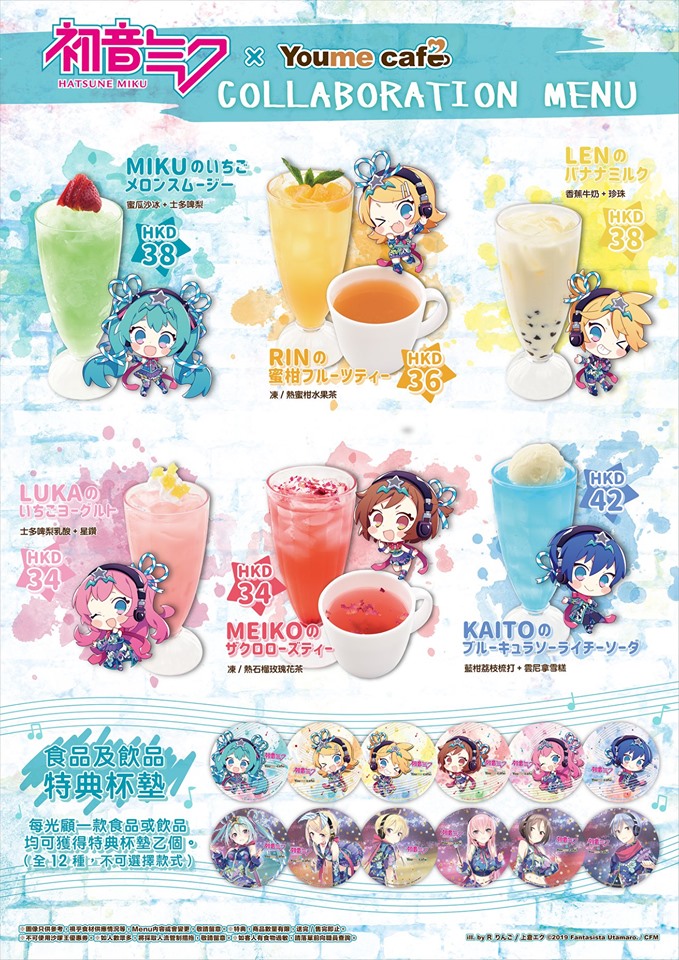 Just like the plates we showed you above, their drink offer perfectly matches each of the character's personality! Here's the translated list:
Miku's Strawberry melon smoothie – 38 HKD
Rin's Mandarin orange fruit tea – 36 HKD
Len's Banana milk –  38 HKD
Luka's Strawberry yogurt – 34 HKD
MEIKO's Pomegranate rose tea – 34 HKD
KAITO's Blue curacao litchi soda – 42 HKD
They will bring you their fresh scent during your time at the cafe!
Additional Offers
But there is more, especially if you are in a tea party or cookie mood!
You can in fact order an afternoon tea set for 199 HKD  and even have a taste of some adorable and delicious iced cookies portraying each of Piapro's cast members for 38 HKD each!
Bonus when ordering
By purchasing any plate, drink or iced cookies, you will get a coaster featuring one of the 12 design available (picked randomnly, only two per purchase), while ordering the afternoon tea set they will gift you ne of the two available clear file folders designs!
Opening Date, Times and Location
This collaboration will be held at Youme Cafe in Tsuen Wan, Hong Kong, starting from July 18th! Here below you can find it's location!
The cafe open at 12PM until 10PM (HKT), and the collaboration will last until September 12th.
They will start accepting reservations on June 26th at 2PM (HKT) via OpenRice's service!
Source
We are sure this collaboration will bring a lot of joy for all of Hong Kong fans! Are you planning to go? In that case, let us know how your experience was!
Don't forget to stay tuned with us on VNN for more exciting updates!
Hatsune Miku is on Facebook (English and Japanese), Twitter (English and Japanese), Youtube and Weibo
Need upates on Miku Expo in Hong Kon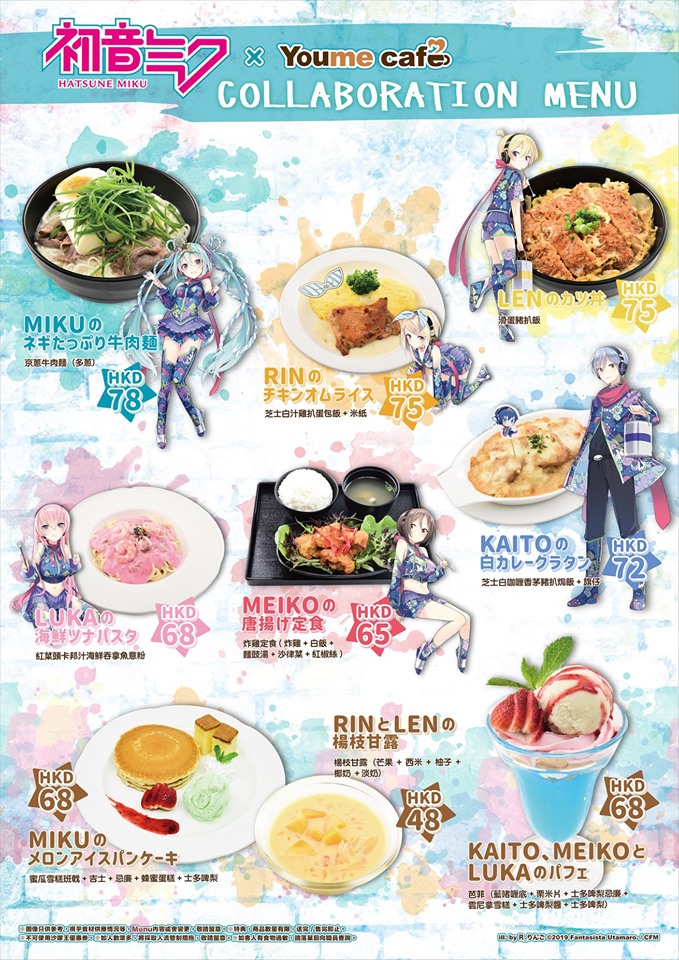 g? Check its official Twitter account and website!
Youme Cafe is on Facebook and OpenRice