The iconic duo Hitoshizuku x Yama△ is going back to Comic Market 96 this year, bringing us a whole new installments of their fairy tale-themed albums: "If the world3"!
Album Details and Crossfade Video
Those who follow this iconic producer duo know very well how their songs usually take inspiration from themes such as fairy tales and folklore stories, often even creating their own series through vocaloid songs. "If the world3" is their third album based off of fairy tales-inspired songs, and aims to bring back the magic of iconic stories we probably even read back when we were just children!
You might have been able to recognize some of the voices, even VY2 and the VOCALOID5 voice library Ken made their appearances in this album! Let's check the track list together!
Track list
We got to listen to Alice in N.Y. not long ago, but we are so happy to see more amazing songs coming in this album! In addition, Suzunosuke's artworks give the characters such an enchanting look, perfect for fairy tales!
Limited Edition with Merchandise Pack
This album comes in both standard and limited edition, and the latter also includes a merchandise set!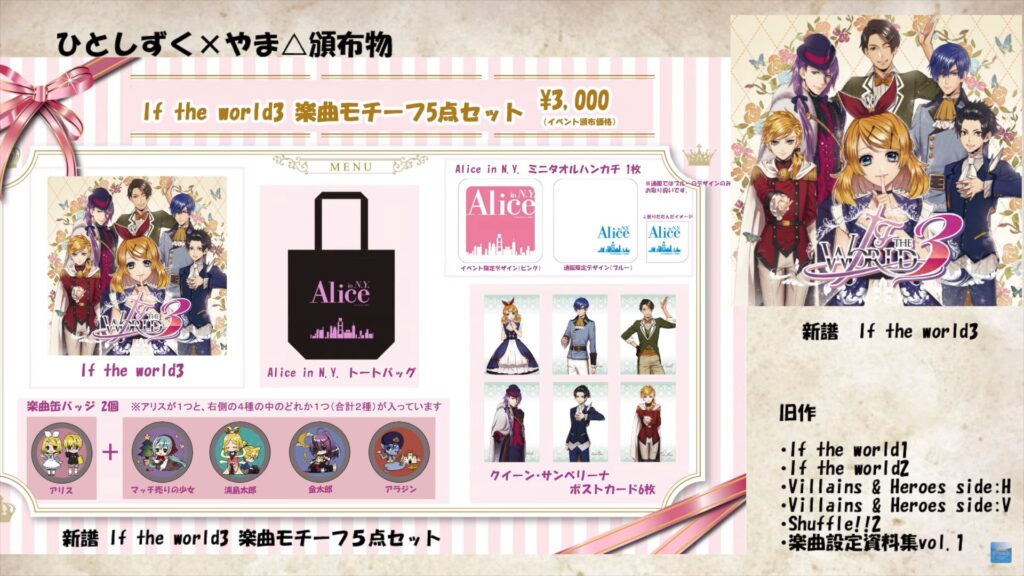 Priced only 3,000 JPY (event only price), this special edition comes with:
"If the world3" album
"Alice in N.Y." Tote-bag
Two can badges (Alice's one is always included, while the second one will be picked randomly among the other four designs)
"Alice in N.Y." Mini Towel (Pink version)
"Queen Thumbelina" Character Postcards (Set of 6)
Both of those editions will be available through teamOS's booths during Comic Market 96 and Magical Mirai 2019's Creators Market, so keep your eyes wide open for them if you manage to attend!
Buy it Online as Well!
As you could have guessed from the mini towel, you can also buy the album online via Toranoana, Melonbooks and Animate Online Shop!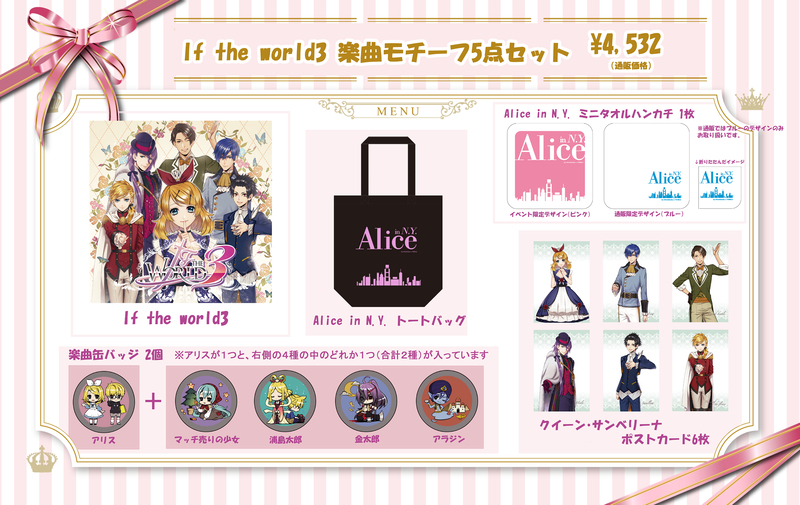 Both standard and limited editions are almost the same, made exception of the mini towel which will be white and blue instead. Below you can find all the links!
Toranoana – Standard can be found here for 1,500 JPY, while the limited edition is here and priced 4,532 JPY. Tax fees are not included!
Melonbooks – Standard can be found here for 1,620 JPY, while the limited edition is here and priced 4,895 JPY.
Animate Online Shop – Only standard edition available, priced 1,620 JPY. Click here to check it out!
The limited edition is bond to go sold out very fat so you better place your order as soon as possible!
Remember that you might need some help to obtain the album outside Japan!
Source
It is always a pleasure for us to talk about incoming albums, and with TeamOS being such a legendary circle, this album would surely make a great addition to your collection! Don't you think?
Don't forget to follow us on VNN for more, amazing news!
You can find more about Comic Market 96 on its official website
Don't forget to also check out Magical Mirai 2019's official website and Twitter!
As for TeamOS' works, you should definitely follow Hitoshizuku, Yama△ and Suzunosuke on Twitter!
Hitoshizuku and Yama△ also have a website!