On Saturday, January 27th at 7:00 pm (JST), 1st Place broadcasted a special livestream for IA's 6th anniversary and ONE's 3rd on the IA World Page on Facebook, Niconico Live, and Bilibili Live. The show was emceed by 事務員G (ZimuinG), as well as IA and ONE themselves, who reflected on their past year, answered questions, made tons of news announcements, and much more.
The key visual for the event was provided by うさねこリン (Usanekorin) from the Singaporean artist group, Collateral Damage Studios. It features the ARIA sisters in new cheerleader-like outfits that they wear as they perform in their brand new music video.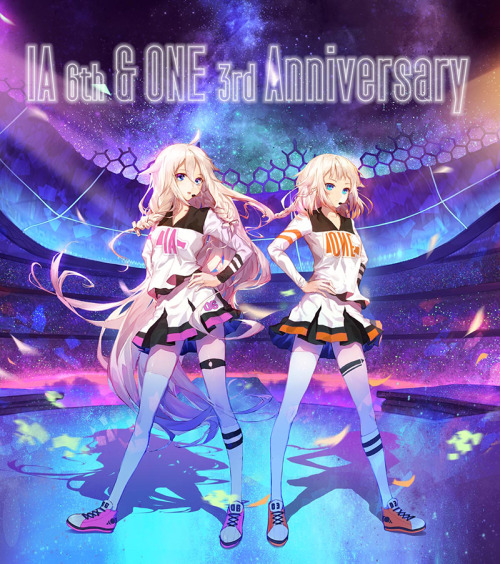 News Announcements
IA's "PARTY A GO-GO" WORLD TOUR FINAL & PREMIERE of "ARIA"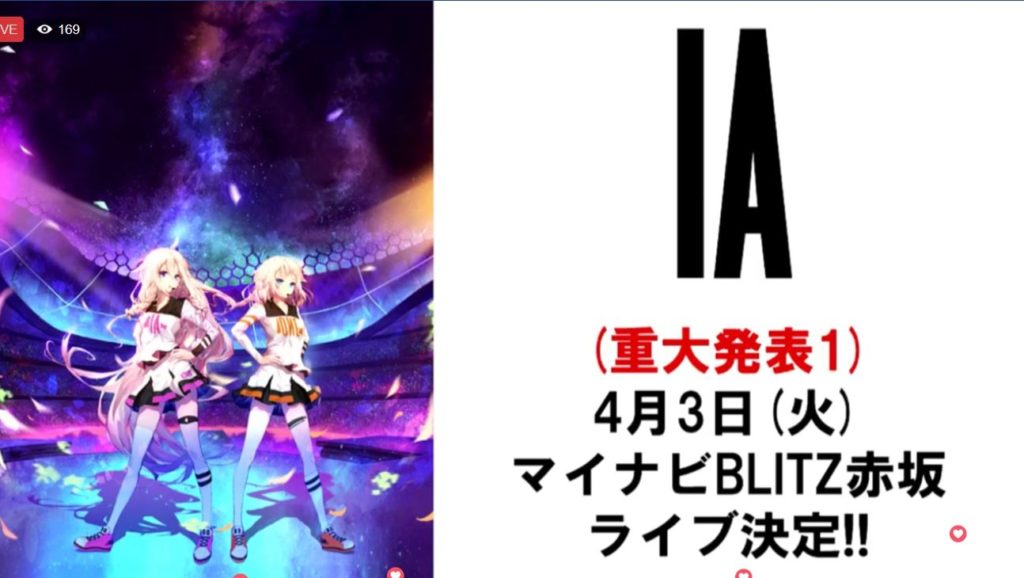 The first major announcement was that tickets for the PARTY A GO-GO encore at the Akasaka BLITZ in Tokyo on April 3rd from 6:30 to 7:00 pm (JST) are now open for reservation by lottery. The concert event is being dubbed "IA's 'PARTY A GO-GO' WORLD TOUR FINAL & PREMIERE of 'ARIA.'" Not only will it bring the 11-stop world concert tour back full circle to its very first venue, but it will also feature new songs and preview performances for the upcoming ARIA concert in June.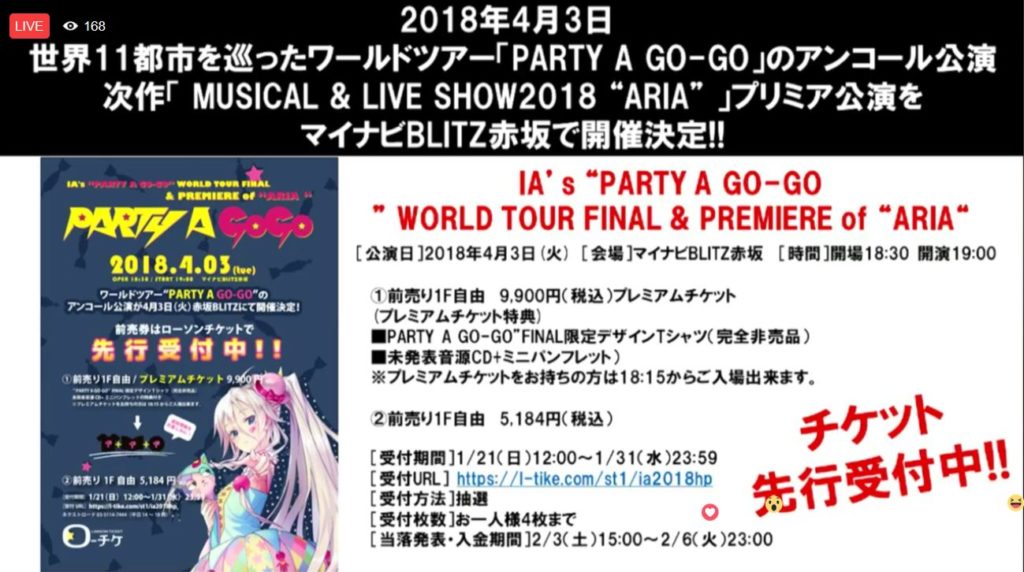 Premium tickets: ¥9,900 JPY (about $91 USD)
Purchasing a premium ticket will get you:
PARTY A GO-GO FINAL T-shirt (not for resale)
Music CD
Mini Pamphlet
Access to the venue at 6:15 pm (JST)
Regular tickets: ¥5,184 (about $48 USD)
Applications are open from now until January 31st. Each person is allowed to apply for up to 4 tickets, and those who are chosen to receive their tickets will need to pay between February 3rd and 6th. You can find more information here, and apply for tickets here.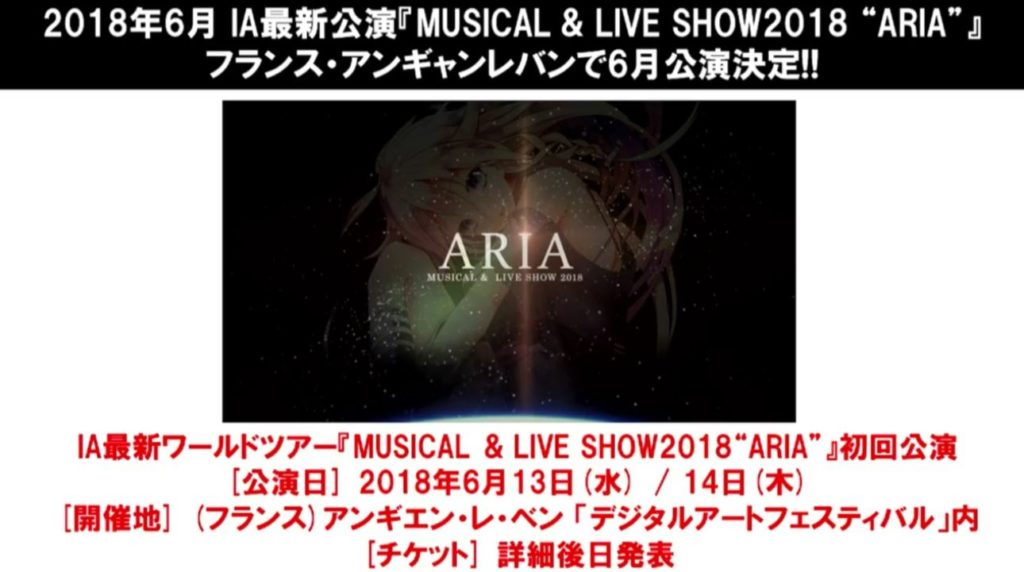 Speaking of ARIA, a bit more information was revealed about the musical and live show to be held at Enghien-les-Bains. It was revealed that the event will feature numerous works that celebrate the births of IA and ONE, meaning that ONE will indeed be playing a role in the concert as well. Beyond that, 1st Place could not reveal any more information, but they did announce that they will soon be opening an official site for the event, and encouraged fans to stay tuned for updates on this completely unique concert experience.
New Album "IA/04" Announced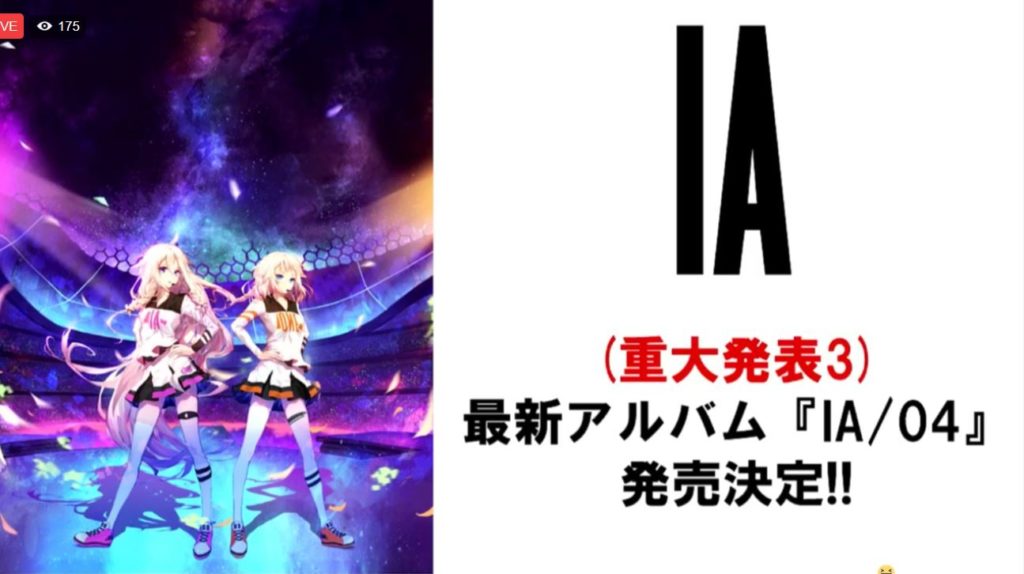 Afterwards, IA's next compilation album, IA/04, was revealed, and is scheduled to go on sale on March 28th and retail for ¥3,500 JPY (about $32 USD). This 12-track album will not only feature many works from staple producers of IA's greatest hits, but also many special collaboration cover tracks, as well as original songs from international song writers. Ever since IA/01 -BIRTH-, the aim of this album series has been to introduce the works of up-and-coming music producers to the fans through IA, with this particular release aiming to connect them with producers from all around the world. Judging by the track list that has been revealed so far, they are well on their way to accomplishing just that!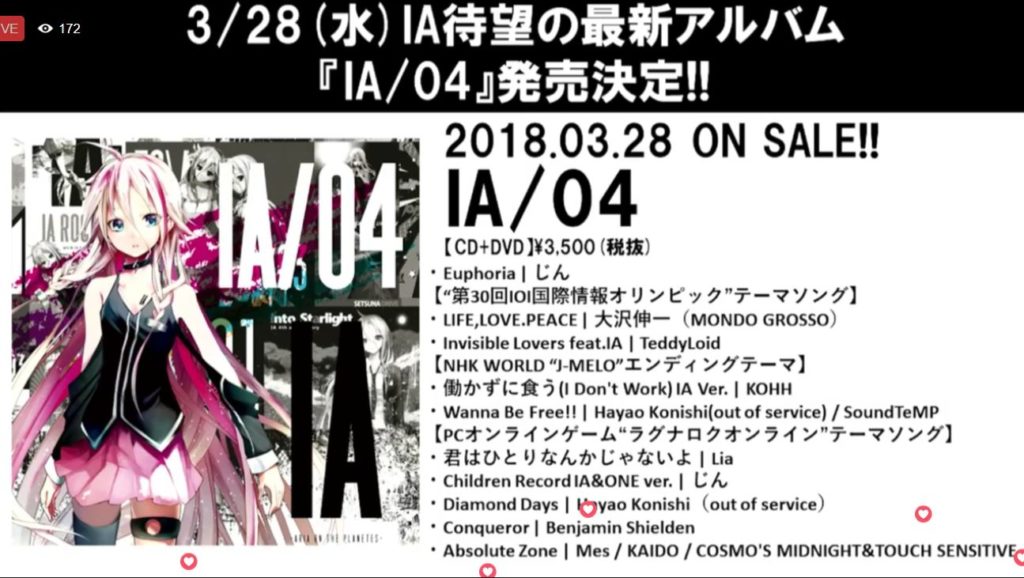 Tracklist:
Plus 2 additional tracks
You can pre-order IA/04 on Amazon here, on Animate Online here, and on CD Japan here.
New Album "ONE/01" Announced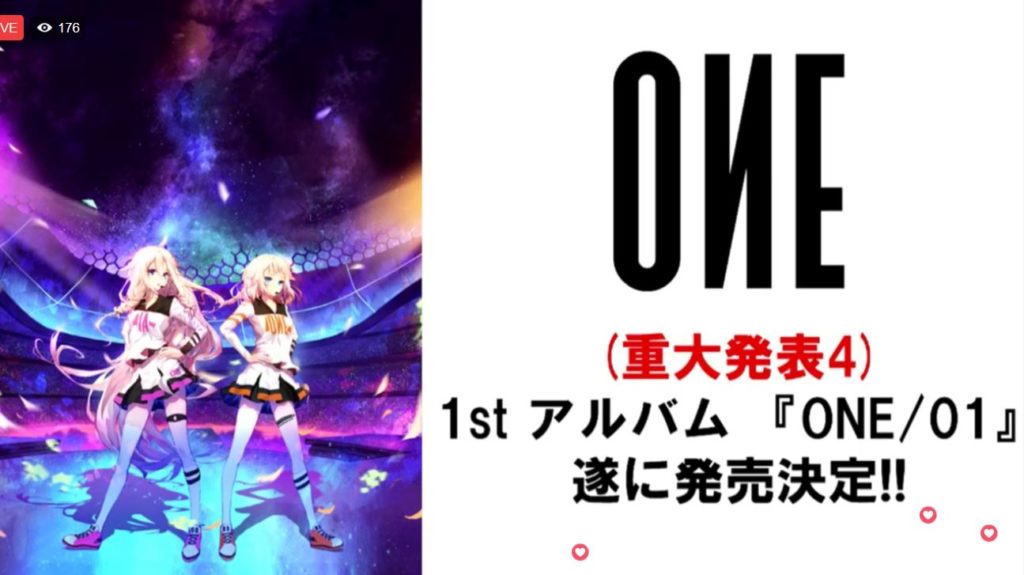 However, IA wasn't alone, as it was announced that ONE will also be receiving a compilation album, ONE/01! As her first official album, ONE/01 will feature 12 covers and original solo songs, as well as duets with IA. Unlike IA's album series, this first installment of ONE's album series aims to specifically support VOCALOID producers. ONE also remarked that while this is technically numbered as 01, she thinks it's the equivalent of 04 in terms of quality level!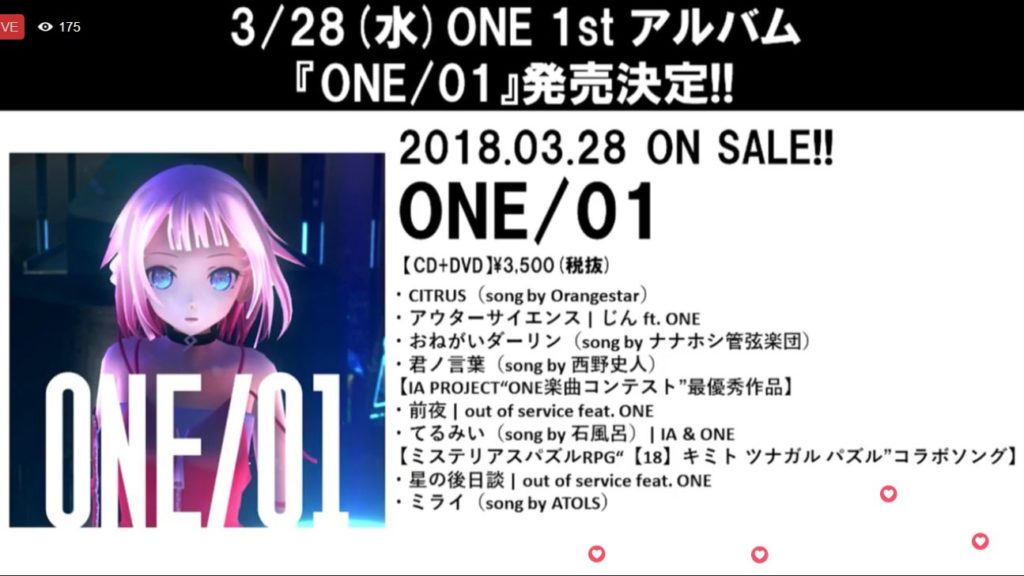 Tracklist:
Plus 4 additional tracks
ONE/01 is also scheduled for release on March 28th and will retail for ¥3,500 JPY. You can pre-order ONE/01 on Amazon here, on Animate Online here, and on CD Japan here.
Anniversary Goods at HACHIMAKI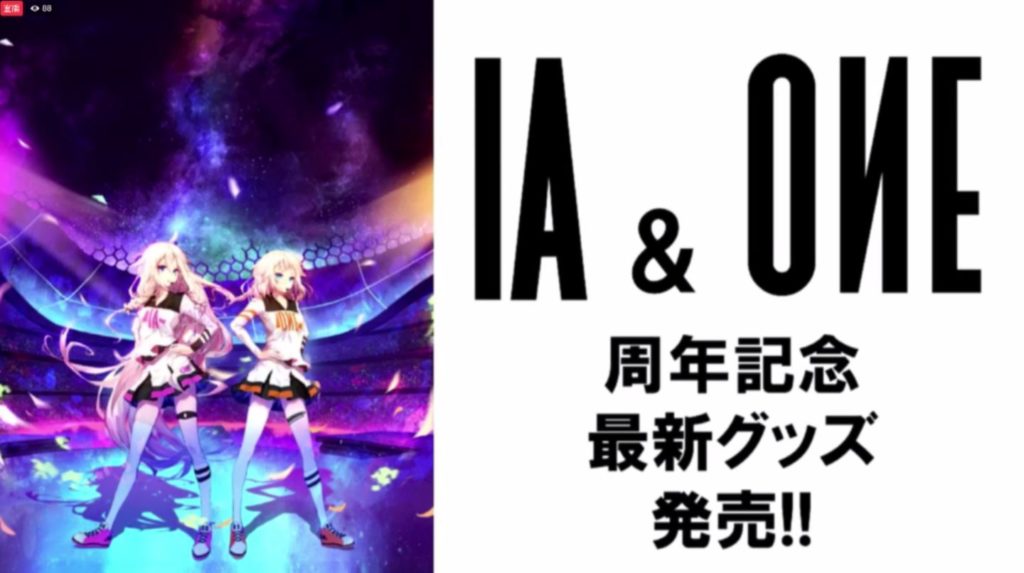 Next, it was announced that starting today, the 1st Place Official Shop -HACHIMAKI- will have numerous brand new anniversary goods available for purchase!
IA 6th & ONE 3rd Anniversary Blanket
Cost: ¥4,320 JPY (about $40 USD)
Purchase here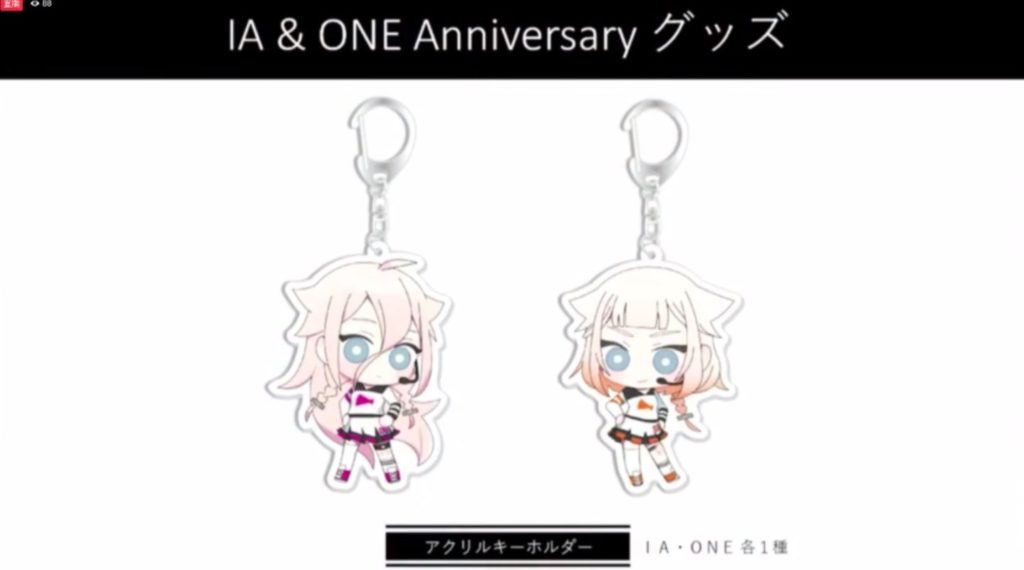 IA 6th & ONE 3rd Anniversary Acrylic Keychains
Cost: ¥540 JPY (about $5 USD ) each
Purchase IA here and ONE here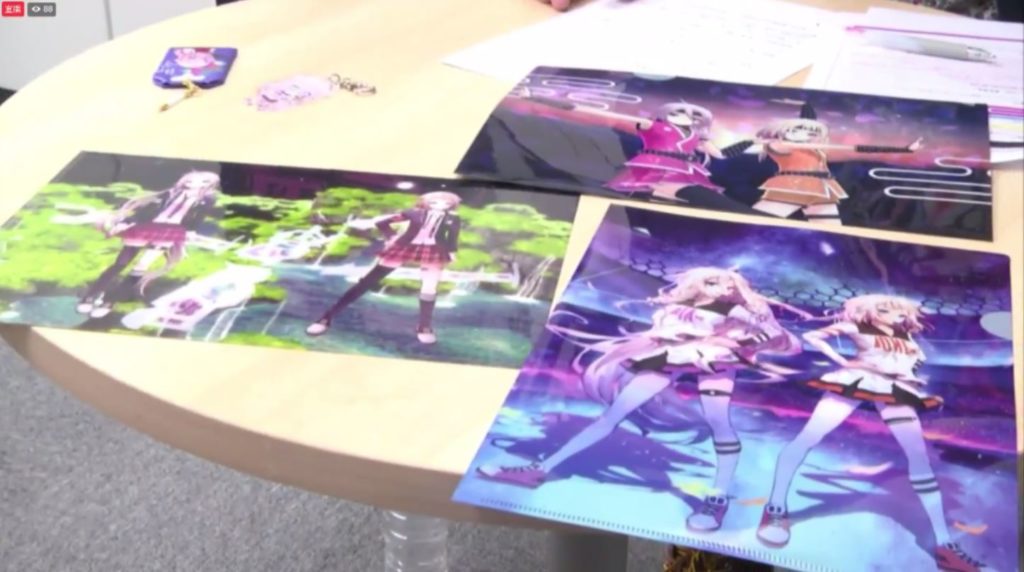 IA 6th & ONE 3rd Anniversary A4 Clear File Folder
Cost: ¥324 JPY (about $3 USD) each
Purchase here
IA Omamori
Cost: ¥1,296 JPY (about $12 USD)
Purchase here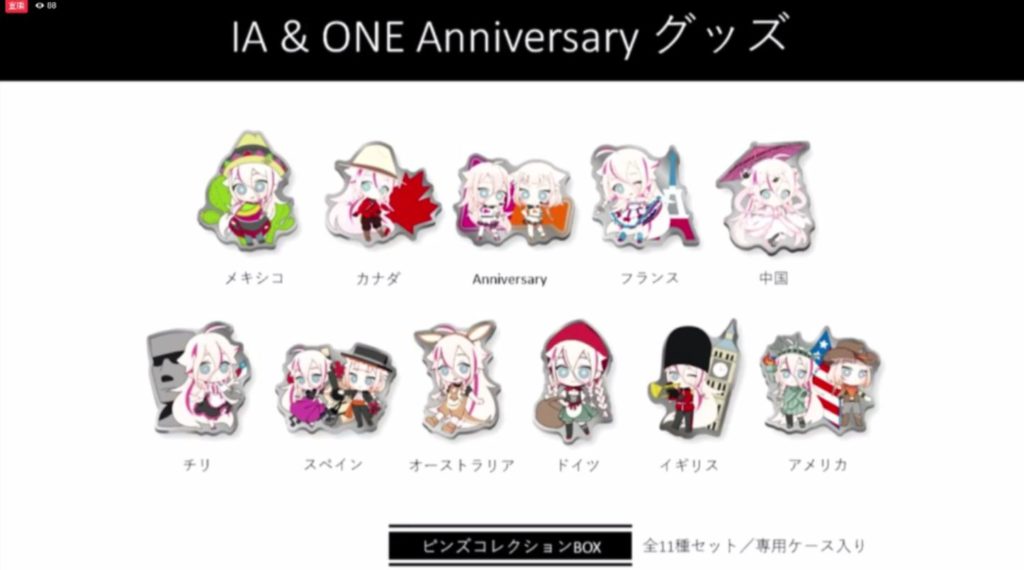 IA 6th & ONE 3rd Anniversary Pin Collection
Purchase here (currently out of stock)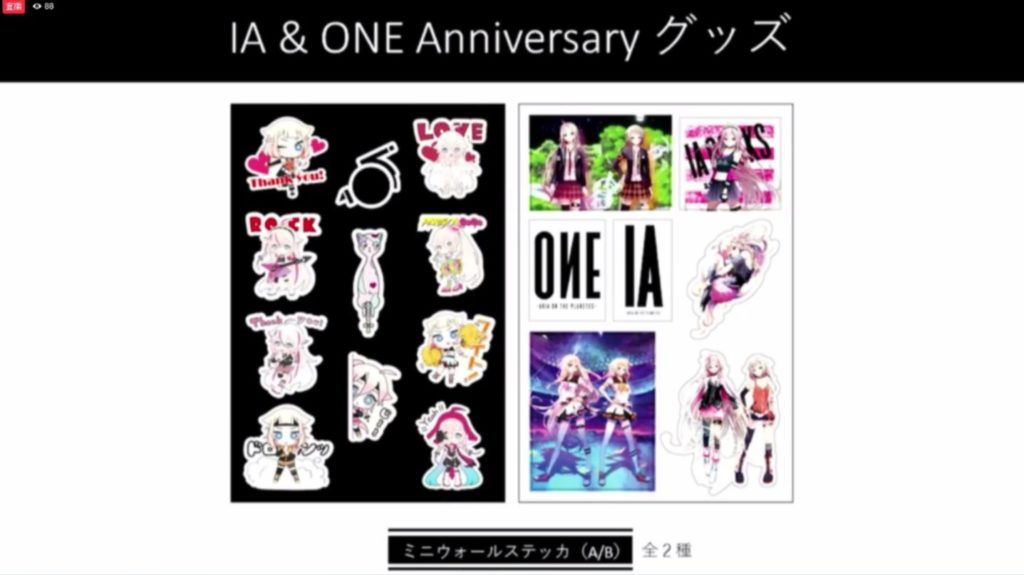 Mini Wall Stickers
Cost: ¥540 JPY (about $5 USD) each
Purchase Pack A here, and Pack B here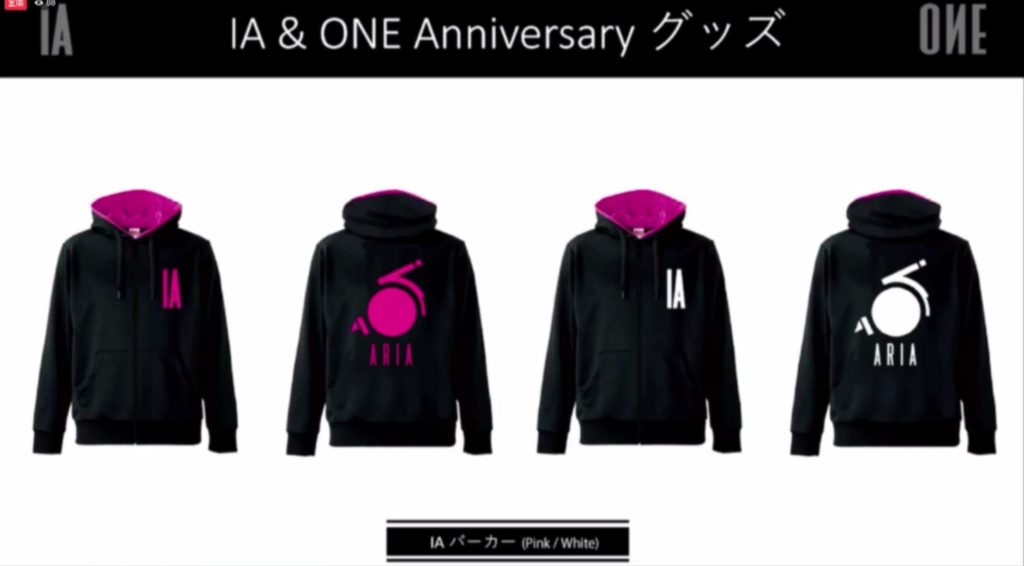 IA Parka (Pink/White)
Cost: ¥7,020 JPY (about $65 USD)
Purchase here
IA Glowstick
Cost: ¥3,240 (about $30 USD)
Purchase here
These goods will likely go fast, so be sure to purchase your desired merch while you still can!
New IA & ONE Stickers and IA Background Skins on LINE
Don't worry. There are new releases that you can download as well in the form of LINE Stickers! Both IA Official Line Stickers Vol. 2 and ONE Official LINE Stickers Vol. 1 are now available on the LINE Store! Each sticker pack costs $1.99 USD, and each contains 24 stickers of their respective ARIA sister.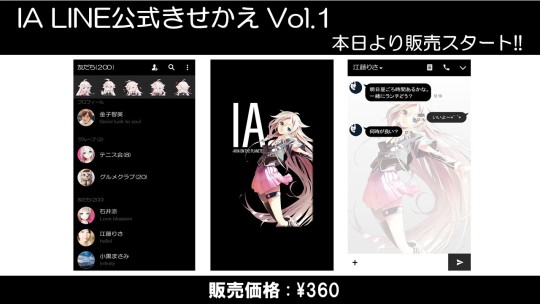 That's not all from the LINE Store. Also available today is the IA Official LINE Skins Vol. 1! For $2.99 USD, you can decorate your LINE interface to include even more of IA!
IA Inaugurated as a PR Committee Member for IOI 2018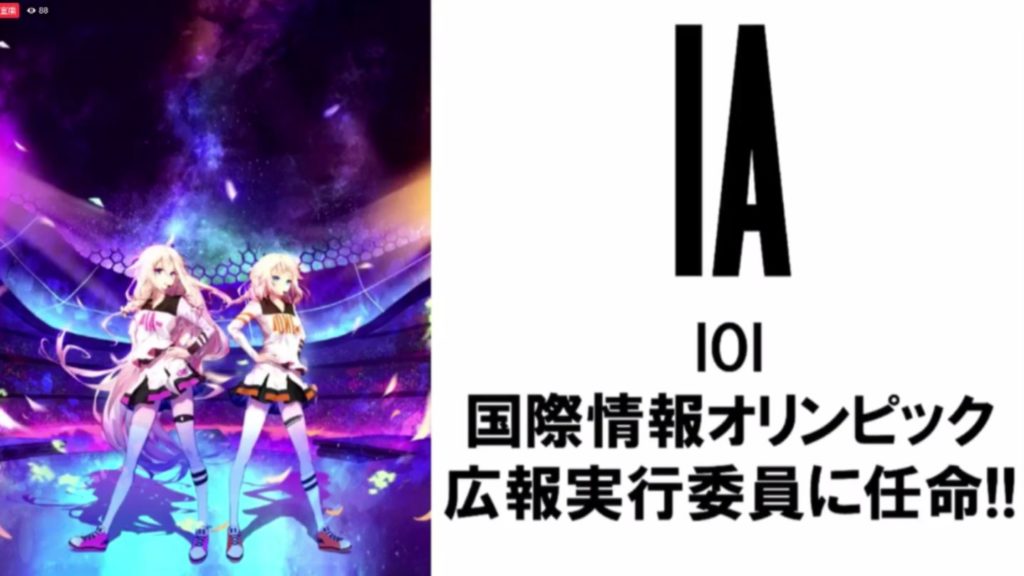 After the goods announcements came another exciting reveal: IA will be officially inaugurated as part of the PR committee for the 30th International Olympiad in Infomatics (IOI)! IOI 2018 will take place in Tsukuba City on September 1st, and it is already known that IA will be singing the event's above-mentioned theme song, "Euphoria," created by じん (Jin). Beyond that, information is still scarce, but you can look forward to more detailed information on IA's roles in the upcoming competition!
Performance on Anisong★Station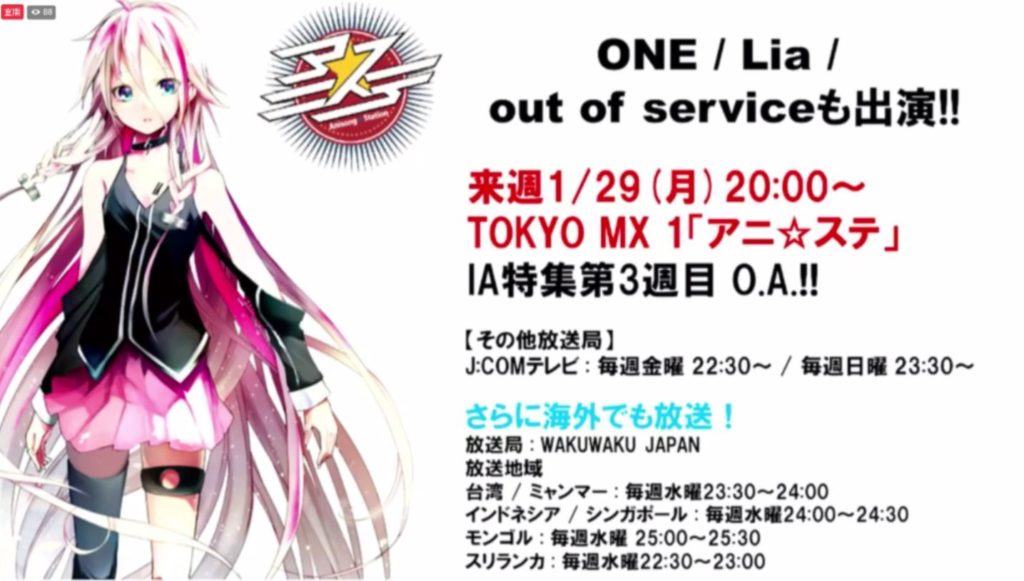 On Monday, January 29th, IA, ONE, out of service, and Lia will all appear for their third and final week on Anisong★Station to be aired on TOKYO MX and J:COM. Those who do not have access to those stations can still catch the program internationally through WakuWaku Japan in the following territories and times (all local time zones):
Taiwan and Myanmar: Wednesdays from 23:30 ~ 24:00
Indonesia and Singapore: Wednesdays from 24:00 ~ 24:30
Mongolia: Wednesdays from 25:00 ~ 25:30
Sri Lanka: Wednesdays from 22:30 ~ 23:00
Video Game Collaborations
The livestream then took the time to remind viewers that the current collaboration between IA & ONE and Groove Coaster 3EX Dream Party is still going on until February 4th. Players can unlock pixelated and fully-voiced IA and ONE navis, as well as stages with songs like "Reload," "六兆年と一夜物語 (Rokuchounen to Ichiya Monogtari)," "おねがいダーリン (OИEgai Darlin')" and 17 other songs, including an all original one called "ビットチューン (Bit-tune)" by out of service.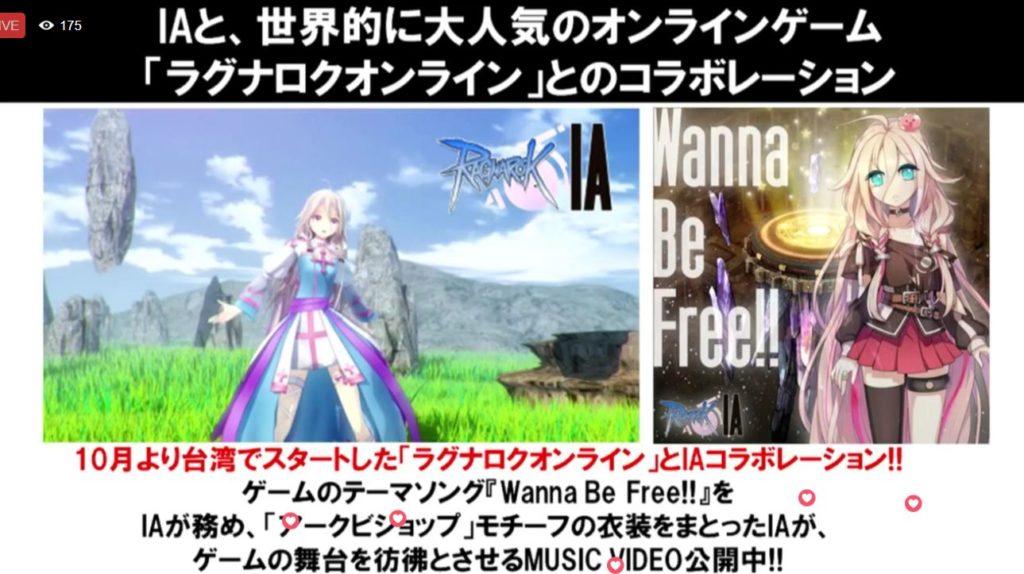 Another ongoing game collaboration that 1st Place didn't want us to forget is the one with Ragnarok Online, and how the IA cover of the theme song, "Wanna Be Free!!" is still available for download purchase. See our previous article for details.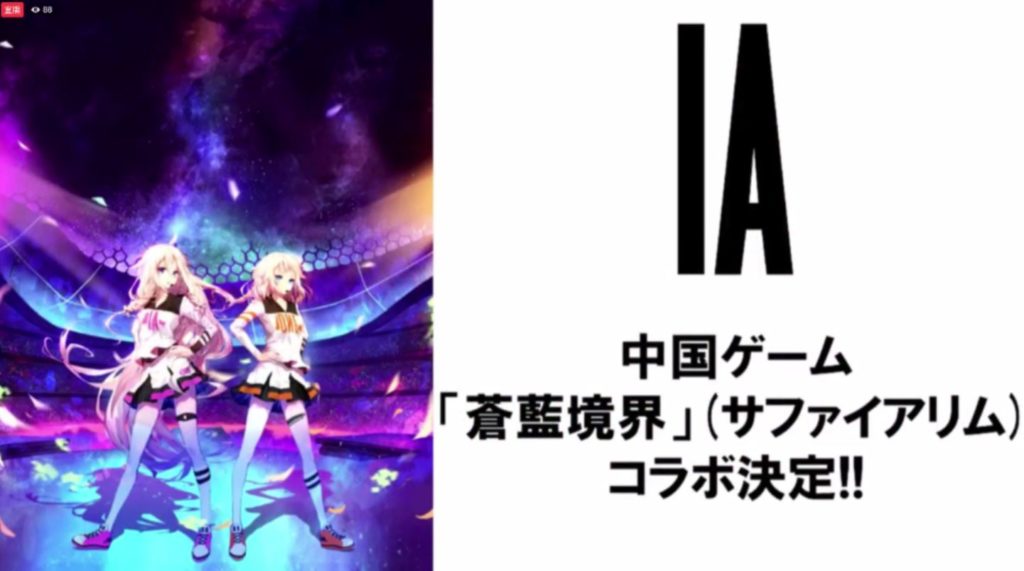 Next came a newly announced game collaboration with the Chinese game 苍蓝境界 (Cānglán Jìngjiè / Sapphire Sphere). Similar to Ragnarok Online, IA will be singing the game's theme song, "Cyan," at a future date. Expect more information to come soon.
PARTY A GO-GO Concert Confirmed for Madrid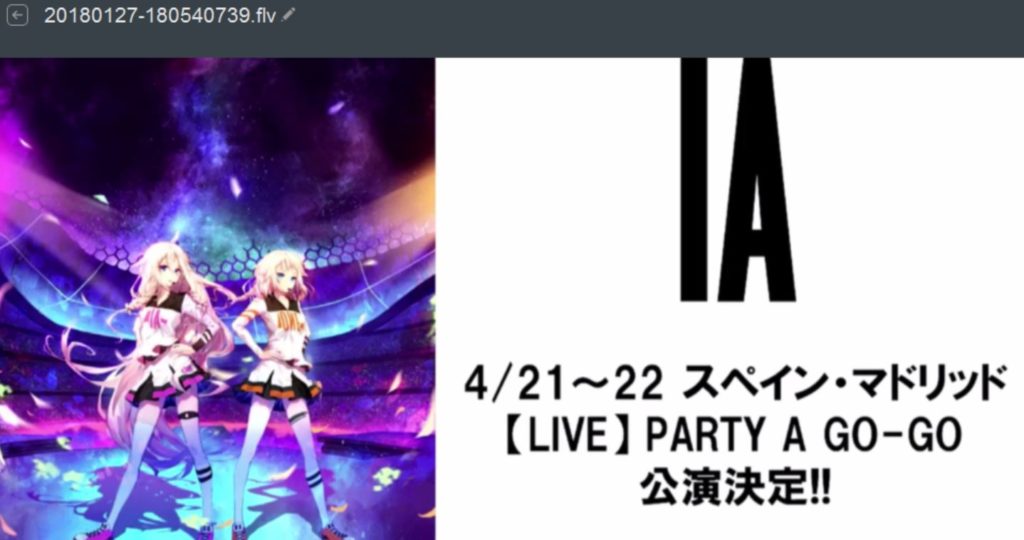 It looks like the above-mentioned IA's 'PARTY A GO-GO' WORLD TOUR FINAL may not actually be "FINAL" after all, because the livestream then announced another stop for the world-touring concert in Madrid! This should no doubt come as great news for fans in Spain.
Ticket sales are also now open!
General tickets: 20€ ($25 USD)+evenbrite fee
Premium tickets: 35€ ($43 USD)+eventbrite fee
Premium tickets+backstage: 45€ ($56 USD) +eventbrite fee.
Premium tickets will include a pack of merchandise with a value higher than 30€($37 USD). The content is yet to be determined. We can however, expect goods featuring a new IA design!
For those who will purchase the "Premium+Backstage tickets", in addition to the merchandise pack that is included, you will also have backstage access to see how the concert is done. In addition, you will get to meet IA staff members, IA's creators and the possibility to ask questions about IA and ONE directly to their creators.
Hachimaki will also be present alongside the "Official 1st PLACE Shop".
The tickets can be purchased here.
You can check out the website here.
-HACHIMAKI- EU Shop Opened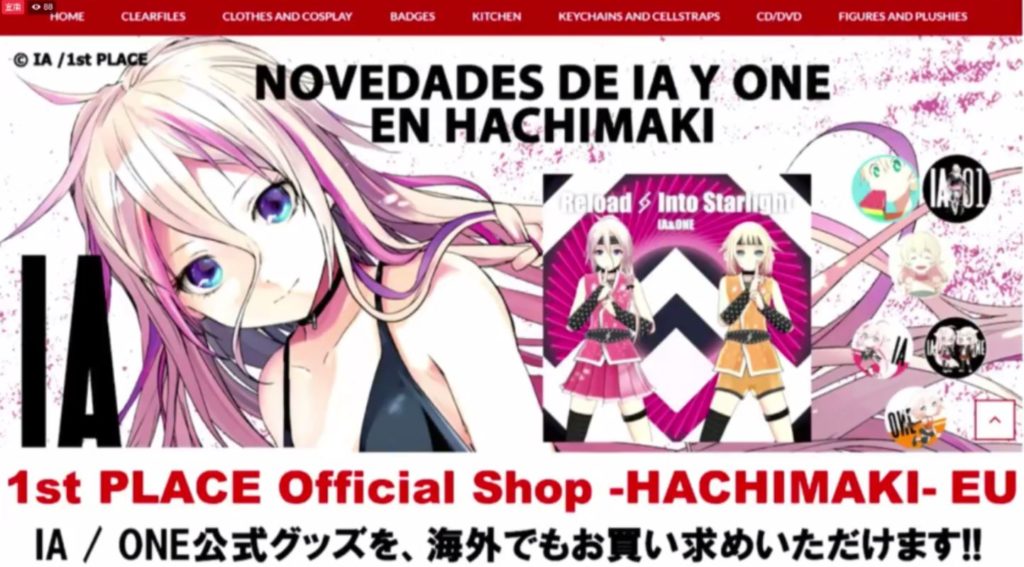 In more -HACHIMAKI- Shop news, 1st Place has opened up the -HACHIMAKI- EU store to supply IA and ONE goods to European territories! The site strives to be available in English, Spanish, French, and Portuguese among other languages. They're definitely hitting the ground running, seeing as how all of the above-mentioned anniversary goods are already available on the EU shop as well!
The shop offers shipping in the following countries:
Germany, Andorra, Algeria, Argentina, Austria, Belgium, Brazil, Bulgaria, Cape Verde, Glen, Chile, Cyprus, Colombia, Costa Rica, Denmark, Ecuador, Egypt, Slovakia, Slovenia, Spain, U.S, Estonia, Finland, France, Greece, French Guiana, Guyana, Hungary, Ireland, Iceland, Italy, Latvia, Liechtenstein, Lithuania, Luxembourg, Malt, Morocco, Mexico, Monaco, Nicaragua, Norway, Netherlands, Panama, Peru, Poland, Portugal, Puerto Rico, United Kingdom, Czech Republic, Dominican Republic, Romania, Russia, San Marino, Sweden, Switzerland, Tunisia, Turkey, Ukraine, Israel and Uruguay.
Update: All preorders for the new IA and ONE goods will be delivered in March/April. All other goods are currently available!
てるみい (Tell Me) Music Video
Finally, the livestream concluded with an airing of the new music video for "てるみい (Tell Me)," the collaboration song by Ishifuro with 18 Puzzle! The song be will released as part of the compilation album ONE/01, and will even be part of the setlist for ARIA, but fans were given an early glimpse of it during the livestream.
The music video was produced with the help of real-time character animation creation company, COVER Corporation.
Other Information
Besides news, the livestream was filled with other fun corners and information reveals. Here are but a few that fans can enjoy.
Q&A Corner
IA and ONE answered questions asked by fans themselves! This session gave fans a rare opportunity to get to know a little more about the sisters' respective personalities that they don't typically see from them elsewhere.
Q: "In 18 Puzzle, it's written that IA is 155 cm tall, and that ONE is 150 cm, but is that correct? If not, please tell me their real heights!" (IA/[email protected]廃人)
A: That is indeed correct. ONE's a little displeased about being 5 cm shorter than her sister, but hopes to grow more.
Q: "What is your favorite food?" (Jade)
A: IA likes sakuramochi while ONE is fond of celery, as well as pistachios as an afternoon snack.
Q: "How long does it take for you to dry your hair?" (るーる)
A: It takes about 20 minutes for ONE to dry her hair, and it takes IA about 1 whole hour after factoring in treatment and using a hair dryer.
Q: "Do you both do your own hair?" (いちょう)
A: They normally do their own hair, but they sometimes get help from hair dressers, such as right before a live show.
Q: "Please show me your best game face!" (毛玉きっく)
A: That's not really a question, but they obliged anyway.
Q: "Aren't your normal outfits a bit cold to wear during the winter?" (san123)
A: Since they move around a lot during performances, they never get cold.
Q: "I bet you two never argue! I used to argue with my little sister a lot as a kid. Oh-ho-ho-hoo!!!" (平原雪@モナコインコンビ第2弾)
A: They actually do argue a lot, as there are a lot of things that ONE gets upset over. Remembering their last argument, ONE felt her anger re-surging, so they quickly moved on to the next question.
Q: "Happy birthday, IA and ONE! Would it be alright if I keep on loving you both forever?" (悔猫(IA廃))
A: Of course! Bring on the love!
Q: "What's your favorite onomatopoeia?" (影の支配者)
A: IA likes "fuwa fuwa" (sound for fluffy things) while ONE is particular to "zara zara" (sound for rough things)
Q: "Do you ever get nervous before performing on stage? If so, then what do you do before you start performing?" (riyan herdian)
A: IA says that she never gets nervous before going onstage. ONE, on the other hand, gets nervous all the time, and plays a rhythm game on her phone to calm herself down.
Q: "Which of you is better at housework? Furthermore, please tell me what you like to cook!" (地鶏炭火焼)
A: ONE is better at cooking, and even has a vegetable garden. She doesn't have a favorite recipe, but she does love fixing all sorts of salads, always making sure to include celery. Meanwhile, IA is better at cleaning and other housework.
Q: "If you two could travel, where would you like to go?" (吾妻)
A: When they're not busy going overseas for work, IA would like to visit places like Hakone and Izu where she can take a dip in onsen.
Q: "I'd like to see you both look when playing a horror game, or watching a horror movie." (白猫翼)
A: ONE may like playing games, but she gets startled and screams easily, so she stays away from horror games.
Q: "Where do you two get your cuteness from?" (馬(軍用馬))
A: After hesitating for a while, IA answers "I guess from the staff and their hard work." Perhaps the best answer that she could give.
Q: "When will there be the next song duet from you?" (camila catalano)
A: Today!
Q: "When do you normally go to sleep, and when do you normally wake up?" (ぜろ!祝1万ツイート達成)
A: IA is the early-to-bed-early-to-rise type, whereas ONE is always staying up late and sleeping until noon the next day.
Q: "I want to see you two put on a manzai act." (とある鉄オタのサブ垢)
A: While not too pleased with the staff for selecting this question, IA and ONE still tried their hand at a manzai performance to give their fans a rare treat, complete with some slapstick involved. But IA ended up getting hurt from that, so they decided to stop after that.
out of service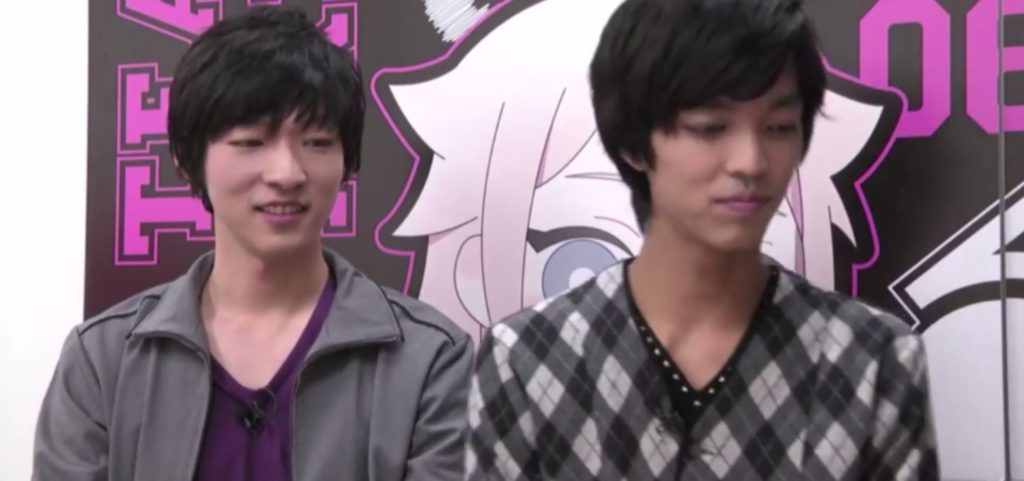 Both Hayao Konishi and Kai Ohno from out of service appeared in the flesh as special guests of the livestream event to talk about the work that they have done with IA throughout the years. From contributing to her albums to even writing songs for video game collaborations with IA, they've come to see her as something of a co-worker at 1st Place, their senpai to be exact.
In 2017, the pair appeared at both Niconico Cho Kaigi and Niconico Cho Party to perform with IA in some manner, and even helped promote the VOCALOID Keyboard for multiple occasions. They even took the opportunity to do so again during the livestream, marking one of the first times that fans have been able to listen to IA's voice on the keyboard online.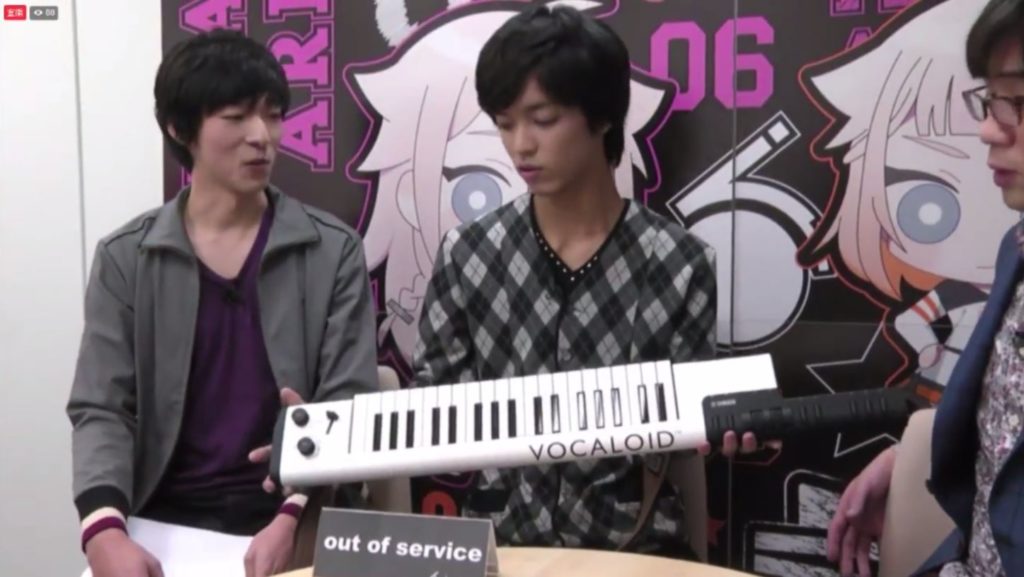 As for their goals going into 2018, Konishi hopes to complete their next album and continue performing at live concerts, including the upcoming PARTY A GO-GO FINAL concert, and hinting at an appearance at ARIA as well. By contrast, Ohno stated a more individualized goal: improving his skills at and making videos for Super Mario Maker! He is also concentrated on his next performance with IA on Anisong★Station this upcoming Monday.
The pair concluded their guest appearance with a video digest on one of their performances from last July in which they performed ビットチューン (Bit-tune) with IA and ONE, which also serves as one of the featured songs in the above-mentioned collaboration with Groove Coaster 3EX Dream Party.
Lia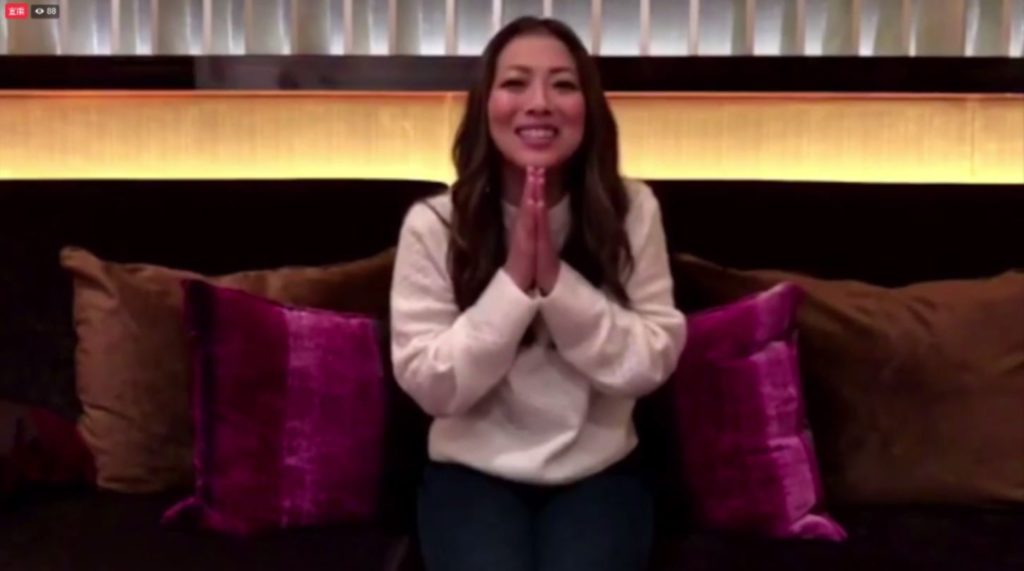 After out of service, IA's own voice provider, Lia, appeared via video message from Hong Kong to wish IA and ONE a happy birthday. After singing them the Happy Birthday song and apologizing profusely for not being able to be there in person, Lia then took the opportunity to promote her new album called "Revives," a compilation of her covers for famous anime songs. One look at the tracklisk below may reveal some recognizable tracks for anime fans.
One such supposed anime fan, ONE, even remarked afterwards on how the album was filled with her favorites, and intends to buy it as soon as it is released. IA admits that she is not as much of an anime fan as ONE, but is still excited for the opportunity to listen to Lia sing.
Conclusion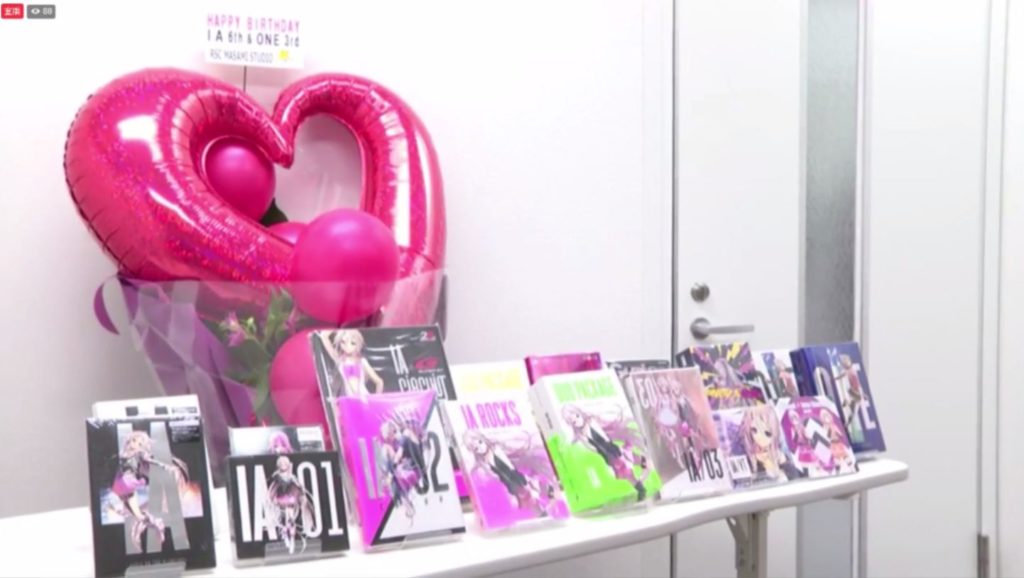 The roughly two-hour livestream contained some really big album, merchandise, and collaboration reveals. The latter especially strongly suggests 1st Place's more aggressive aim to expand into the international market, and spread the appeal of IA and ONE worldwide by working together with overseas companies and music producers. The concert information was comparatively scarce, but no less indicative of the company's commitment to internationalizing their voice synths in 2018. The hints that were given about ARIA – from the show's focus on IA and ONE's births to the reveal of the てるみい (Tell Me) music video – could mark a whole new direction for the ARIA sisters and their future promotions.
The livestream also reminded fans just how involved the staff behind the creation of IA and ONE are with their activities. Whether it's out of service or Lia, or じん (Jin), the individuals responsible for making IA and ONE who they are have never stopped supporting them, and it shows in their worldwide success. All other VOCALOID companies can truly learn from the example and the standard that 1st Place has set for the promotion of a virtual artist.
VNN has profound respect for the work done by our new partner, 1st Place, and will continue to be the place for all of your IA and ONE news.