IA and ONE's anniversary is less than a week away and, as is tradition, 1st Place will be holding a virtual broadcast on January 27th to celebrate IA's 8th and ONE's 5th anniversary!
As you may have already seen, the promotional artwork for this year features IA and ONE with cool plugsuit style outfits and matching mechas!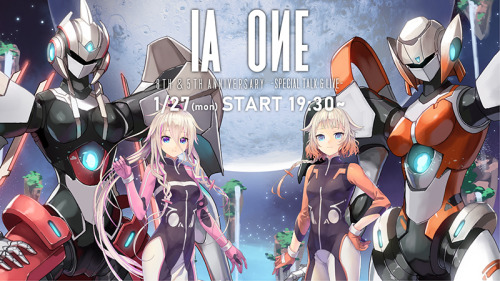 What will be in the broadcast?
The broadcast shall contain a recap of key events held in 2019, such as IA's Party A Go-Go Super Edition, the Aria Musical & Live Show, the J-Wave Innovation World Fiesta 2019 and the 1st Place 15th Anniversary Live event.
There will also be a remix of Conqueror by DJ DANTZ, the announcement of the 2020 Anniversary song and much more!
IA, ONE and Clerk G are listed as performers in the broadcast, so look forward to seeing them there!
Where can I watch the broadcast?
The virtual broadcast will be streamed live on the IA and ONE Official YouTube channel here.
When is the broadcast?
The broadcast shall start on January 27th at 7:30 PM JST, so be sure to check your local time zone and mark your calendar to make sure you don't miss it!
Source