On January 11th, Miku Expo Europe kicked off in London! Read on for my review of the event, including details of the concert itself, the Let's Paint workshop, merchandise and interviews with other Vocaloid producers and fans I met there. I have also shared some advice for fans who are thinking of attending Miku Expo, or similar events, in future. Enjoy!
Initial Impressions
This year I had the pleasure of returning to Miku Expo Europe, held in the O2 Academy in Brixton, London.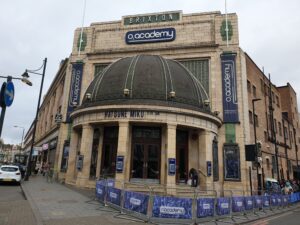 Last time I attended Miku Expo in 2018, the fans were queueing from the early hours of the morning, and this time was no exception!
Though the doors were to open much later than last time, at 6:00 PM, the queue had already formed by 8:00 AM!
Again, people were socialising, playing Vocaloid music and handing out free merchandise that they had made themselves and brought along with them to give away to other fans.
The sense of community in the vocal synth fandom was certainly still going strong!
Merchandise
Before the concert, Miku Expo merchandise was available to purchase online, from Back Street Merch, and in store, at Japan Centre Ichiba.
There was also a temporary pop-up shop at Metro Brixton, that opened from 12:00 PM to 6:00 PM on the day of the concert.
The queue for the pop up store was quite long and the shop itself was fairly small so it was a bit chaotic in there but I ended up getting some nice things.
Merchandise was also available inside the venue when the doors opened, both downstairs in front of the entrance to the standing area and upstairs in front of the entrance to the seated circle area.
The shop outside the seated circle area was the quieter of the two, though the demo for Miku Mega39s was also located downstairs next to the merchandise queue, so it was hard to access that.
For those who did make it to the demo, however, there were free stickers and pin badges available. Sadly, I couldn't get near enough to try it but my friend kindly grabbed me a pin badge while he was there.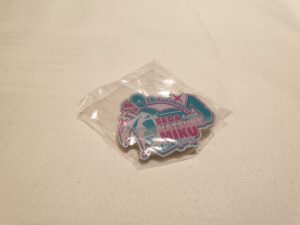 As before, VIP ticket holders were also given a selection of exclusive items as part of their VIP package, which were handed out to them by staff as they entered.
Let's take a closer look at all the merchandise that was on offer!
Online Merchandise
You can still buy some of the following merchandise via the official online shop here, while stocks last!
Miku Expo 2020 Glowstick
£32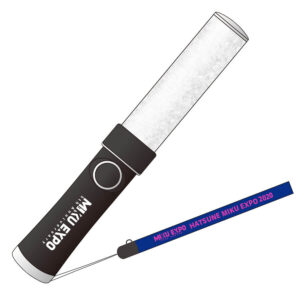 Neon Glowstick Film Set
£9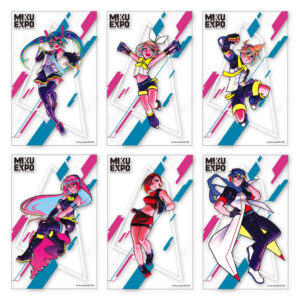 Vivid Miku Happi Jacket
£45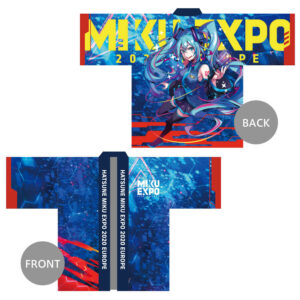 Futura Miku Full Graphic T-Shirt
£41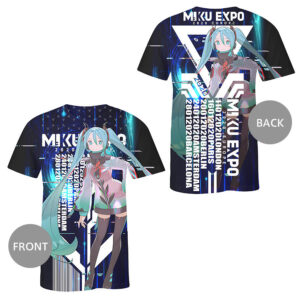 Chibi Cyber Group T-Shirt
£27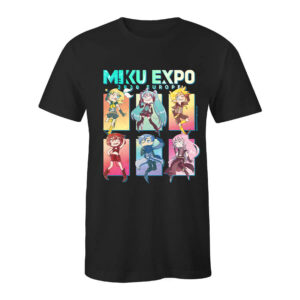 Neon Blind Bag Badge
(Please note that 1 random badge can be found inside each blind bag. There were actually a lot of Miku, Rin and Luka badges in London but I didn't see anyone get Kaito, Len or Meiko yet!)
£5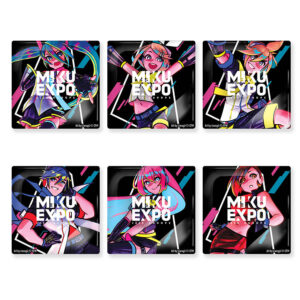 Neon Group Hoodie
£45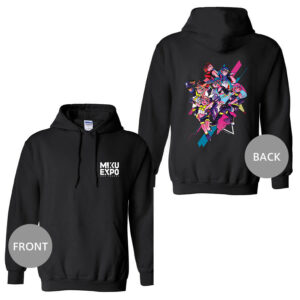 Vivid Miku Mug and Box Set
(This item was an online exclusive.)
£18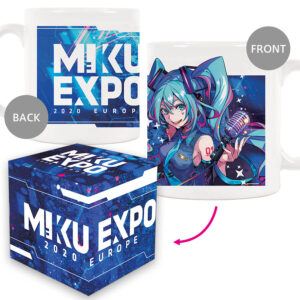 Cyber Temporary Tattoos
£7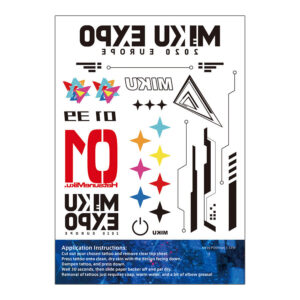 Miku Expo Logo Pouch
(This item was an online exclusive.)
£27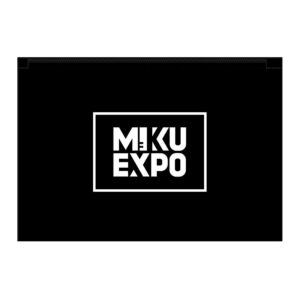 Cyber Wristband
£5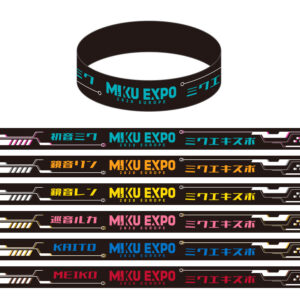 A1 Posters
£9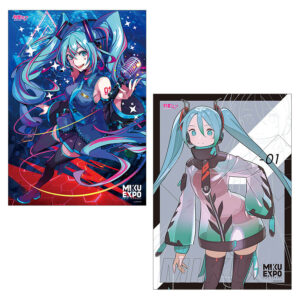 Chibi Cyber Group Stickers
£5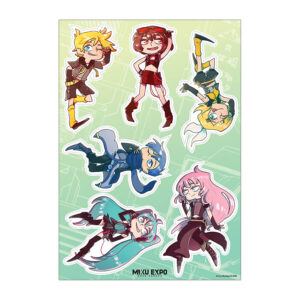 Miku Expo 5th Anniversary E.P.
£27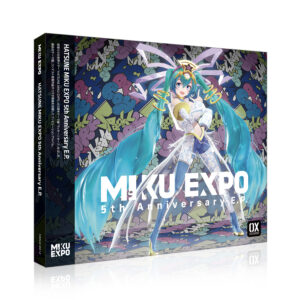 Venue Exclusive Merchandise
Local Miku Art Prints
(Please note that the London design was the only version available in London.)
£5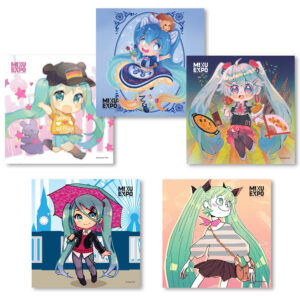 Local Miku Button Badge
(Please note that the London design was the only version available in London.)
£5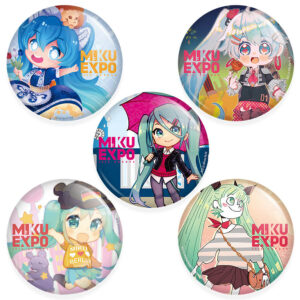 Chibi Cyber Miku Beanie
£27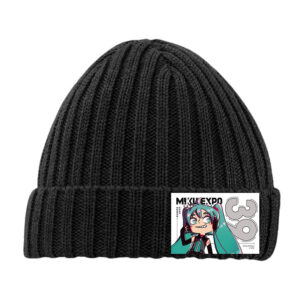 Miku Expo 5th Anniversary E.P. SONOCA
(This is a collectible card which gives you a digital copy of the Miku Expo 5th Anniversary E.P. by downloading it through the SONOCA app.)
£9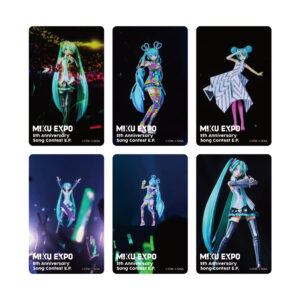 Miku Expo Shopper Bag
£14
(Please note that, unfortunately, there was an announcement on the day of the Expo to say that the shopper bag would not be available, due to unforeseen circumstances.)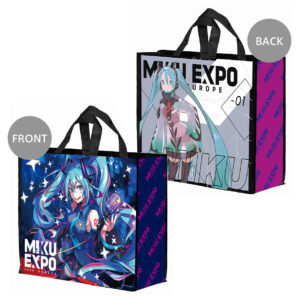 VIP Merchandise
For VIP ticket holders, there was exclusive merchandise given out including a canvas tote bag, a tea towel (very appropriate for us Brits), a large sticker and a VIP pass with lanyard.
(Just to avoid confusion, the streamers shown to the right of these items in the picture below were not part of the package, they shot out from the stage and into the crowd during the concert.)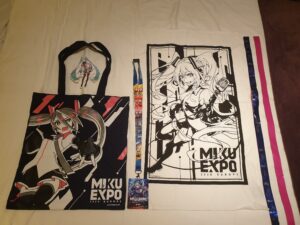 Live Concert
The concert was bursting with energy throughout and the pictures I took from the circle seats really don't do it justice!
But what songs were performed, you might ask? If you haven't gone to the Expo yet and don't like spoilers, then scroll on by to the next section to avoid the setlist!
Setlist
Encore Setlist
My Setlist Highlights
I have quite a few highlights this time, so please bear with me! There were so many good song it's been hard to cut it down so I've picked 4 to talk about in more detail.
Firstly, I've got to say that I adored seeing Miku Fiesta live. It was so fun and full of energy that I couldn't stop moving and the song has been in my head ever since the concert!
I also really loved the performance of Hyper Reality Show by Utsu-P. It was a really intense performance, with some cool stage interactions and effects that made the crowd go wild!
My absolute favourites from the setlist were Rolling Girl by Wowaka and Odds and Ends by Ryo. Both brought me to tears and I nearly lost my voice singing along!
The tribute to Wowaka was so touching… The sight of glowsticks turning white in unison and then hearing the start of Rolling Girl really hit me hard. It was truly humbling to see how many hearts Wowaka had touched with their music.
And then, when Odds & Ends came on, I knew I was going to get emotional. Odds & Ends has a special place in my heart and I had actually said to others previously that I would love to see it live.
For a moment, I couldn't quite believe my dream was coming true and then, as I sang along to the words 'Wakatteru, hontou wa' ('I understand you, really'), I felt my voice shake and my tears flow and I sang with all my heart.
I think those moments will be ones that I shall remember and cherish forever.
Let's Paint Workshop
The day after the concert, there was a Miku Let's Paint event held at Japan Centre Ichiba.
In 2018, the event involved buying and painting an O-Miku figure but, this time, the event went digital and all the painting was done on smart devices, using an app.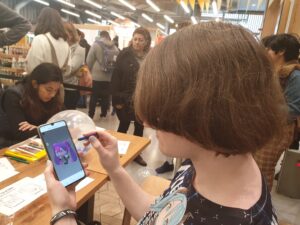 To start painting, attendees had to first scan a QR code using their smart phone or tablet device. This would then take them to the application, which allowed you to 'paint' directly onto a 3D model of Miku, using the provided Miku Expo stylus, for better precision.
The app allowed you to pick a colour, change the size of the brush, zoom in and out, rotate and move around the model.
Once you were happy with your design, you could then enter 'Studio Mode' to add a background to your Miku. This also added the effect of lighting and a shadow on your model.
For the background, you could select an image from your phone.
I tried to make a 'me' Miku and chose a picture I had taken the previous evening, outside the concert venue.
I actually lost my progress when trying to save but I managed to start over later on. It's not the best design I saw by far, but I'm much happier with the end result!
When you had completed your Miku, the staff encouraged you to share your creation on social media using the hashtag #MyMiku and, if you showed them your finished Miku, they gave you a sticker and let you choose one other free item from a selection of keyrings, wristbands, acrylic stands and more! I picked out a lovely 5th Anniversary Rin and Len acrylic stand.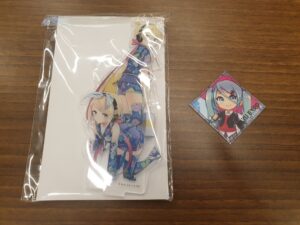 Interviews
During the weekend, I got the chance to meet up with many fans, artists, cosplayers and producers. I couldn't possibly interview them all but I managed to sit down with a group of producers and fans to ask them a few questions about their experience and their thoughts on the future of vocal synthesisers. Please note that these interviews were conducted before the concert and the Let's Paint workshop. I have marked my questions with Q and their answers with A, so it's clear who's talking in each interview.
QuasarP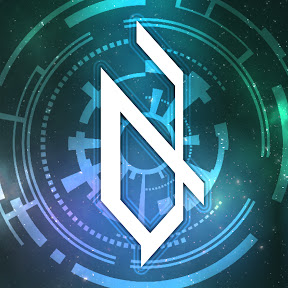 Q: So, can you please state your name or alias?
A: My online alias is QuasarP.
Q: Can you tell me how long that you've been into Vocaloid, if you know?
A: Well, I guess it depends when I got really interested in Vocaloid. So I've been really interested since around 3 years ago when I started making my first songs up until now. But before that, I was introduced to Vocaloid through my music teacher, in high school. At that time, it seemed interesting and I checked out a few of the earlier songs but I wasn't inspired enough to create my own music. It was only recently when I wanted to create my own music that I got back into it and just discovered far more facets of it that were a lot more interesting to me.
Q: You've kind of answered one of my next questions around whether you do any creative work so, with the creative work you do, how many songs do you think you've done in your career so far?
A: I think it's a bit over 20 or 30… but then a lot of it is also remixes so I don't know if those count… When I do remixes, I take the vocal tracks from another producer friend of mine and then change the instrumental to another sensation or mood that I think will be interesting for the vocals of the song so that's the non-original work I do besides original songs.
Q: So, do you do artwork as well? Do you do art to go with your Vocaloid (music) work?
A: Yeah, I create my own illustrations for my songs but sometimes I just want to mix things up a bit and maybe commission another artist, just to achieve a certain mood or sensation that I couldn't otherwise by myself.
Q: Okay, cool. So have you been to Miku Expo before?
A: I have been to 2 Miku Expos. I have been to the 2018 one in London and the 2019 one in Hong Kong.
Q: That's interesting, I haven't actually met anyone who's been to the Hong Kong one as well. Could you tell me, is there a big difference between the Hong Kong version and the Europe version, anything in particular that stands out as different to you?
A: Well, the main difference I guess is just the stage. That really is the only thing I can think of like, here, it's mostly standing, or at least I think it is, for this one but, in Hong Kong, there are seats and stuff. But I know this isn't the case for Germany, which my friend told me about, where there are seats so I don't know. It's pretty similar, in my opinion.
Q: So, we haven't got into the concert yet but, so far, is this what you expected of the experience and are you looking forward to it?
A: Yeah, I'm looking forward to it. I'm quite excited too. You know, the first time I came here for the first Miku Expo (Europe) event, there wasn't as many friends that I could hang out with but, this year, with me there are like four friends sitting next to me now so, like, it's a lot more exciting this time because there's more of a connection with real life interaction, in terms of my hobby work.
Q: That's really cool. I really like how Vocaloid brings everybody together, like, there's definitely a sense of community around everyone so that's really important to me. So, I guess, we've talked a little bit about the concert itself but are you perhaps going to try out the Mega 39s demo, the Switch game, if you can?
A: I guess it depends if I feel like it or not but, currently, I don't have a plan for what I'm going to do for the rest of the night, you know.
Q: And the Miku Paint event, do you think ?
A:  I guess that will depend on these friends I'm sitting next to, like, do they want to go to the event or not.
Q: I guess we'll find out then! Going off topic a tiny bit, have you heard the Miku New Type demos yet?
A: Oh, I saw the video! I only watched like 15 seconds of it but it's cool that they're having a new engine, new voicebank, and I'm looking forward to trying it out. I really wish they would have an English version for Miku, like on the engine soon, as that would be most useful to me.
Q: Same, to be honest, yeah. I guess we'll see how it goes. What do you think will happen to Vocaloid now, going forward?
A: I think it's good to have more software in the vocal synth space because, when there's only one incumbent software over the course of a few years, there's nothing stopping them from doing things that may not be the best idea and, when there's more competition and software,  I think it will create more change and more improvement in the technology. That's just my opinion, I guess.
Q: I think that's fair.
A: But I haven't tried that many other software besides Vocaloid so I've got to hop on that as well!
Q: Fair enough, yeah. I use Vocaloid and Cevio at the moment but I think it's going to be exciting to see how this branches out and what happens next for Vocaloid. Anyway, I think that's all I was going to ask so thank you for your time!
A: Thank you.
(You can find Quasar's work on YouTube here.)
Makushi-P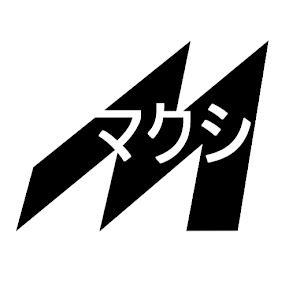 Q: So, can you please state your name or alias?
A: My alias and producer name is Makushi Frequency or Makushi-P.
Q: So, do you how long you've been into Vocaloid?
A: Well, I've been into Vocaloid since 2016 and I actually got into it because I got myself a PlayStation Portable. I tried a lot of games that were on the system and one of the games was Hatsune Miku Project Diva. When I tried that, at first, it was kind of just a meme, like getting into Vocaloid and the concert stuff and people cheering at what was just a projection and then the meme got real and I started liking… I started loving the songs as I played through Project Diva. The first song I really got into Love is War and, since 2016, it has been evolving more and more over time.
Q: So, do you actually do music yourself in Vocaloid as well?
A: Yes, I do, since 2016, about half a year after I got into the Vocaloid community I started producing music and I got better at producing music. I did it when I was like 8/9 years old at first but stopped doing it in 2011 when I was 11 year old and got back to it through Vocaloid basically. First I started using Magix Music Maker and basically used the program as far as I could but you can't do much with it, you can use VST instruments with it and such but it's complicated to work with, I did my best. Over time, I switched over to FL Studio but I've been producing music ever since even though I haven't done as much music in 2019 as before because my personal life has been a little bit more complicated.
Q: That's fair enough. Same, to be honest! So, is this the first time you've been to Miku Expo?
A: No, it's not actually my first time. I've been to the Miku Expo Cologne in Germany. It was a really cool experience but I had to stay but I had to stay in Cologne till about 2 AM for my train and then I had to stay up in school the whole next day so it was kind of complicated but yeah. It was really cool going there.
Q: So, still worth it, you think?
A: Yeah, that's why I'm here!
Q: Of course. So, are you interested in trying to Mega 39s demo, the Switch game?
A: I certainly am. As soon as I heard the announcement, I got myself a Switch, and basically I'm waiting for that game as it's the game I'm most interested in right now. I think it will come out later in 2020. I'm definitely looking forward to that. I didn't play it yet.
Q: I'm hoping it's going to be inside the venue. I'd like to have a go on it myself. Are you thinking about going to the Miku Paint event tomorrow?
A: I'm here in London with a friend and I don't want to leave him alone all the time so we're going somewhere else tomorrow so we're not going to the Miku Paint event. Also, I can't draw so I don't know if I could really relate much.
Q: That's okay! It's not for everyone. So, I guess, going off topic from Miku Expo now but I just wondered, have you heard the Miku New Type demos?
A: Yes, I did hear them but, while I think it's cool that they switched the engine and are turning Hatsune Miku from a Vocaloid into another voice synthesizer program, it didn't sound all that different from the Miku we know and love so…
Q: Yeah, I kind of agree, I'll be honest. It does seem similar but I guess everyone would complain if it was different so it's one of those things where it hasn't "Wow'ed" me yet but I don't know what to expect. I'm kind of hoping there'll be an English bank or something at some point.
A: We'll see what producers produce with it. I suppose the new program comes with new capabilities, new things you can try and that will definitely lead to more interesting songs to be produced.
Q: So, what do you think is going to happen to Vocaloid itself, when New Type comes in?
A: I think diversity is good and a lot of products on the market are always good because it creates competition and competition usually brings more exciting and better products on the market so the future will be bright.
Q: Cool. It's good to be positive about it, really hopeful. Well, I think that's all I really needed to ask so thank you very much.
(You can find Makushi's work on Youtube here.)
Sheychan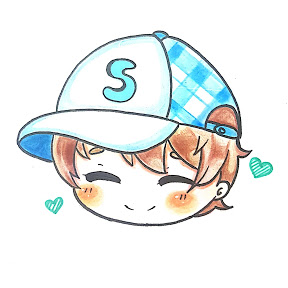 Q: So, can you please state your name or alias?
A: Hello, I'm Shey.
Q: Do you know how long you've been into Vocaloid?
A: I've been into Vocaloid since 2012. The first song I ever heard was from Miku, "Tell Your World". The first time I was like wow, it's really good and then I continued listening to more songs and I can't of dreamed of becoming a producer, but I didn't become a producer until 3 years ago.
Q: So, is that original songs? Or is it like remixes?
A: Yeah, I make original songs. I tried doing a cover but I didn't release it, so original works and collabs with other artists, and soon I'll be releasing remixes as well.
Q: Cool, so is it just the music side of things you do creatively? Do you do art or cosplay or anything like that as well?
A: Yeah, just music. I hope that I can do some other stuff but it's just that. Music is for me.
Q: That's fair, that's fair. So, is this your first Miku Expo?
A: This is my second Miku Expo. The first one was Miku Expo HK (Hong Kong) last year.
Q: Cool, cool. We haven't gone into the concert yet so we can't talk about the concert itself but are you excited to play the Mega 39s demo or are you maybe looking forward to the Miku Paint event?
A: I will definitely try it though I have less time because of work. I'll definitely be getting the game because I'm also a fan of rhythm games.
Q: So do you think you might go along to Miku Paint. There's an event in Ichiba so I don't know if you'd be interested in that?
A: I'm interest, however, I'm afraid I cannot go because of schedules.
Q: Ah, okay. Fair enough. So, generally now, have you heard the Miku New Type demos?
A: I'm afraid not.
Q: Oh okay. There's recently been some demos of the new Miku software so I'm interested to see where that goes. I guess, without knowing what the demo sounds like, what do you think will happen with Miku and the Cryptonloids when they move engine, like what do you think will happen to Vocaloid?
A: I believe Vocaloid will never die and, even though that will happen, I believe Vocaloids are slowly going mainstream and me, as a fan myself, will continue being a fan.
Q: So, you're hopeful for the future.
A: Yeah.
Q: Thank you. Well, I think I've covered everything so thank you for your time.
(You can find Sheychan's work on YouTube here.)
Rei
Q: So, can you please state your name or alias?
A: My name is Rei!
Q: Hello Rei! So, if you can remember, how long have you been into Vocaloid?
A: I first found it in like 2015. No… that's a lie. I first found it much earlier than that but I didn't know what it was but then I rediscovered it in 2015 and that's when I first got into it, I would say.
Q: So, you'd heard of it but you didn't really become a fan until 2015?
A: Yeah, it was memes! Yeah, that's how I found it.
Q: I get that, I get that. So do you do any creative work with Vocaloid, do you do art, cosplay, music, yourself?
A: Kind of… You see, I try to produce but I'm bad at it so it doesn't really work but I sing so that's like my main thing to do with it but it's not like a mainstream thing, it's like a hobby. I don't really do it that much but yeah, that's what I do.
Q: Yeah, that's fine. Hobbies are good! So is that like singing generally or is that singing covers?
A: Covers, yeah. I try to right my own songs but no… it doesn't work. I'm bad at it.
Q: Aww, keep trying, keep trying! So, is this your first Miku Expo?
A: It's my first one.
Q: Oh okay, so are you really excited?
A: Yeah! Kind of nervous but yeah, mainly excited but it's going to be good. It's going to be good. I've watched them before on YouTube so I know what it is but yeah.
Q: So you know what to expect?
A: Yeah, exactly. So, it should be fine.
Q: Cool. So, we haven't gone into the concert yet so are you perhaps interested in trying out the Miku 39s demo, the Switch game?
A: Definitely! Yeah, I have a lot of Switch games so, as soon as I realised that that was going to be released I was like, 'Yes! I'm going to download it!' So yeah, definitely. 100%.
Q: So, do you play a lot of rhythm games?
A: Not really, I'm kind of part of that fandom but only from watching other people do it so I've never played one myself, which is why I'm so excited, because I've never had the medium to play it before. But because I have a Switch I was like 'Oh my god! I can finally do it!' So yeah, I'm going to get it.
Q: Cool, so this will be the first foray into it? Nice, nice. So, there's also that Miku Paint event tomorrow. Are you interested in going to that?
A: Probably not, to be honest. I didn't really know about it till today so probably not.
Q: That's fair, I just wondered. So, I guess, another general Miku/Vocaloid question, have you heard the Miku New Type demos at all?
A: No, I don't do Vocaloid software so I don't know anything about it.
Q: It doesn't matter. If you're not into the software then I guess it's not something you're interested in. So, just generally then, ignoring the software, ignoring the music production, what do you think the future of Vocaloid is?
A: It's definitely going to grow. Definitely. I mean, they just announced that Hatsune Miku is going to perform at Coachella this year so that, I think, is going to be a very big stepping stone to Vocaloid in general becoming a very mainstream thing. Especially here, because in Japan it's very mainstream, but here (the UK) and other places where they don't know it as much I think it's going to be very, very mainstream which makes me very, very happy because I can be a weeb and just.. yeah, it's going to be good. *laughs*
Q: Yeah, really positive about the future for Vocaloid. Well, thank you very much, I think that's everything I wanted to ask but thank you for your time.
A: It's okay.
(You can find Rei on Twitter here.)
My Advice to Future Expo Attendees
If you haven't been to Miku Expo before and are considering going to it or similar events in the future, here are a few tips I would like to share with you, based on my own experience and feedback I have heard from other Expo Attendees.
If you can't stand for long periods of time, consider booking a seated ticket at the venue and/or take a lightweight collapsible chair with you so you can take a break while waiting in the long queues. Please bear in mind that you may not be able to sit or take a chair with you into the venue so inquire ahead to be sure of the facilities!
If you want to get a good view of the stage and feel closest to the action, I would personally recommend getting standing tickets. I know this somewhat contradicts my previous point but, if you are able to stand, I definitely think it's worth the aching feet! I got seated tickets this time but had standing last time and I would say that my view and my experience were much more intimate last time, where sitting felt somewhat removed and awkward. In standing, you're also in the best spot to grab the streamers that shoot out from the stage!  You can really feel the energy when you're in the standing area but, if you'd prefer a more relaxed viewing, then perhaps this isn't for you!
Whether you choose standing or seating, wear comfortable shoes so you're ready for the queues and make sure you are prepared for the weather with suitable amounts of layers. I know many fans like to cosplay to the event, so this may not be easy for everyone, but remember to take care of yourself as you will want to be comfortable enough to enjoy it!
If you plan to bring a glowstick with you or buy one at the venue, make sure you get ones which are concert-approved and don't forget batteries as well!
If you want to get merchandise, I highly recommend ordering what you can online to avoid the queues on the day and the chance of items selling out! Things sell out FAST!
If you do want to buy merchandise at the venue, make sure you take some cash just in case. Though the shops often take card, things can go wrong. I can't stress this one enough, as I actually almost missed out on merch at the venue this time when the card machines broke down. You never know what might happen so better safe than sorry!
My Final Impressions
I heard some great music and met amazing people at Miku Expo Europe 2020 and, though things didn't go as smoothly as in 2018, I had a lovely time.
I highly recommend going to a future Miku Expo if you can make it. You're guaranteed to have an unforgettable experience!
Sources