As IA's 8th and ONE's 5th Anniversary virtual broadcast has come to an end, we have a roundup of all the announcements for those who may have missed it!
Groove Coaster
First up, it was announced that IA and ONE songs are being added to Groove Coaster Wai Wai Party on Switch!
The songs included are:
And one more secret song!
You can find out more about Groove Coaster on the official website here.
ARIA -Musical & Live Show- Blu-Ray
Another exciting announcement, the ARIA -Musical & Live Show- performance, that was held at DMM VR Theater Yokohama last year, shall be released on Blu-Ray this Spring!
The final release date will be announced later so keep an eye out for updates!
New Merchandise
As we have come to expect from the IA and ONE anniversaries, there has been new merchandise added to the 1st Place Official shop, Hachimaki, featuring the latest anniversary artwork!
This year, the new items include:
Please note that you will need a proxy to order from outside of Japan.
From January 27th to February 16th, you can also receive bonus items when you buy IA and ONE merchandise from the Hachimaki shop, depending on how much you spent!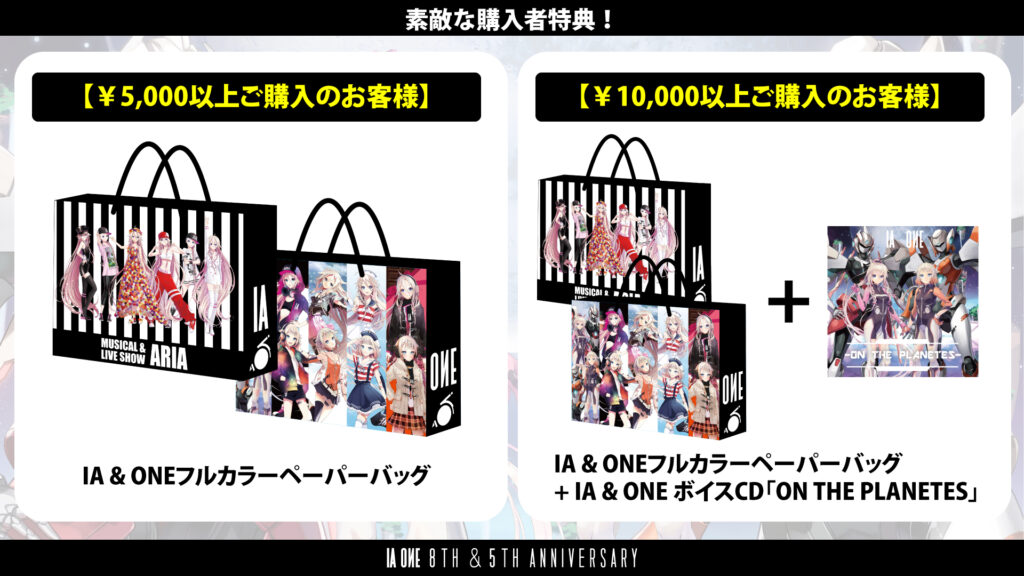 If you purchase over 5000 JPY, you shall also receive a bonus shopper bag, while spending over 10,000 JPY you will also get another shopper bag in addition of a special IA & ONE Voice CD titled "ON THE PLANETES"!
There is also a sale on at the Hachimaki shop until February 61th, with goods from 30% to 70% off, so this is a good time to buy your favorite character's goods!
Illustration Recruitment Campaign
An illustration recruitment project has also been announced!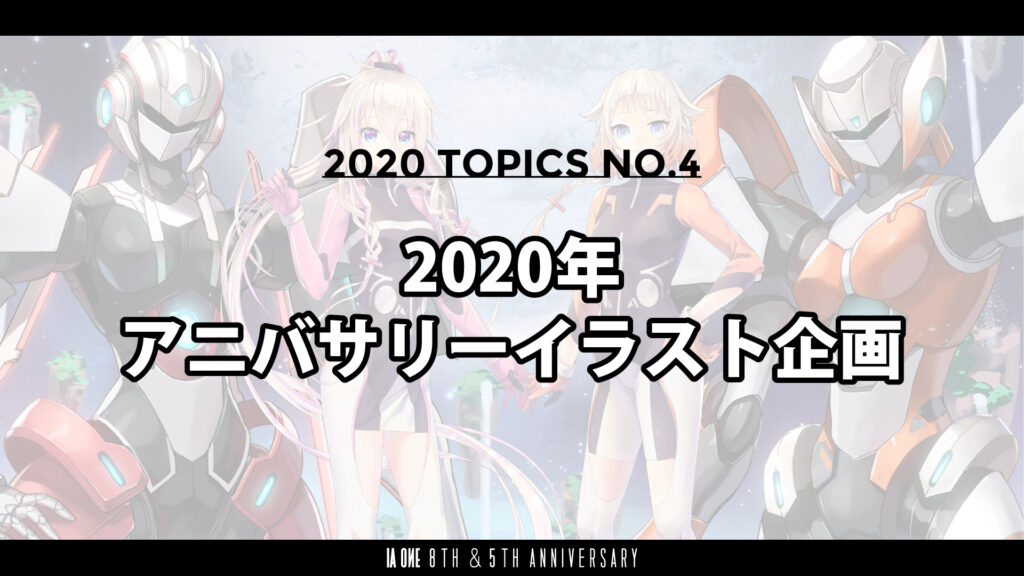 In this campaign, 1st Place is actually looking for illustrations, stories, comics and picture books based on the theme of 'A Story of a Certain Planet' and the robot illustrations featured in the anniversary artwork this year.
The works which are selected from the submissions will be compiled together in a collection at a later date!
Submission Guidelines
Illustrations, comics and picture books: Format must be psd, jpg or png format. 350 dpi is recommended for printing purposes.
Written works: Word documents are the preferred format.
There is no size limit mentioned for either format.
The deadline for this campaign is February 28th, at 18:00 JST.
How to apply
In order to submit your entries, send an email with your illustration attached (or a link to it, if the file is too large to attach) to [email protected] and the following subject: "2020年 IA&ONE アニバーサリーイラスト企画係".
MG Camp
In 2020, a holographic exhibition will be held at MG Camp, featuring IA and ONE!
MG Camp is a show for advanced and innovative creative technology, mainly focusing on 3D CG and holograms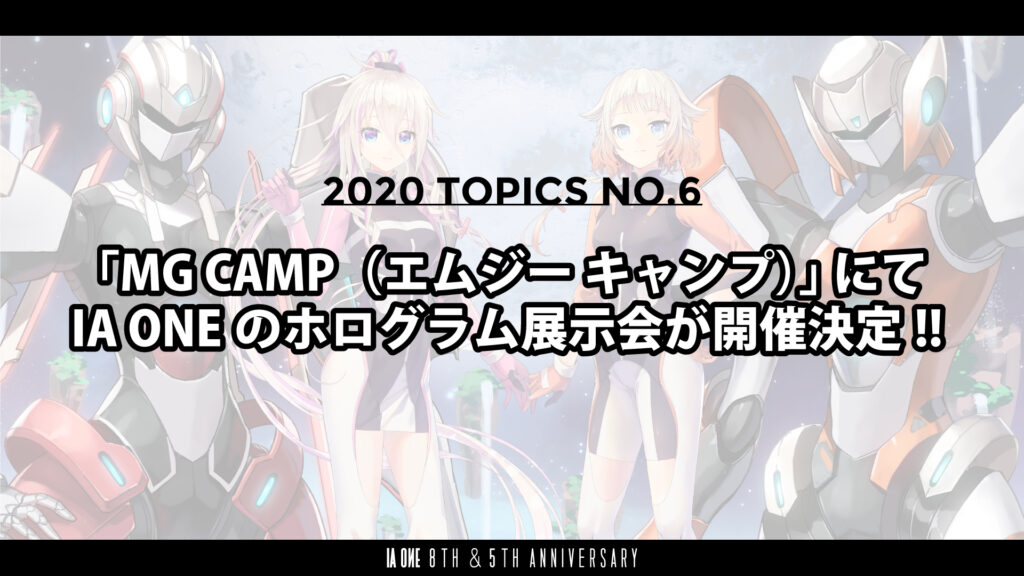 The date for the exhibition has not yet been announced but look forward to the announcement in Spring, 2020!
Nagoya Anige Fes
Additionally, there will be IA and ONE merchandise sold at 'Anige Fes 2020 in Nagoya', which will be held from February 15th to 16th in Port Messe, Nagoya.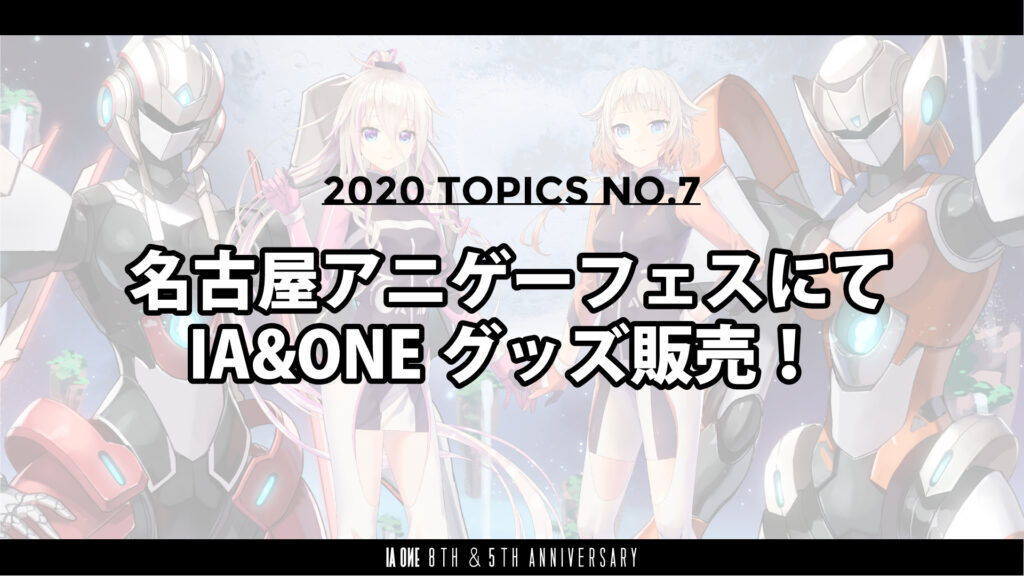 You can find out more about the event on the official website here.
Diamond Days – IA and ONE 2020 Version
Finally, here is the anniversary song for this year, a new version of Diamond Days, featuring both IA and ONE this time!
That's it for this year but, as usual, stay tuned to VNN for further updates on all of the upcoming events and merchandise coming in 2020!
Happy Anniversary IA and ONE!
Sources