IA's live concert in Shanghai happened just a few days ago and it was a success! However, it is not over yet, as there are still a few events left in Hong Kong and Costa Rica.
Below is a message from 1st PLACE's official Facebook page.
https://www.facebook.com/IAProject/posts/1027011200753243
IA's first live concert in Shanghai was a huge hit! She even got a message of support from the famed Chinese singer, Marukyū!
Up next: Hong Kong and Costa Rica! Since its debut last year in Akasaka, Tokyo, IA 1st Live Concert PARTY A-GO-GO has become a world-scale event, making stops at Los Angeles, New York, and London as well! The performance in Shanghai, China took place on August 26th. The concert hall was packed with fans clutching IA merchandise and IA cosplayers, all showing the utmost incredible enthusiasm for VOCALOID before the concert even began. Onstage, IA performed a total of 19 songs alongside a live band and numerous dancers, all with a booming voice that electrified the crowd from beginning to end. Furthermore, as a PR campaign in celebration of the event, renowned Chinese singer, Marukyū, who topped the charts from the popular music show, "Chāojí Nǚshēng," conducted an interview with IA-producers that was covered by the press. Marukyū is reportedly a fan of IA's, topping off the Shanghai PR campaign with a message of support for future concerts in different regions. Thus concluded IA's first live performance in Shanghai, but she's not stopping there! Up next is her September 16th concert in Hong Kong, where's she'll be performing alongside her voice provider, Lia! And with the following performance in Costa Rica, plus the World Screening Caravan taking place in over 120 cities worldwide, IA's journey is only just picking up steam! Keep yourself updated with all the latest IA info!
UP NEXT!
A Special Night Lia and IA Live in Hong Kong 2016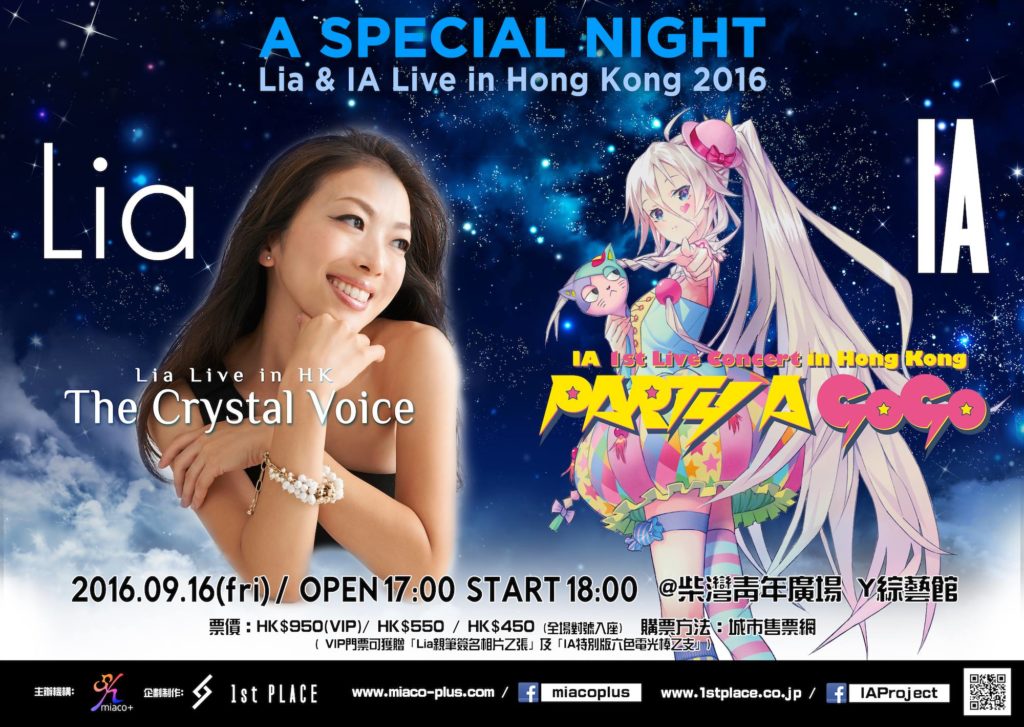 ("Lia the Crystal Voice + IA – PARTY A GO-GO")
Date: September 16, 2016
Venue: Youth Square, Y-theatre
Doors Open: 17:00 (5 PM)
Start Time: 18:00 (6 PM)
Tickets: $950 HKD/$550 HKD/$450 HKD
Ticket Purchase: Urbtix
Facebook: https://www.facebook.com/miacoplus
"PARTY A GO-GO" in Costa Rica
IA 1st Live Concert "PARTY A GO-GO" in Costa Rica
City: San José (Costa Rica)
Date: October 15th, 2016
Venue: BN ARENA ー Ciudad Deportiva Hatillo
Start Time: 18:00 (6 PM)
Tickets: imperioanime.com
Don't miss your chance to catch this wonderful opportunity!
IA WORLD PAGE (HP): http://1stplace.co.jp/ia/world/
IA WORLD PAGE (FB): https://www.facebook.com/IA.WORLD.PAGE
IA Instagram: https://www.instagram.com/ia_official_1stplace/
1st PLACE Japanese Facebook Page: https://www.facebook.com/IAProject/