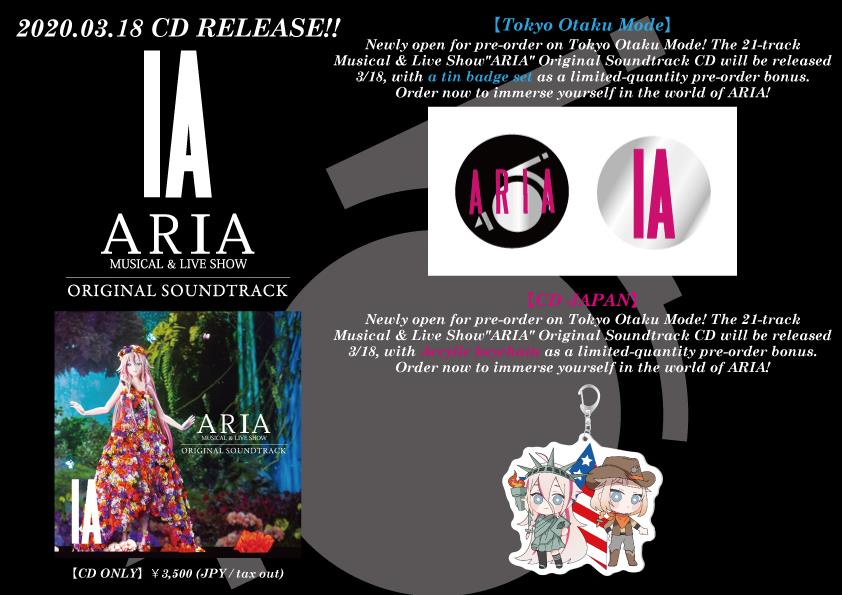 In an announcement made on IA's official Facebook page, 1st Place has revealed that the pre-orders for the MUSICAL & LIVE SHOW "ARIA" ORIGINAL SOUNDTRACK have opened for all fans worldwide!
This new soundtrack features 21 high quality songs and 5 new vocal tracks. This CD was sold at exclusive events in Japan and overseas, making it a very sought after piece among fans. It includes multiple messages recorded by IA too!
In this amazing soundtrack you'll be able to recognize multiple popular producers from the scene such as Shinichi Osawa (MONDO GROSSO), TeddyLoid, ANANT-GARDE EYES, Ishifuro, and DJ DANTZ.
Fans that place their pre-orders through Tokyo Otaku Mode or CD Japan will obtain a one-of-a-kind free item. If you also pre-order through Tokyo Otaku Mode, you'll receive a special set of badges, while those that do it through CD Japan will receive an acrylic keychain.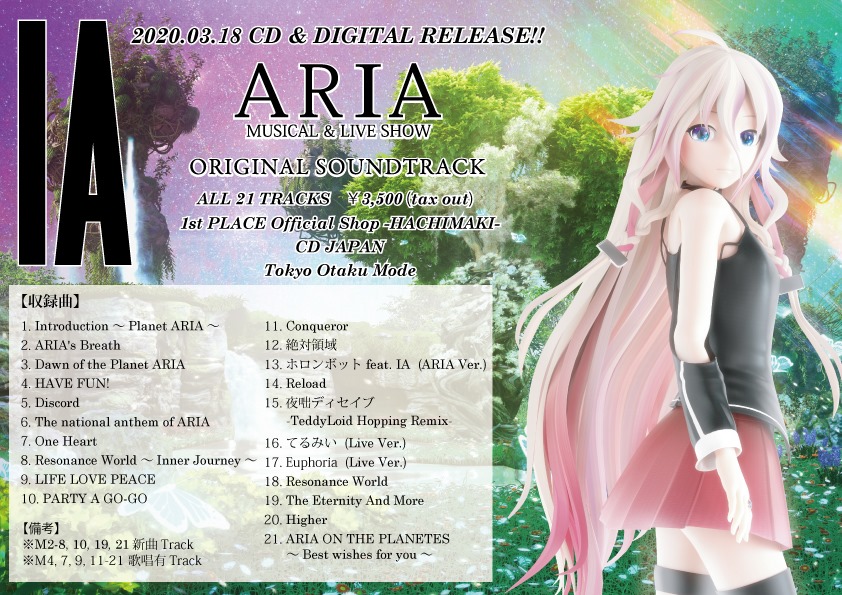 Product Information
Artist: IA
Title: MUSICAL & LIVE SHOW "ARIA" ORIGINAL SOUNDTRACK (Featuring 21 songs)
Release Date: March 18, 2020
Digital Release Date: March 18, 2020 (Available in multiple streaming services worldwide)
Price: 3,500 yen (excluding tax)
Tracklist
Introduction ~Planet ARIA~
ARIA's Breath
Dawn of the Planet ARIA
HAVE FUN!
Discord
The National Anthem Of ARIA
One Heart
Resonance World ~Inner Journey~
LIFE LOVE PEACE
PARTY A GO-GO
Conqueror
絶対領域
ホロンボット feat. IA (ARIA Ver.)
Reload
夜咄ディセイブ -TeddyLoid Hopping Remix-
てるみい (Live Version)
Euphoria (Live Version)
Resonance World
The Eternity And More
Higher
ARIA ON THE PLANETES ~Best wishes for you~
Pre-Order Information
You can pre-order this amazing soundtrack from the following websites:
Note: Available for international shipping only.
Sources