Winter is coming, and TAITO is ready to spark life into Hatsune Miku's fans as merchandise collectors with three cutesy new prize figures!
A Magical Winter Live!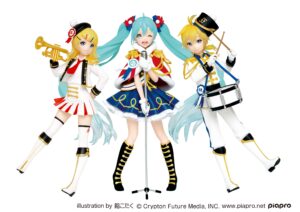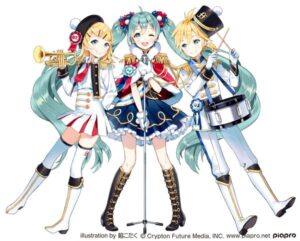 The set is based off the image illustrated by the talented artist,
Tsuji Kotaku
! While the figures don't have prices yet, we do know a little information on release dates and physical details.
According to tweets by Taito Toys, they will be released consecutively over three months. As a result, our first figure release will be Kagamine Rin!
Kagamine Rin
Firstly, Kagamine Rin's prize figure will be released sometime in October. As of the publishing of this article, the company did not give a specific release date. However, we will keep an eye out and update accordingly if a specific day of the month is announced!
For now, we'll take a look at the design details Taito released on the figure. The company revealed a number of angles on the new Rin figure!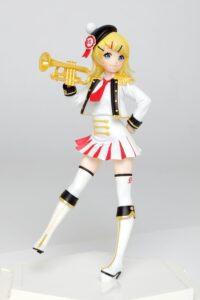 Kagamine Rin's outfit is light and white, featuring red accents and traces of black in her beret and the trip of her jacket, boots and socks. She's also holding a cute cornet, adding an interesting detail to the statue!
As stated before, the release for the Rin figure comes first, starting in October! Keep your eyes open for future updates from us!
Hatsune Miku
Following Kagamine Rin, Hatsune Miku's figure will be on the way!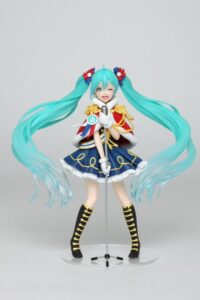 Now, Hatsune Miku's design is much like a marching band captain with a fuzzy, cozy twist! Her cloak and skirt are lined with fluffy fur. Red, blue and gold liven up her fashion sense, with cute ribbons to tie up her iconic pigtails!
Currently, Miku's figure is slated for a November release!
Kagamine Len
Last but not least, we have Kagamine Len's "nutcracker-inspired" uniform!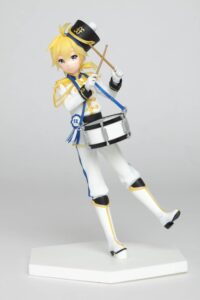 This little drummer boy wears a uniform much like Kagamine Rin's, however his is notably sporting blue accents instead of red! He also has a marching hat instead of a beret, topped with a rather cute pom pom that matches his mirror image.
Kagamine Len will be the final figure released, completing the set in December of 2019!
Sources
Which figures are you most excited for? Will you collect them all? Let us know in the comments!
Taito reveal tweet
Tsuji Kotaku is an artist on Pixiv and Twitter!
Hatsune Miku is on Facebook (English and Japanese), Twitter (English and Japanese), Youtube and Weibo.
And follow TAITO on Facebook, Twitter or their website!