We previously reported on how VOICEROID2 Kizuna Akari was nominated for the Best Creator Tool category of the 29th Vector ProRegi Awards. The results of voting are now in, revealing that she is the official winner of the category!
「VOICEROID2 紲星あかり ダウンロード版」が第29回Vectorプロレジ大賞クリエイター部門賞を受賞しました!!ヾ(*´∀`*)ノ皆さんの投票のおかげです!ありがとうございます! https://t.co/8xys80zyNA pic.twitter.com/tujjkGVRvd

— AHS公式@VOCALOID4 紲星あかり☆ (@ahsoft) February 8, 2018
"VOICEROID2 Kizuna Akari Download Ver." has won the Best Creator Tool category of the 29th Vector ProRegi Awards!! ヾ(*´∀`*)ノ This was made possible thanks to everyone's votes! Thank you so much! http://n.shop.vector.co.jp/service/special/award/#16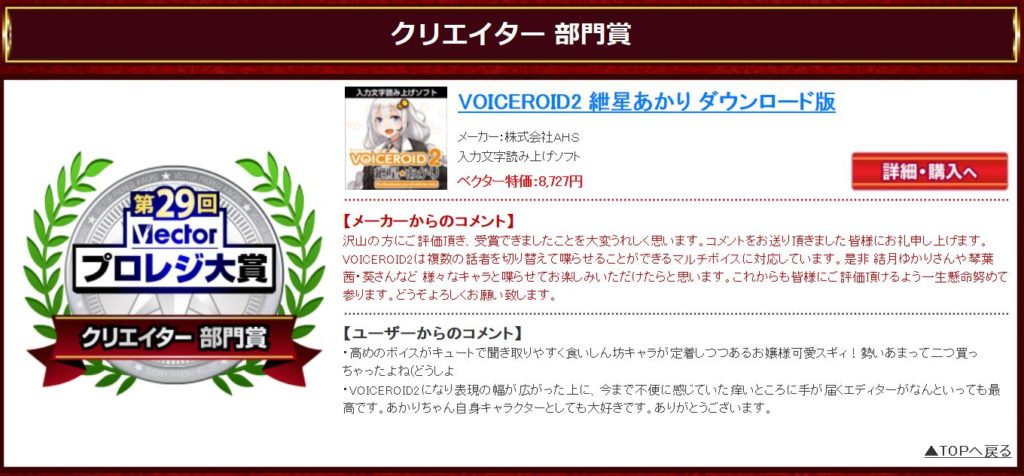 Comments from her creators at AHS:
"We are ecstatic that so many fans have enjoyed our product and helped make this award possible. We're also very grateful to those who leave comments on our products. We aim to make VOICEROID2 a truly multi-voice tool that is capable of letting its users switch between a wide variety of voices whom they can all make speak. We would be honored if fans could also try out Yuzuki Yukari, Kotonoha Akane and Aoi, and more. We will continue to work our hardest so that fans will continue to enjoy using them all. We appreciate everyone's continued support."
Some user Comments:
"This little lady is just TOO cute, having such a high-pitched yet clear-sounding voice, and even being characterized as a big eater! I was so excited that I bought two of her! (I'm hopeless)"
"Not only is she a VOICEROID2 with a wide range of expressions, but her editor is just amazing in how it helps fix the previously cumbersome parts of the software. I even love the character Akari-chan herself. Thank you so much."
Stay tuned to VNN for all news and developments on Kizuna Akari, including her upcoming and much-anticipated VOCALOID version!
Past Voice Synth Award Winners
VOICEROID+ Tohoku Kiritan EX – Best Creator Tool of the 27th Vector ProRegi Awards
IA Talk – Best Creator Tool of the 28th Vector ProRegi Awards