Since the memorable performance of 'Let It Go' at the Jiangsu Countdown Concert, Luo Tianyi once again delights her fans with the announcement of her latest figurine project "Luo Tianyi: Lemon Ver.". The figurine will be based on the illustration by TID and will be produced by Good Smile Company. Seeing both of these fan favourites in one project is sure to raise the hype around the figure!

Why Lemon?
As you may know, Luo Tianyi V4 contains 2 voicebanks: "凝(Ning/Power)" and "萌(Meng/Normal)", while Lemon in Chinese pronounce as "柠檬(Ning Meng)" as well. The homophonous words gave birth to several lemon-themed fan designs of Tianyi, a.k.a. "Lemon-Yi", and it quickly went viral within the fandom. The Lemon Ver. figurine, however, did not use any of the popular fan designs but is a new official "Lemon-Yi" design by TID. In this design, Tianyi is shown sipping juice in a frilled yellow dress decorated with mints. Even her pet TianDian is in a Lemon yellow theme as well. The illustration definitely gives an impression of a summer breeze in this cold winter! We're looking forward to more news about this figurine!
Previous Official Luo Tianyi Figurines
Including the Lemon Ver. figurine, there are 5 Luo Tianyi figurines on the market, though most of them are either out of stock or are no longer produced. Two of her earliest and most recognizable figurines are her Official Dress 1/8 scale and Chibi figurines. These were sold back in 2012, and had already stopped production within a year. Many people received these figures with Luo Tianyi's V3 voicebank Deluxe pack, which included the figurines and a Luo Tianyi official artbook. Due to ceased production, most of the Luo Tianyi figures you might find on the market now are either second hand or bootlegs.
In 2015, SCT Team announced a new 1/8 Luo Tianyi figurine, they even showcased the figurine's prototype at Firefly Con in 2016. However, fans noticed that SCT Team stopped updating their social network since late 2016 and news about the said figurine was lost until 2017. SCT Team then announced disbandment of the company, which lead to the termination of the "Umbrella Tianyi" figurine project. For anyone who is interested, you may read the announcement on SCT Team's Official Weibo.
Last but not least has to be our favourite "Language of Flower" Vsinger Mini Desktop Set, which was produced in 2016. Based on Laile's "Language of Flowers" designs and produced by HOBBYMAX, this set includes all of the Vsinger cast as well as Stardust and is one of the few items of Vsinger merchandise that has made it into overseas stores. This set is out of stock on most websites, but you may still find some if you look hard enough! VNN has previously done a review article of this figure, so click here to read more about these figures.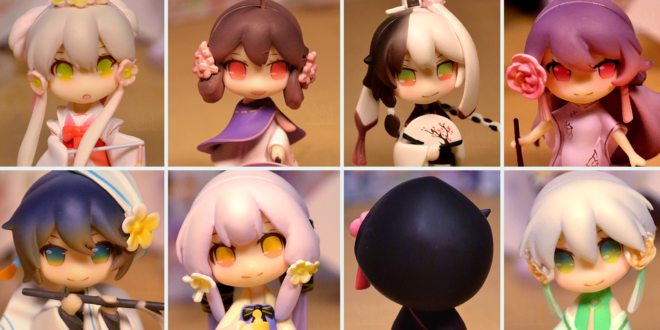 Links
Vsinger "Language of Flowers" Mini Figures Review