A new book titled "Miku dé Nihongo" has been announced by Sanshusha (三修社). This 200 pages book will teach its readers about the Japanese language and culture, using popular songs from our Virtual Diva, Hatsune Miku. All the explanations are written in English! Check out detailed information about the book below.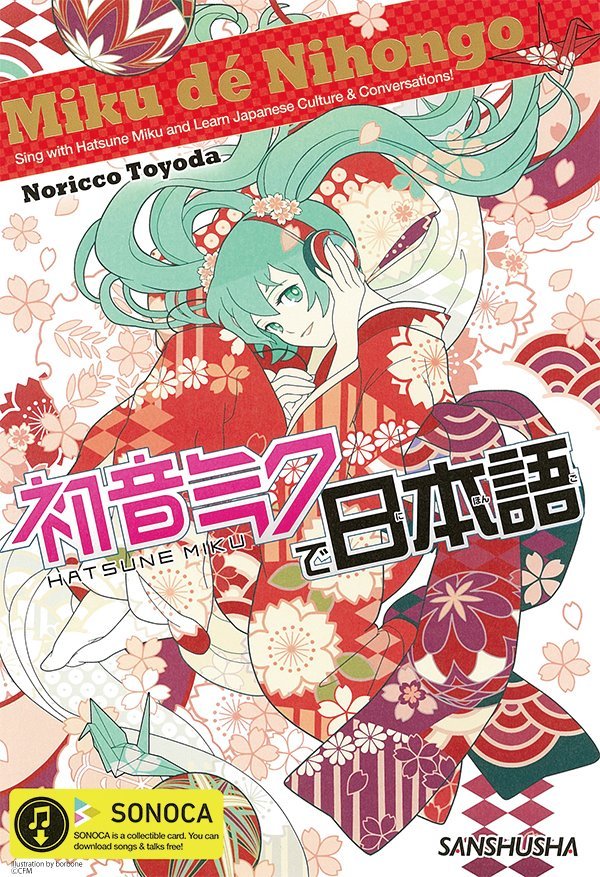 Learn Japanese language and culture with this collection of 10 famous Hatsune Miku's songs, a nursery rhyme and an original composition.
Each song (with one exception) shows:
1) The original Japanese lyrics
2) How to read the lyrics in Romanized script
3) The English translation
4) A commentary on Japanese language or culture, reflected in the lyrics
5) Conversation practice with Hatsune Miku.
Recordings of all the lyrics and of the Japanese conversations are downloadable with SONOCA.
◇ Includes our own exclusive recording of the popular VOCALOID producer, teaeye: original "Meguri, natsu" (The Wheel of Seasons: Summer)
◇ Original Miku illustrations for the cover and SONOCA card by borbone
◇ Download voice recordings to practice Japanese conversation with Hatsune Miku
As the songs are introduced and explained in English, it's a perfect introduction to Hatsune Miku fans overseas.
List of songs:
01. Hello / How are You by HoehoeP
02. Desktop Cinderella by HachiojiP
03. Haru ga Kita (Japanese nursery rhyme)
04. Hajimete no Oto by malo
05. Saihate by Kobayashi Onyx
06. Tell Your World by kz (livetune)
07. Remote Control by WONDERFUL★OPPORTUNITY!
08. Soyokaze Drive by 40mP
09. Sakura no ame by halyosy
10. Meguri, natsu (exclusively composed for this book) by teaeye
How to Purchase
"Miku dé Nihongo" book is available for preorder on amazon Japan for 2,484 yen (about US$ 22.65), with shipment scheduled for June 18th, 2018. Preorder the book here!
Source