On December 4th, a live stream was held by Vsinger, and not only did we see the cute Luo Tianyi merchandise but also we heard a sample of Yuezheng Longya. Everyone is eagerly looking forward to the first male Chinese VOCALOID to release and want more information. Vsinger made a Weibo post suggesting that even bigger news was coming, and people assumed it was concerning a concert.
Our Chinese VNN team was invited by TianShi HeNian to attend the press conference themed "穿越星河的旋律" (Melody Across Galaxy) on December 8th at the Shanghai Center. The press conference started at 2:30 PM and the event was live-streamed on Bilibili as well. Vsinger not only gave more information about Yuezheng Longya but also, for the first time, gave us a confirmation about Vsinger's live concert. HeNian had also announced that they will work closely with TaiHe Media, hoping the collaboration will bring a better future for the Chinese VOCALOIDs.
A Stunning Performance and Vsinger's Character Models Make a Debut
Vsinger already hinted that all of their characters would make a debut at the conference. When VNN arrived, we immediately noticed the huge poster on the wall featuring all of Vsinger's character models! This was the first time that we saw the official models for Longya, Mo Qingxian, and Zhiyu Moke.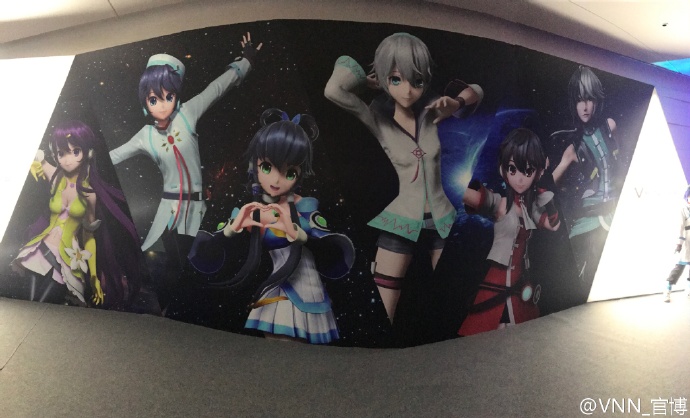 The conference began with a stage performance of Luo Tianyi performing the popular song "Sun Quan the Emperor." The song following after was the famous "普通DISCO," which had all of Vsinger's characters performing on stage. The song originally sung by Luo Tianyi and YANHE also had Yuezheng Ling and Yuezheng Longya singing together this time. It definitely brought a surprise to many fans who were eager to see the Yuezheng siblings performing together, not to mention it being a high quality performance as well.
A Concert Was Announced to be Held in 2017 Featuring All of Vsinger's Characters!
After the show, Vsinger announced that a concert will be held on June 17th, 2017, at the Mercedes-Benz Arena in Shanghai! Not only will Luo Tianyi be present but also YANHE, Mo Qinxian, Zhiyu Moke, Yuezheng Ling, and Yuezheng Longya as well! Ticket pre-sales will open on the 16th of this month, with a limit of 500SVIP tickets made available. It was also announced that in the future Shanghai Henian will collaborate with the Taihe Music Group.
Concert promotional video. Tianyi also expressed the expectations of the concert and hoped for the fans' support.
[bilibili src=7511987]
Yamagata Ryuji will be the general director of the concert. He is also known as the director of the NICONICO Party and other large scale events. He was also involved in several important past performances featuring Tianyi such as BML, China's 11th Golden Eagle Art Festival, and the TMNT 2 trailer. Mr. Yamagata mentioned that their team has a lot of experience with onstage performances and within the technical department. He promises to bring some new content to the concert, with an AR live stream concert for fans in the future.
Longya's Voice Provider Hopes to Cooperate Even Further!
Following the live stream on December 4th, AJie was also a guest at this event. When asked about his experience voicing Longya, he said that he had contributed "every skill he had" to him, expressing many emotions and providing all kinds of voice types. As Vsinger made a Weibo earlier confirming that Longya will have more than one voice bank, now we definitely want to hear the final product of Yuezheng Longya. He mentioned that he is hoping to see Longya used in a variety of music and styles.
Before the end of the conference, a new song "追光使者" (Light Chaser) was played and it was composed by well-known musicians such as "林迈可" and "易家扬." It was also made available for download on Netease's music platform. You can go listen to this amazing song now!
The conference brought us plenty of great news such as a concert in 2017 as well as the production of Zhiyu Moke and Mo Qingxian. It was definitely a worthwhile trip! With new partners such as the Taihe Music Group and many others mentioned above, hopefully this will spark attention internationally. We look forward for next year to bring us plenty of great things!
Well will make sure to bring you any updates we have, so stay tuned!
Other News
Yuezheng Longya's Demo Revealed and Luo Tianyi Merchandise Open for Pre-order
Luo Tianyi's Performance at China's 11th Golden Eagle Art Festival!
Luo Tianyi in The Teenage Mutant Ninja Turtles 2 Movie Promo in China!
Luo Tianyi Will Be Performing at the Bilibili Macro Link!
Official Links