We have previously reported the announcement of the Miku Expo Europe 2020 Fan Forge contest and, today, the winners of the contest have been announced!
This contest's theme was Cyberpunk and there were so many amazing entries! Let's take a look at the winners.
Winning Entries
The winner of the Grand Prize is 'bot' by L LL.
The Runner-up prize winners are 'Cyber Vaporwave' by Noriko Hayashi and 'Cyberpunk HASTUNE MIKU EXPO 2020 EUROPE' by 風船猫
And, finally, the Miku Expo Award winners are 'Double life' by Bib Boss and 'CYBER LIVE!!' by Nyan.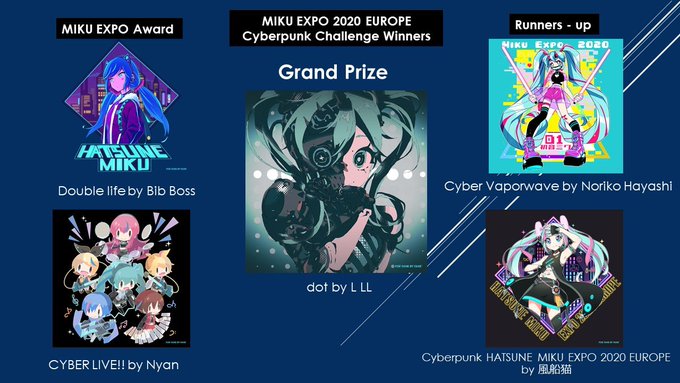 Congratulations to all the winners and thank you to all who entered for your hard work!
To see all the entries that were submitted to the contest, you can check them out here.
And remember, the winning entries shall be made into merchandise that will be available to buy online soon, so stay tuned for further updates!
Source