Hello bunnies, I'm back!! Today Miku's English Twitter announced a t-shirt contest to promote the Switch game "Hatsune Miku: Project Diva Mega Mix" or "Hatsune Miku Mega 39".
Celebrate the upcoming launch of Hatsune Miku: Project DIVA Mega Mix in the West by submitting a t-shirt design!

Five lucky winners will have their designs featured in the game!

Rules & Details: https://t.co/5FaPQWbdAQ

— Hatsune Miku (@cfm_miku_en) November 8, 2019
You can enter the contest by submitting a t-shirt design and the winners will be announced and featured in Mega Mix. How fun! Here are the rules and details.
—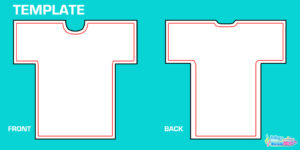 Celebrate the Tenth Anniversary of Hatsune Miku's gaming debut by showing us your Project DIVA-inspired designs! Submit your Miku and friends-inspired T-shirt design for a chance to have it featured in Hatsune Miku: Project DIVA Mega Mix for Nintendo Switch™, coming to the West in 2020.
Download the T-shirt design template.
Design a special T-shirt for Miku and friends!
Official characters recognized by Crypton: Hatsune Miku, Kagamine Rin, Kagamine Len, Megurine Luka, KAITO & MEIKO.
Use the form to submit your design by November 18, 2019.
Five Winners will be contacted by email on or about December 2, 2019.
Give us your best Project DIVA-inspired design! Use of characters in design is not required.
All designs should be made within the confines of the black lines. Crucial design elements should be kept within the confines of the red lines as there may be cutoff depending on the shape of the T-shirt and character wearing it.
File Type: jpg, png
Dimensions: 4096×2048
Color Mode: RGB
Design hi name to be limited to 20 characters.
No third-party designs, logos or photographs.
Multiple entries per person are allowed.
Entry images can be no larger than 2MB!!
Have lots of fun, and remember, it's a friendly contest!
Source: