More details have been released for the Hatsune Miku Noodle Stopper Figure by Furyu! Read on for a closer look at this cute prize figure and for details of the release date and where to find it.
Product Details
This figure is made with PVC, is approximately 14 cm tall, weighs approximately 300 grams, and shall be available from 20th September.
The adorable Miku figure features Miku sitting in a relaxed pose. The idea is to use her as a 'noodle stopper' to sit on top of a noodle cup while you're waiting for the them to soak up the water, as you can see below.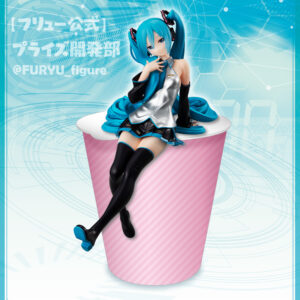 However, you can place Miku on top of any flat surface, shown below.
A close inspection shows that you can see the figure features various small details, such as Miku's 02 marking on her shoulder, the lights, and buttons on her skirt.
One of my favourite details is her hair flowing and curling behind her, which seems to resemble the curly noodles that Miku would keep watch over for you.
Artwork
Here are a few images of the final artwork that the figure is based on as well as a couple of rough sketches done by the artist, Kuroboshii Kohaku.
It's amazing to see how this lovely artwork has come to life as a fun and functional prize figure.
Release Details
As mentioned above, the noodle stopper figure will be released on the 20th of September 2019, but please bear in mind that this is a prize figure; so it will initially only be available at amusement facilities in Japan.
You can find a list of locations where the figure will be available here.
We do recommend keeping an eye on online retailers who specialize in Japanese products, such as AmiAmi and Mandarake, as they may put the figure up for sale at a later date.
So far, I have found Ninoma and Figuya (in Europe) already have pre-orders open for this figure, though Figuya will not have stock until January.
You can pre-order from Ninoma for $18.51 here.
You can pre-order from Figuya for €24.90 here.
We will be sure to update you if we find any further information on where to get this adorable figure.
Source