Earlier, we reported that AHS held a special live stream on February 22, 2017, to announce a variety of exciting news.
One big announcement from the live stream was the confirmation that AHS will be attending the Kyoto VOCALOID League event on March 5th! The doujin event will be taking place at Miyako Messe in Kyoto, where the following doujin circles will all be present to showcase their works:
As one can see, from jam BAND to VOICEROID, the AHS presence will be quite strong in the event's doujin sector. But that won't be all; official AHS Store reps will also be setting up shop at Miyako Messe next month to introduce a variety of brand-new products!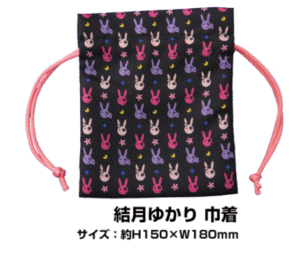 Yuzuki Yukari Drawstring Money Pouch
Size: 150×180 mm (about 6×7 in.)
Price: ¥1,200 JPY (about $12 USD)
The first of such products is the Yuzuki Yukari drawstring money pouch! Colored completely with the purple, black, white, and pink color scheme of Yukari's outfit, and adorned all over with her rabbit head logo, it's the perfect gift for any Yukari fan or collector of Yukari goods to carry their cash in! Then again, if they're a real avid collector of Yukari goods, then it might just end up staying empty for most of the time…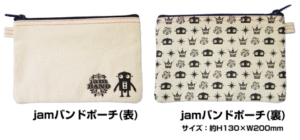 jam BAND Zipper Pouch
Size: 130×200 mm (about 5×8 in.)
Price: ¥2,000 JPY (about $20 USD)
Next up, we got the jam BAND zipper pouch! Most prominently featured on the pouch's design is none other than the lovable ROBOTA! On the front, we see the drum-playing android standing beside the jam BAND logo, while on the back we're treated to a pattern overflowing with the jam BAND crown and more of ROBOTA's face! It's just the right size for travel-size items, pens and pencils, or even a jam BAND Slide Puzzle or jam BAND KISEKAE-loaded mobile device! How fitting that would be!

Tsurumaki Maki Bath Towel
Size: 1200×400 mm (about 4 x 1⅓ ft.)
Price: ¥4,000 JPY (about $40 USD)
Last but not least, we got the Tsurumaki Maki bath towel! This beautiful piece of linen features the titular jam BAND / VOICEROID character in her flower-themed yukata design from last month's live stream! It would make the perfect decorative piece for any Maki fan's bathroom. As for those who would actually want to use such a breath-takingly gorgeous towel to dry themselves off — and subsequently toss into the laundry machine — that's probably another story.
Finally, AHS also announced that all of their other regular sales items (including their VOCALOID and VOICEROID products) will be available at the event store at a special event price! Check out their catalogue below to see if anything tickles your fancy!