Tohoku Zunko fans will be happy to know that production of Zunda Horizon is now complete, as announced by AHS in a special live stream! You can check out more (brief) footage of it here!
To celebrate another successful year of anime creation, special screenings of Zunda Horizon and other Anime Tamago productions will take place at the Ikebukuro HUMAX Cinema on March 11, 2017. The event will be emceed by famous voice actor Takayuki Kondo and voice actress Mie Sonozaki, who will be talking with the young talent behind the Anime Tamago Project, and celebrating their accomplishments thus far.
150 lucky registrants to the event will be selected by lottery to attend for free! (Registration closed on February 24th.) Even AHS President and CEO, Tomohide Ogata, admits that he has never seen the anime before, so it'll be a screening event that everyone in attendance can look forward to watching!
Those who cannot catch the airing on March 11th (or those who would like to catch it again) will get another chance at special late night screenings at Theater Shinjuku from April 22nd through the 28th! Information on these screenings are as follows:
Dates: April 22nd (Saturday) ~ April 28th (Friday)
Start times: 8:50 pm on each night
Regular ticket price: ¥1,100 JPY (about $11 USD)
On Wednesday, April 26th: ¥1,000 JPY (about $10 USD)
For repeat customers: ¥1,000 JPY (about $10 USD) when you present a ticket stub
Anyone who attends these showings will even get a free pamphlet to boot!
About the Anime Tamago Project


The Anime Tamago Project is the work of a multi-studio coalition that started out as the "Young Animators' Training Project" after receiving the blessings of the Japanese Agency for Cultural Affairs. As the name implies, their goal is to recruit and rear young and novice animators, providing them with on-the-job-training to get them ready for future careers in the cutthroat anime industry in Japan. The word "tamago" (meaning "egg" ) was chosen in 2015 to give the impression that their recruits are being "incubated" and lovingly cared-for under their guidance, and that someday they will break out of their shells and be "born" as full-fledged, fully-matured animators who are ready to start their new lives.
About Zunda Horizon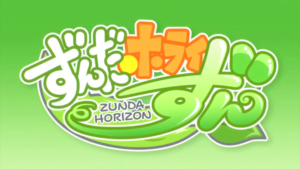 Now in their seventh year of operation, Anime Tamago participants have consistently churned out creative and successful anime that anybody can enjoy. Their four-series 2017 lineup includes Zunda Horizon, created as a joint effort between edutainment company Wao! World, animation company Studio Live, and Zunko's promotional company SSS LLC. It's an anime that dives headlong into the world of VOCALOID and voice synth fandom at a level that has never before been attempted by any anime studio, let alone a group of trainees. The special screening event on March 11th is not only an introduction to their works, but also a celebration of growth for this team of young talent who were given the chance to create something truly special, and will set the stage for the team's next anime projects over the next year.
You can visit Anime Tamago's official website, as well as follow them on Facebook and Twitter. You can also keep up-to-date on Zunda Horizon by visiting its official site, following Touhoku Zunko's official Twitter account, and staying tuned to VNN! If this is your first time hearing about the anime, then check out our previous coverage below!
Tohoku Zunko Will Be Made into an Anime!
Tohoku Zunko V4 and Kiritan VOICEROID+ Announced Plus Anime Updates!
Tohoku Zunko Anime Update: All Character Visuals Revealed!
Anime Tamago PV Shows First Glimpses of Tohoku Zunko Anime "Zunda Horizon"