Since November 2017, Gynoid has been updating their free downloads page each month with new illustrations such as Xin Hua's official winter wear design, which was uploaded last month. This month, the latest update features four new adorable illustrations of v4 flower!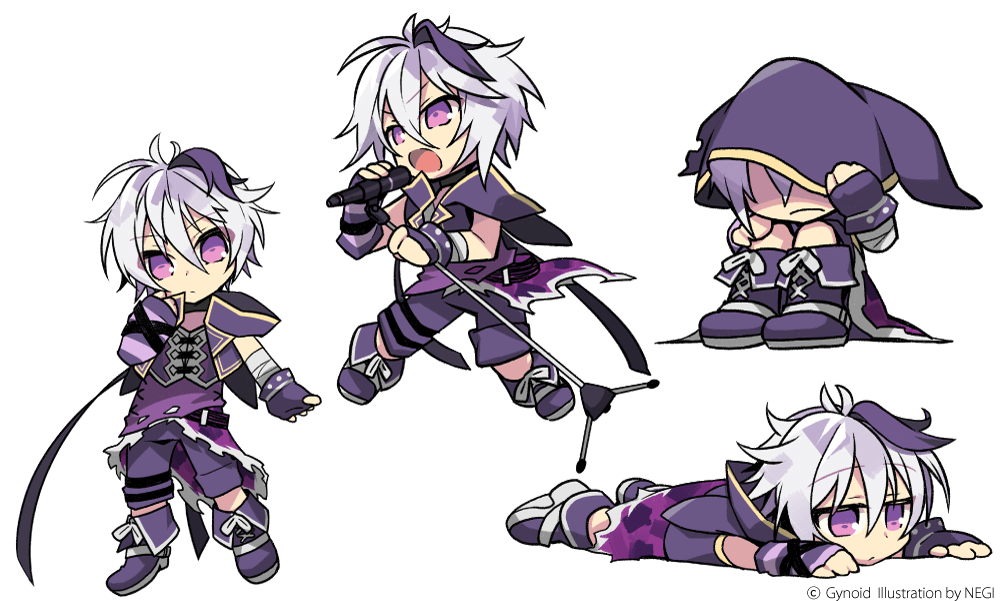 The new illustrations were drawn by NEGI and feature v4 flower in a cute, chibi, or deformed style. The poses included are a simple standing pose, a singing pose, a sitting down pose, and a lying down pose.
NEGI is an illustrator, animator, and lyricist, and also the sole member of the circle ULOG'Be. If you're interested in seeing more of NEGI's work, you can visit the ULOG'Be website here.
Here's what Gynoid, NEGI, and flower herself had to say about the new illustrations!
[ガイノイド更新情報]毎月恒例、ガイノイドの配布イラスト。2月はNEGIさん( @ulogbe )に描いて頂いたデフォルメのflowerです!動画等での使用は自由となりますので、皆様是非お使いください! #v_flower – https://t.co/3U62S92Omf pic.twitter.com/Q4m8TmyKF5

— gynoid_jp (@gynoid_jp) February 28, 2018
"[Gynoid Info Update] Time for Gynoid's monthly artwork distribution. February features a deformed flower drawn by NEGI (@ulogbe)! Anyone is free to use them for videos and such, so please use them by all means! #v_flower –http://gynoid.co.jp/news/view/56/ "
SDイラスト公開されましたー!使ってね!!٩( 'ω' )و https://t.co/bFqj0jiKNq

— NEGI:コミ1 せ32a (@ulogbe) February 28, 2018
"My SD Illustrations have been released! Please use them! ! 9 ('ω') و"
今月のイラスト、可愛いすぎない?!(私だけど
拾って帰りたいよね?!(私だけど

— v flower (ブイフラワ)公式 (@v_flower_jp) February 28, 2018
"Aren't this month's illustrations just too cute?! (I know it's me, but…
Don't you just wanna gather them up and take them home? (Again, I know it's me, but…"
If you would like to download the latest v4 flower illustrations, you can download them by clicking here.
Alternatively, if you would like to browse the other free downloads from Gynoid, check out the downloads page here.
As with the previous content uploaded to Gynoid's downloads page, the new artwork is free to use for non-commercial purposes, such as in videos or other media. If you wish to use the illustrations for commercial purposes, you must first get permission from Gynoid to do so.
Source Links