In this review, I (Jade) will be taking a closer look at the Megurine Luka Hanairogoromo figure, manufactured by Stronger.
This beautifully detailed 1/8 scale figure was inspired by an illustration by Fuzichoco (藤ちょこ) and has been sculpted by ICREA.
In this figure, Luka is dressed in a floral, light-blue kimono and sits upon a cherry blossom tree with its blossoms in bloom.
For more details of the figure, including where you can buy it yourself, please read on.
Box Details
Before I go any further, I would like to take a moment to appreciate the box that the figure comes in.
The box is printed with a traditional Japanese pattern on the outside, and has a gorgeous illustration of a cherry blossom scene printed on the inside.
Usually, I am not too concerned about keeping my figure boxes other than for storage purposes. But in this case, I think that the box should be treated with just as much care and respect as the figure itself.
It's certainly the most beautiful figure box I own!
Base Details
With the box out of the way, let's take a look at the base of the figure next, including the tree which Luka will sit upon.
Again, the base of the figure features a beautiful illustration of a cherry blossom scene to further complement the details in the figure itself.
The cherry blossom tree attaches to the base by a single metal peg which is quite stable once attached.
The tree section of the figure itself is quite stunning, featuring translucent pink blossoms at its base as well as on the branches.
There is an area in the bend of the tree which has been sculpted to serve as a seat for Luka to rest upon, and there is a magnet hidden inside the branch so that Luka will not fall once she is placed.
Figure Details
So, on to the main event! Once you have placed Luka on her perch, you can see the full majesty of the figure in its entirety.
The first thing that impressed me was the attention to detail in the intricate patterns all over Luka's kimono, featuring colorful blossoms and butterflies.
Secondly, I love the flow of her pink hair falling over her shoulder and across her hand as she brushes it from her face. The hair is made even more striking by the use of translucence near the ends of her hair and the addition of an almost glass-like translucent blue flower placed in her hair.
Another feature that I found interesting is the sash that ties her kimono, which is painted in metallic gold that seems to add an air of luxury to the figure.
I have taken various photographs of the figure from many angles, so please feel free to browse through them to get a closer look for yourself!
Further Figure Details
If you take a closer look at Luka's face, you can see that she is also wearing pink makeup to complement her hair and to add contrast to her dazzling blue eyes. Each detail seems to add an air of elegance and sophistication to an already beautiful concept.
But enough gushing about Luka's beauty! Now, I want to share a fun little fact about this Hanairogoromo figure…
As I described earlier, Luka is removable from the tree section of the figure, and there is an area sculpted out for her to sit upon. Upon discovering this, I wondered, can I place other figures on the tree?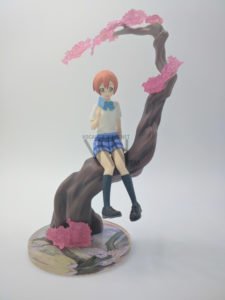 The answer: indeed you can! That being said, I warn anyone who wants to do this with their own figures that this works best with figures that are already in a sitting position, and who have their legs stretched outward rather than bent or tucked in. Please also note that special care should be taken to balance your figures, as they will not have the magnetization to support them that Luka's figure does.
(In case you're wondering, the character pictured in this photograph is Rin Hoshizora from Love Live! and this figure is part of the 'A Moment After School' series of prize figures.)
Where to buy
Due to the level of detail in this figure, it has a retail price of ¥11, 852 JPY (or $105 USD).
If you are interested in buying the Hanairogoromo figure for yourself, or simply want to take a closer look, check it out via one of the links below, but be aware that prices may vary.
Other Figures
Also, don't forget to check out the other VOCALOIDs featured in the Hanairogoromo figure series, including Miku, MEIKO, KAITO, Rin and Len.
You can see the full line up in the images below showing the illustration by Fuzichoco that the figures were based on, and the full set of 1/8 scale figures for comparison.
Source Links