VOCALOMAKETS is adding more and more LINE sticker sets for us to enjoy and, after two adorable and successful ones that we covered previously, today we get to see a new cutesy set!
A Daily Life with Yukari!
This time the theme those stickers are based off is a daily feelings routine, and is perfectly portrayed by Taneko Wa's cute Yuzuki Yukari chibis!
たねこ・ワ・さんによる結月ゆかりLINEスタンプ「結月ゆかり(たねこ・ワ・ver.)」が発売になりました!
日常で使えるかわいらしい結月ゆかりLINEスタンプとなっております!
詳細:https://t.co/LKVaYQPSWK pic.twitter.com/EsX9tDgcPz

— VOCALOMAKETS (@VOCALOMAKETS) July 1, 2019
In this set, priced 1,99 USD, you will enjoy the usage of an adorable Yukarin in most of our typical daily feelings! There is no better way to express yourself than using such an expressive character as her!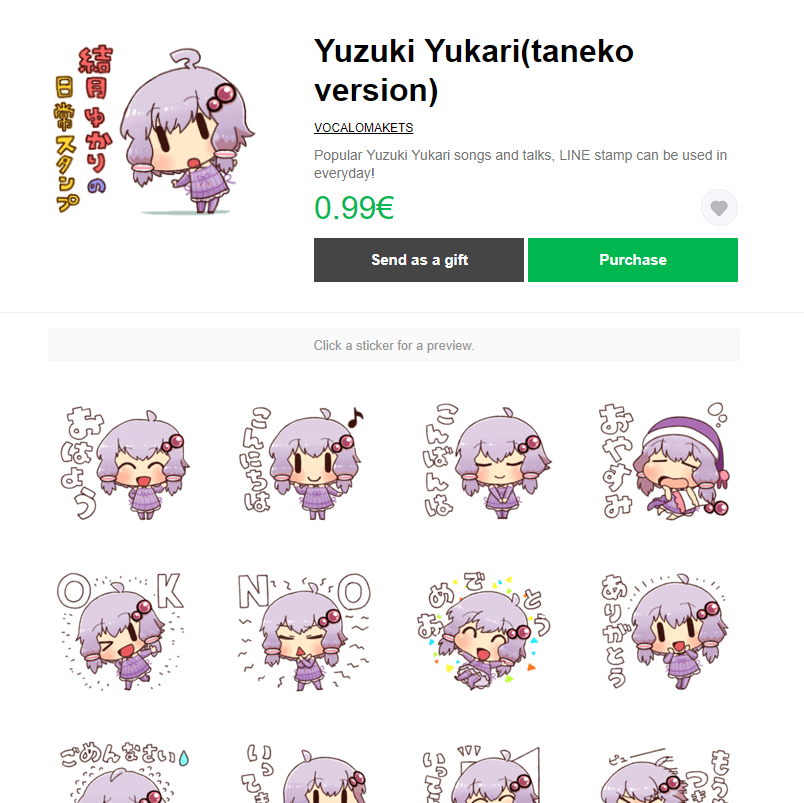 I know the screenshot shows Euros, but the price is the same in USD!
Isn't she adorable? I bet you cannot resist to her cute little attire!
If you are interested in them, you can find them here!
Stay tuned with us on VNN for some more amazing news and cutesy content!
Follow VOCALOMAKETS on their Official Website, Blog and Twitter
Don't forget to also follow AHS Software in their Facebook page, Twitter, Youtube and official website
Press release in Vocalomakets's blog