Stardust and HaiYi keep getting more and more love from MOEYU, which just announced some new products themed after them! Let's have a look together!
HaiYi Round Glittery Keychain
Everyone loves keychains and glitter, but we love them both together even more in this case! Here, in fact, we find an adorable round keychain made in PVC filled with watery glitter inside!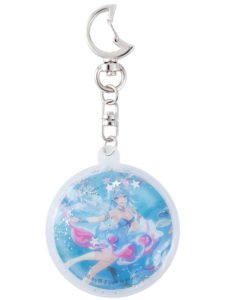 At about the size of 110x50mm, this cutesy ornament will give you and your items an adorable vibe, just like HaiYi's personality is intended to be!
It is priced at 56 RMB, however, it is temporarily on sale for 28 RMB via MOEYU's TMall!
You can find it here!
Stardust Shoes
Stardust is getting another pair of shoes! This pair comes with a lighter set of colors compared to her darker colored first pair.
You can purchase them on sale here for 248 RMB.
Stardust + Haiyi Clip bookmarks
You know what is the worst? When you are reading a book and it falls on the ground, then the bookmark goes flying and you loose your page. Yeah, we hate that too! Well, these bookmarks clip right on so you can throw your book on the floor if you wish to do so and not loose your page! (Ps: We do not recommend doing this) On top of that, they have Stardust and HaiYi on it!
You can purchase them for 19.80 RMB each here!
We can expect more products from this collaboration in the future! Stay tuned to VNN for more!
Quadimension is on Youtube and Weibo
You can also find Stardust on Weibo, Twitter and Youtube
HaiYi, on the other hand, can be found on Weibo!
Moeyu's TMall store and Weibo account