Food and music are probably the best combination of them all, and why don't mix things together with a collaborative Nicocafe with Otomachi Una? Her music will make an awesome mix with such delicious plates and drinks!
Una Ready to Serve!
\ 音街ウナ×nicocafe 開催決定!/

5/21(火)よりニコニコ本社にてコラボカフェの開催が決定しました!
お席のご予約は本日より以下の予約ページにて承ります。
詳細はカフェページをご確認ください。

▼カフェページhttps://t.co/Zih4pMP5ME
▼予約受付ページhttps://t.co/XVNiJYjSWb#音街ウナ pic.twitter.com/CCvSd98Sc1

— ニコニコ本社 (@nicohonsha) May 15, 2019
Our beloved eel-themed virtual singer will join the party with her special Nicocafe starting from May 21st to June 3rd. She will not not only bring her joyful energy to the cafe with some of her song turned into plates and drinks, but also some adorable merchandise for all of her fans' enjoyment! Let's give them a look together!
Drink Menu
We can't call a cafe a real one until he offer us some nice drinks, don't you think? Una of course wouldn't want her guests to feel thirsty, so she gave us an awesome menù!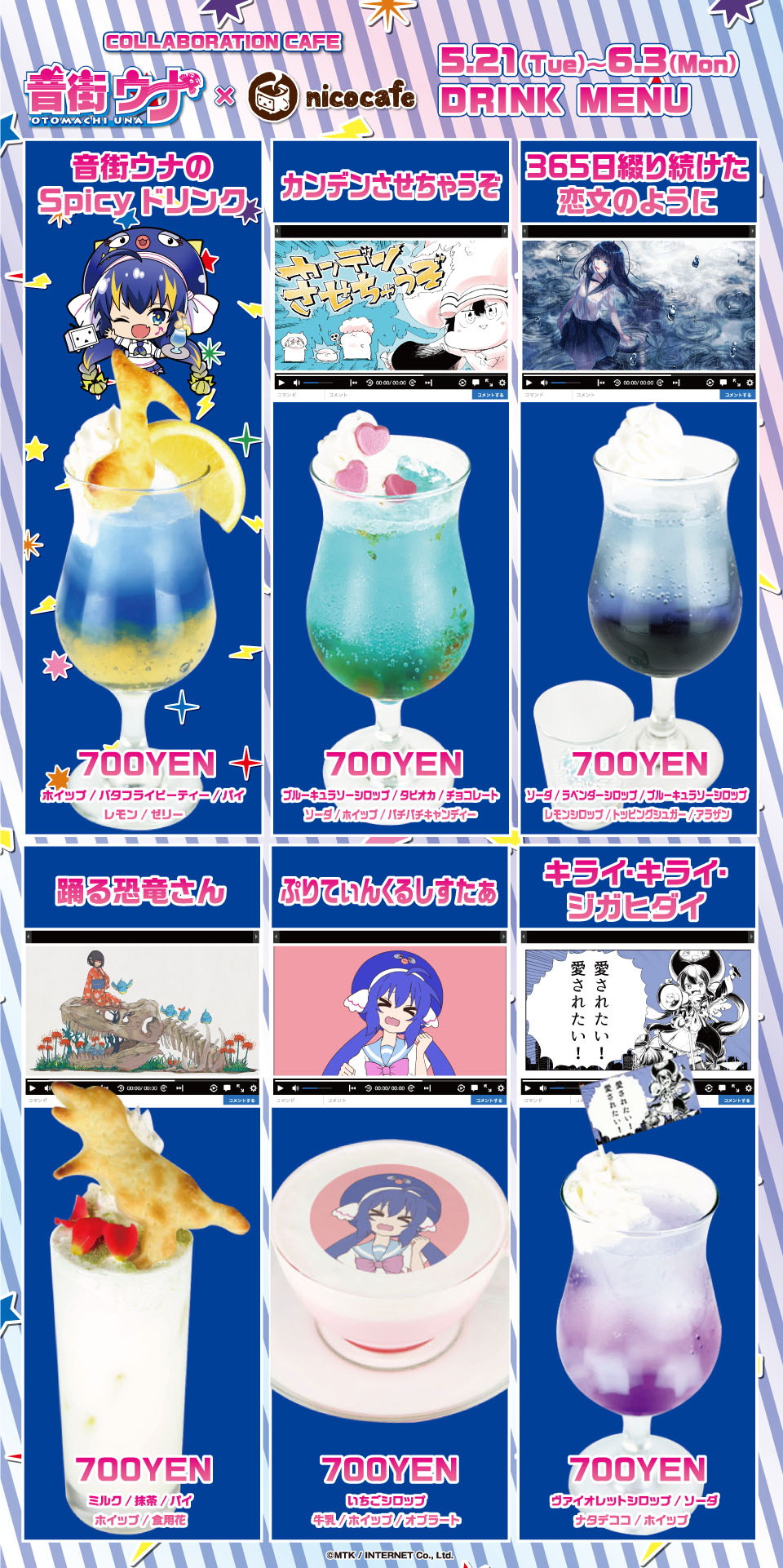 Each drink costs 700 JPY and, at exception of the first one, is actually based and titled off of some of Una's most popular songs! Here is the full list of them all!
Awesome menu isn't it? You can also order a drink set, priced 1,200 JPY, that will get you a special A4 clear file folder! (It gets chosen randomly)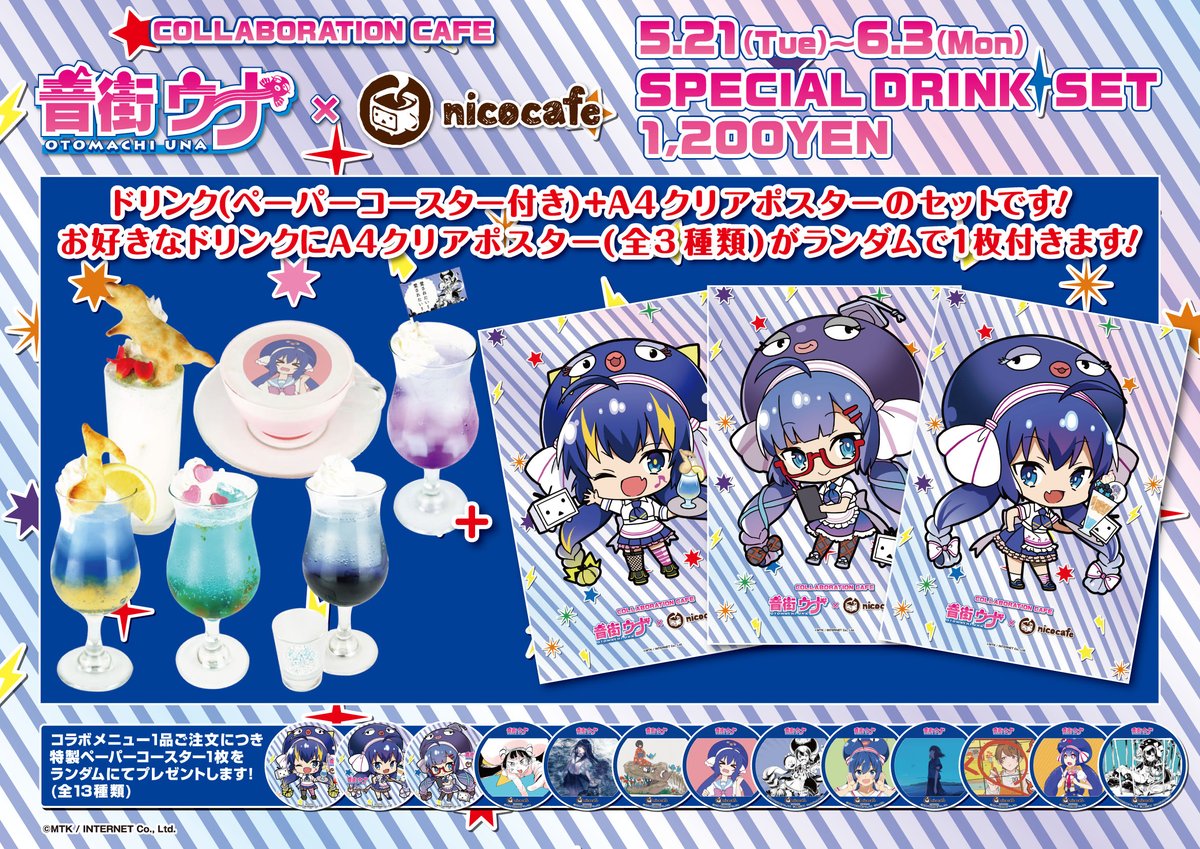 Plates
Food is of course there as well, featuring lots of creativity thanks to their reference to some of Una's popular songs!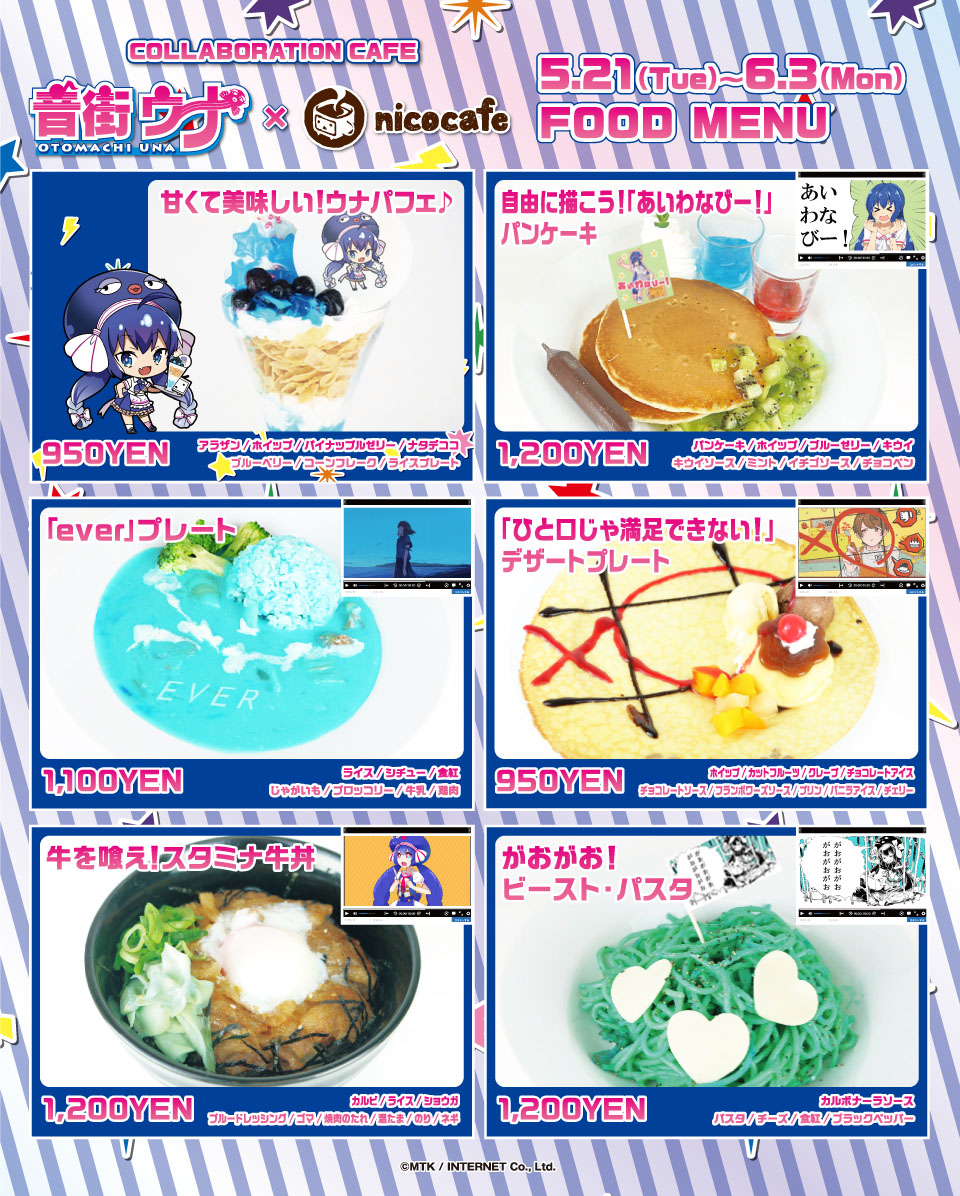 All of those delicious plates look so much tasty! I would love to try them out myself as well!
Goods
We have a lot of merchandise too of course! All of those goods will be available at nicocafe's location during the collaboration with Una!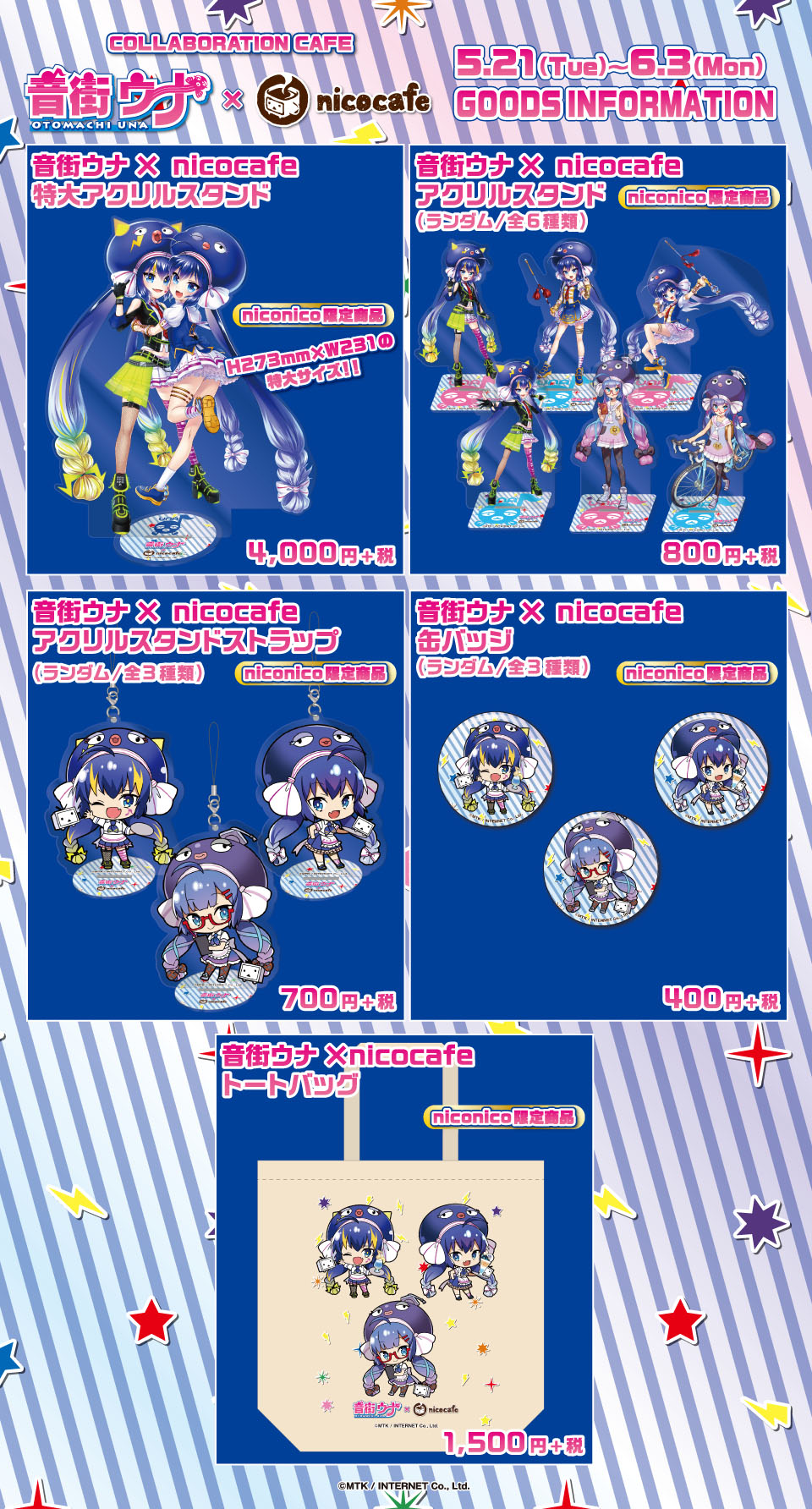 There is something for anyone's taste, from buttons to some adorable acrylic stands. Let's have a look!
Big Acrylic Stand (Height: 273mm, width: 231mm) – 4,000 JPY
Acrylic Stands (6 Variant) – 800 JPY Each
Acrylic Keychains with Stands (3 Variants) – 700 JPY Each
Buttons (3 Variants) – 400 JPY Each
Tote-bag – 1,500 JPY
All prices don't include VAT fees!
Our little virtual idol gave her best for those goods and it shows. If you manage to attend you should really grab something to bring home!
Special Paper Coasters
Last but not least, there are extra gifts to everyone that orders either a plate or a drink. That's right! You will get a special paper coaster for each order you make!
There are 13 different designs in total and they are giving them out randomly for each drink and plate you order there.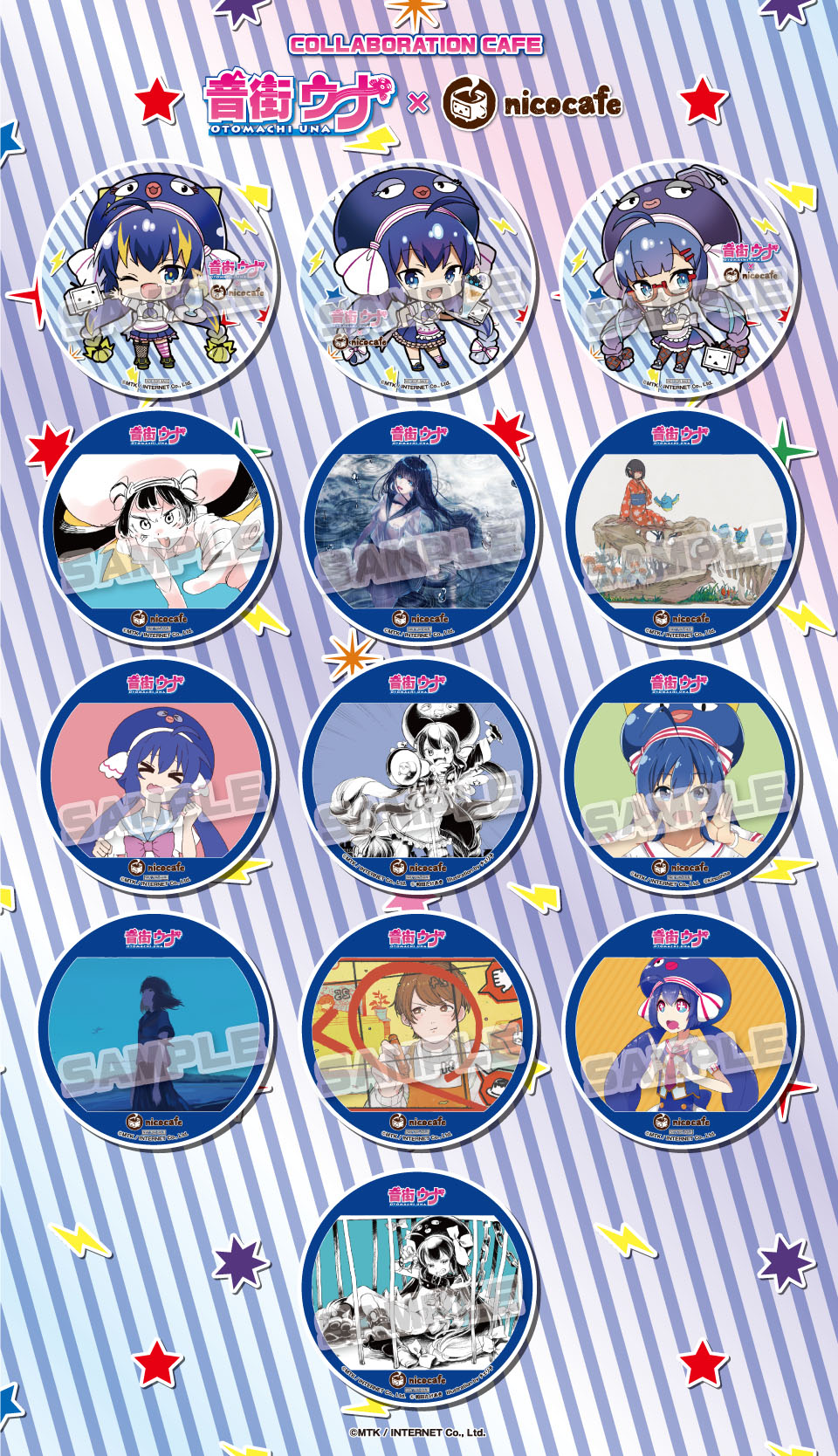 Will you able to get your favorite ones? Who knows!
Location
This collaborative cafe will be held at Nico Nico Honsha, Below you can see it on the map!
</center)
Want to make a reservation perhaps? Perfect! Just click
here
and select a date and time!
Sources
As fans of Otomachi Una ourselves, we couldn't be more excited for this collaboration! She will surely entertain her guests and, if you manage to try out something from her menus, let us know how your experience was!
Don't forget to stay tuned with us on VNN to never lose any update on your favorite virtual singers!
Otomachi Una is on Facebook and Twitter
Collaboration Page
Tweet about the collaboration